Labor Relation Law
State of Tennessee v. Jerry Ray Oaks




Johnson City Medical Center ("JCMC") charge nurse, April Douglas, testified that she was working inthe JCMC emergency room on the night of February 13, 2016. At 11:59 p.m. that night, the defendant was brought into the ... More... $0 (02-16-2019 - TN)


ESCALONA SOCARRAS V. BAZAN VASSALLO



Edelmo Escalona Socarras, the Former Husband, appeals entry of a final
judgment dissolving his marriage to Former Wife Nadja Mar... More... $0 (02-16-2019 - FL)


United States of America v. Michael Geddati




Memphis, TN - Student Pleads Guilty to Computer Fraud, Trying to Preserve Scholarship

Michael Geddati, 20, of Memphis has pleaded guilty to computer fraud.

According to the information presented in court, during the 2017-18 academic year, Michael Geddati was a fr... More... $0 (02-16-2019 - TN)


United States of America v. Roland J. Bourgeois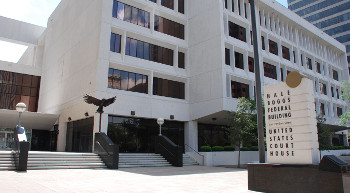 New Orleans, LA - New Orleans Man Sentenced for Hate Crime in Shooting of Three African-American Men Attempting to Evacuate After Hurricane Katrina

Roland J. Bourgeois Jr., 55, of New Orleans, Louisiana, was sentenced to 10 years imprisonment, followed by five years ... More... $0 (02-15-2019 - LA)


Heriberto Perez v. County of Monterey



Plaintiffs Heriberto Perez and Miguel Angel Reyes Robles appeal a defense
judgment in their action for declaratory relief against the County of Mo... More... $0 (02-15-2019 - CA)


Mark Fudge v. City of Laguna Beach, Hany Dimitry, Real Party in Interest and Respondent



We venture once again into the brambled thicket of the California
Environmental Quality Act – an area of the law largely governed by the unfortuna... More... $0 (02-13-2019 - CA)


R. Alexander Acosta v. Off Duty Police Servs.
MoreLaw Suites - Legal Suites and Virtual Offices
The Best Places In Downtown Tulsa To Practice Law
406 South Boulder and 625 South Denver - 918 - 582-3993



... More... $0 (02-13-2019 - KY)


United States of America v. Octavius DeJuan Phillips




Charlotte, NC - Project Safe Neighborhoods Initiative Leads To 10-Year Sentence For Man Convicted Of Armed Robbery

Octavius DeJuan Phillips, 30, of Gastonia, N.C., was sentenced to 121 months in prison and three years of supervised release on armed robbery char... More... $0 (02-13-2019 - NC)


Anupama Bekkem v. Robert Wilkie, Secretary, U.S. Department of Veterans Affairs





Plaintiff Anupama Bekkem brought this action against her employer, the
Department of Veterans Affairs, based on numerous instances of discrimination and
retaliation she allegedly experienced while working as a primary care physician for the
VA in the Oklahoma Cit... More... $0 (02-12-2019 - OK)


R. Alexander Acosta, Secretary of Labor, United States Department of Labor v. Off Duty Police Services, Inc.





The way we work in America is changing. The
relationships between companies and their workers are more fluid and varied than in decades
past. Our task in this appeal is to apply traditional legal protections to one such relationship. In
the proceedings below, th... More... $0 (02-12-2019 - KY)


Imogene Shepherd v. Incoal, Inc.



MARTHA CRAIG DAUGHTREY, Circuit Judge. More than ten years ago, claimant Imogene Shepherd filed for survivor's benefits under the Black Lung Benefits... More... $0 (02-12-2019 - OH)


Lehman XS Trust v. Greenpoint Mortgage Funding, Inc.




In 2006, Lehman, not a party to this appeal, purchased aggregated pools of 
residen... More... $0 (02-12-2019 - NY)


United States of America, ex rel. Stephanie Strubbe, et al. v. Crawford County Memorial Hospital and Bill Bruce





Stephanie A. Strubbe, Carmen Trader, and Richard Christie sued Crawford
County Memorial Hospital (CCMH) as relators in a qui tam action for violations of
the False Claims Act. 31 U.S.C. § 3729(a). They also sued CCMH and its Chief
Exec... More... $0 (02-12-2019 - IA)


Ronnie L. Winsted, Jr. v. Nancy A. Berryhill, Acting Commissioner of Social Security




Ronnie Winsted applied for disability
insurance benefits and supplemental security income
claiming disability based on numerous conditions, including
degenerative disc disease, osteoarthritis, and anxiety. An
administrative law judge denied benefits, finding that Wi... More... $0 (02-12-2019 - IN)


United States of America v. Kenneth Dunn





Concord, NH - Nashua Resident Sentenced To Three Years Of Probation For Defrauding Federal Employee Disability Benefit Program

Kenneth Dunn, 60, of Nashua, was sentenced to 36 months of probation and 6 months of home confinement for making false statements to obtain fed... More... $0 (02-11-2019 - NH)


Sharmalee Goonewardene v. ADP, LLC
Under the Labor Code, an employee who believes he or
she has not been paid the wages due under the applicable labor
statutes and wage orders may bring a civil action against his
or her employer. (See, e.g., Lab. Code, § 1194; Martinez v.
Combs (2010) 49 Cal.4th 35, 49-51; see also Lab. Code, § 2699.)
This case presents the question whether, when an employer
hires an indepen... More...

$0 (02-10-2019 - CA)


Brenda Marie Fleisher v. Commonwealth of Virginia




On June 20, 2017, appellant and the victim became involved in an argument at a residence
in Franklin County. Appellant took the keys to the victim's Hyundai Santa Fe and drove awa... More... $0 (02-09-2019 - VA)


Tubo D. Owei v. State of Indiana




Owei and B.R. had an off and on romantic relationship and had ... More... $0 (02-09-2019 - IN)


State of Tennessee v. Jenelle Leigh Potter




This case involves the murders of two victims, Billy Payne ("Victim Payne") and Billie Jean Hayworth ("Victim Hayworth"), whose bodies were found inside their Mountain City home ("Paw Bill's residence")1 in Janu... More... $0 (02-09-2019 - TN)


United States of America v. Lisa Kwapniowski





Omaha, NE - Former Director of Pharmacy Services for Children's Hospital and Medical Center Pleads Guilty to Wire Fraud

Lisa Kwapniowski, age 49, of Omaha, Nebraska, pleaded guilty to committing wire fraud, in violation of Title 18, United States Code, Section ... More... $0 (02-09-2019 - NE)


United States of America v. Pisanu Sukhtipyaroge, a/k/a "Pat"




St. Paul, MN - Columbia Heights Restaurant Owner Sentenced To 42 Months In Prison For Visa Fraud And Harboring An Illegal Worker

PISANU SUKHTIPYAROGE, a/k/a "Pat," 72, owner of the Royal Orchid Restaurant, was sentenced to 42 months in prison for visa fraud and alien harbori... More... $0 (02-09-2019 - MN)


State of Tennessee v. Barbara Mae Potter




This case involves the murders of two victims, Billy Clay Payne ("Victim Payne") and Billie Jean Hayworth ("Victim Hayworth"), whose bodies were found inside their Mountain City home that they sh... More... $0 (02-08-2019 - TN)


State of Tennessee v. David Lynn Zeigler
Pastor found guilty of rape of mentally challenged teen




On October 10, 2012, the victim, an adult female, engaged in oral sex with the Defendant in his car. When the victim's mother discovered the in... More... $0 (02-08-2019 - TN)


Samuel Pitts vs State of Florida




The victim claimed that Pitts digitally penetrated her without her consent while she was sleeping after a night of drinking and smoking marijuana with Pitts and others. Shortly after the incident, Pitts left voicemails on the victim's phone a... More... $0 (02-08-2019 - FL)


Sharmalee Goonew Ardene v. ADP, LLC
Opinion of the Court by Cantil-Sakauye, C. J.
Under the Labor Code, an employee who believes he or
she has not been paid the wages due under the applicable labor
statutes and wage orders may bring a civil action against his
or her employer. (See, e.g., Lab. Code, § 1194; Martinez v.
Combs (2010) 49 Cal.4th 35, 49-51; see also Lab. Code, § 2699.)
This case presents the quest... More...

$0 (02-08-2019 - CA)


Next Page