Position: Member
TEL: 402-898-7000
FAX: 402-898-7130
Email: Click Here
Website: www.lpdbhlaw.com
Admitted: Nebraska Bar, 1978; Iowa Bar, 1978; U.S. District Court for the District of Nebraska, 1978; United States District Court for the Northern and Southern Districts of Iowa, 1978; Eighth Circuit Court of Appeals, 2000
Law School: Creighton University School of Law (J.D., 1978)
College: Creighton University (B.A., 1974)
Birth Date and Place:
Practice Areas: Civil Litigation, Plaintiff and Defense; Insurance Coverage & Litigatio
Additional Information: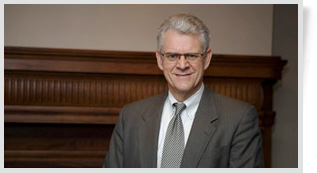 Mr. Locher is a native of Monticello, Iowa and is one of the founding members of the firm of Locher Pavelka Dostal Braddy & Hammes, LLC, the first law firm allowed to be organized as a Limited Liability Company by the Nebraska Supreme Court. He has practiced law in State and Federal Courts in Iowa and Nebraska since 1978. He is widely recognized as a skilled and experienced trial attorney who has represented clients in numerous jury trials to verdict, bench trials and arbitrations before tribunals in Iowa and Nebraska. He was an early participant in alternative dispute resolution (ADR) and has participated in multiple mediations and other forms of ADR over the past thirty years. He has served as an arbitrator in complex disputes and has been called upon as an expert witness in professional liability, insurance coverage and attorney fee disputes. He has tried cases involving trucking accidents, products liability, professional negligence, fraudulent transfers, common law indemnity, recreational liability, fire losses, admiralty and maritime, Jones Act and complex contractual claims. He has argued nearly sixty appeals in the Nebraska Court of Appeals, the Nebraska Supreme Court, the Iowa Court of Appeals, the Supreme Court of Iowa and the 8th Circuit Court of Appeals. His appellate work has included insurance coverage disputes, banking law, subrogation, admiralty and maritime, products liability, negligence, professional liability, political subdivision tort claims, recreational liability, and other contract disputes. He has been called upon innumerable times to issue insurance coverage opinions and to provide training for insurance company claims handlers. Mr. Locher has participated in authoring proprietary compendia of insurance law in Iowa and Nebraska and has conducted presentations and seminars in a variety of insurance, litigation and banking topics. Mr. Locher has conducted multiple examinations under oath and participated numerous times in fraud and arson investigations. He has testified before committee in the Nebraska Legislature on proposed bills of interest to the insurance industry and business community.
Firm Members: Douglas Krenzer Amy Locher