Remittitur Law
Bernard Cote, the Personal Representative of the Estate of Judith Berger, v. R.J. Reynolds Tobacco Company and Phillip Morris USA, Inc.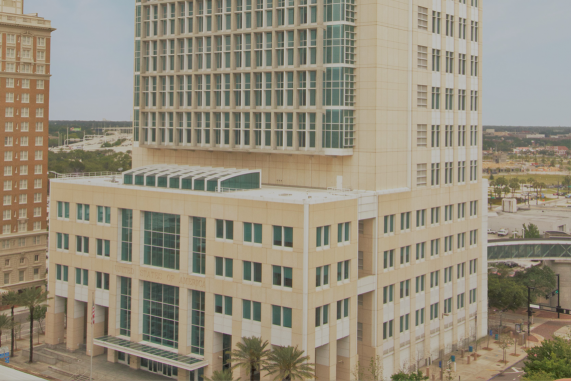 Plaintiff Judith Berger ("Mrs. Berger")1 sued Philip Morris USA, Inc. ("Philip Morris") for intentional and unintentional torts, seeking compensatory and punitive damages for smoking-related injuries. After a nine-day, bifurcated trial... More... $0 (12-01-2018 - FL)


In re A.S. Persons coming under the Juvenile Court Law, San Diego County Health and Human Services Agency, v. C.S
This appeal arises from the juvenile court's selection of a tribal customary
adoption as the permanent plan for minors A.S. and E.S. and the corresponding award of
full faith and credit to the tribal customary adoption order. C.S. (Father) and T.F.
(Mother) appeal the court's orders, contending that their due process rights were violated
by the failure of the tribe to consider evid... More...

$0 (10-14-2018 - CA)


Marco Antonio Atempa v. Paolo Pedrazzani
Labor Code section 558,1 subdivision (a) provides that an employer "or other
person acting on behalf of an employer" who violates or causes a violation of the state's
applicable overtime laws shall be subject to a civil penalty. Similarly, section 1197.1,
subdivision (a) provides that an employer "or other person acting either individually or as
an officer, agent, or employee of an... More...

$0 (10-02-2018 - )


Alain Ellis Living Trust v. Harvey D. Ellis Living Trust
MoreLaw Suites - Legal Suites and Virtual Offices



The Best Places In Downtown Tulsa To Practice Law



406 South Boulder and 625 South Denver - 582-3993





More... $0 (09-24-2018 - KS)


Guadalupe A. Ontiveros v. Kent Constable
Guadalupe Ontiveros, as the minority shareholder in Omega Electric, Inc.
(Omega), sued majority shareholder Kent Constable, his wife (Karen Constable), and
Omega,1 asserting direct and derivative claims arising from a dispute over management
of Omega and its assets. In response to Ontiveros's claim of involuntary dissolution of
Omega, Appellants filed a motion to stay proceedings ... More...

$0 (09-19-2018 - CA)


Cheryl Searcy v. R.J. Reynolds Tobacco Company, et al. Middle District of Florida Federal Courthouse - Tampa, Florida
Cheryl Searcy ("Plaintiff") sued the defendants, R.J. Reynolds Tobacco Company and Philip Morris Inc. (together, "Defendants") for unintentional and intentional torts arising from the death of her mother, Carol Lasard, alleging that Lasard's illnesses were caused by her addiction to cigarettes manufactured by Defendants. The jury found for Plaintiff on both the unintentional and intentional tort c... More...

$0 (09-12-2018 - FL)


Roberto Martinez v. Landry's Restaurants, Inc.
Roberto Martinez, Lisa Saldana, Craig Eriksen and Chanel
Rankin-Stephens (collectively Martinez parties) sued Crab
Addison, Inc., Ignite Restaurant Group, Inc. (formerly known as
Joe's Crab Shack Holdings, Inc.) and Landry's Restaurants, Inc.
on behalf of a putative class of salaried employees of Joe's Crab
Shack restaurants in California who were allegedly misclassified
as... More...

$0 (08-30-2018 - CA)


Patrick Lafferty v. Wells fargo Bank, N.A.
This is the third appeal that comes to us in this case, which arises out of Patrick
and Mary Lafferty's purchase of a defective motor home from Geweke Auto & RV
Group (Geweke) with an installment loan funded by Wells Fargo Bank, N.A (Wells
Fargo).
In Lafferty v. Wells Fargo Bank (2013) 213 Cal.App.4th 545 (Lafferty I), this
court affirmed in part and reversed in part the actio... More...

$0 (07-21-2018 - CA)


HAYAT SINDI v. SAMIA EL-MOSLIMANY and ANN EL-MOSLIMANY United States Court of Appeals For the First Circuit
This case implicates a plethora
of issues arising in the shadow of the First Amendment. Most
notably, it requires us to address the power of a court to impose
a prior restraint in the form of a permanent injunction forbidding
the publication of words — words that the court believes have been
used to defame the plaintiff in the past and are likely to be
repeated. The... More...

$0 (07-15-2018 - MA)


SUK C. KIM v. JUNG HYUN CHANG THE SECOND DISTRICT COURT OF APPEAL
The evidence taken in the light most favorable to the judgment reflects the following. Born in South Korea, Ms. Chang moved to the United States in 1999. Her sister, Sook Chang, was married to Mr. Kim and lived in Tampa. Mr. Kim and Sook Chang had a grocery store on Hillsborough Avenue. Ms. Chang and her son moved in with Mr. Kim and Sook Chang, and Ms. Chang worked at the store. Mr. Kim and ... More...

$0 (06-27-2018 - FL)


Rana Samara v. Haitham Matar
When a trial court judgment rests on more than one ground, it may be
impossible for a losing party to obtain appellate review of all of the court's
determinations. In a breach of contract action, for example, a trial court might
grant a defense motion for summary judgment because no contract was formed,
and because in any event there was no breach. On direct review, an appellateMore...

$0 (06-26-2018 - CA)


TESAR INDUSTRIAL CONTRACTORS, INC. v. REPUBLIC STEEL
In 2012, Republic initiated a project to construct an electronic arc furnace at
Republic's facility in Lorain, Ohio. The project involved several components, including the
erection of supporting and surrounding structures. Republic solicited bids for the project, which
required multiple contractors to perform different and overlapping portions.
{¶3} Tesar submitted an initia... More...

$0 (06-03-2018 - OH)


DOMINO'S PIZZA, LLC. v. YVONNE WIEDERHOLD, AS PERSONAL REPRESENTATIVE OF THE ESTATE OF RICHARD E. WIEDERHOLD
In January 2011, Richard Wiederhold swerved into the median to avoid a vehicle
that had pulled out in front of him. His vehicle drifted through the median and back across
the roadway, flipped over once or twice, and came to rest in a ditch. The collision
immediately rendered him a quadriplegic. The other vehicle was driven by Jeffrey Kidd,
who was delivering pizza for Domino... More...

$0 (05-15-2018 - FL)


IIG Wireless, Inc. v. John Yi and Lauren Kim
The parties appeal and cross-appeal a judgment after a jury trial in this
business dispute. Plaintiff and cross-defendant IIG Wireless, Inc. (IIG) obtained a
judgment of $401,860 against defendant and cross-complainant John Yi. IIG also sued
Lauren Kim, Yi's fiancée, who moved for and was granted a nonsuit during trial. Yi
obtained a judgment on his cross-complaint for $122,000, re... More...

$0 (04-25-2018 - CA)


ESTATE OF WAYNE KENNETH DUCHENEAUX vs. DOUGLAS D. DUCHENEAUX SUPREME COURT OF THE STATE OF SOUTH DAKOTA
A detailed summary of the facts underlying this case are outlined in Estate of Ducheneaux v. Ducheneaux, 2015 S.D. 11, 861 N.W.2d 519. Wayne Ducheneaux died testate on November 18, 2011, leaving six children. On January 6, 2009, Wayne executed a will dividing his estate equally among his five
daughters1 while "intentionally making no provisions . . . for [his] son Douglas Ducheneaux," with ... More...

$0 (04-17-2018 - SD)


Pharrell Williams v. Frankie Christian Gaye Central District of California Federal Courthouse - Los Angeles, California
After a seven-day trial and two days of deliberation, a jury found that Pharrell Williams, Robin Thicke, and Clifford Harris, Jr.'s song "Blurred Lines," the world's best-selling single in 2013, infringed Frankie Christian Gaye, Nona Marvisa Gaye, and Marvin Gaye III's copyright in Marvin Gaye's 1977 hit song "Got To Give It Up." Three consolidated appeals followed.

Appellants and Cross-A... More...

$0 (03-29-2018 - CA)


Riverview Park Estates, LLC v. Imperial Investments, LLC, Stephen C. Pereff, Inc., Michael J. King, S. Gregory Pittman, Winters, King and Associates, Inc. MoreLaw Suites Legal Suites and Virtual Offices In Downtown Tulsa 406 South Boulder and 624 South Denver 918-582-3993 or Info@morelaw.com
Tulsa, OK - Riverview Park Estates, LLC sued Imperial Investments, LLC, Stephen C. Pereff, Inc., Michael J. King, S. Gregory Pittman, Winters, King and Associates, Inc. seeking injunctive relief.

Issue # 1. Issue: CAUSE #1 - INJUNCTION RELIEF (INJUNCT)
Filed By: RIVERVIEW PARK ESTATES LLC
Filed Date: 05/31/2007
Party Name Disposition Information
Defendant: IMPERIAL IN... More...

$0 (02-27-2018 - OK)


Hong Sang Market, Inc. v. Vivien Peng
These appeals arise out of a commercial tenancy dispute. In one appeal, defendant
and cross-complainant Vivien Peng challenges a judgment awarding damages for backdue
rent to her former landlord, plaintiff and cross-defendant Hong Sang Market, Inc.
(Hong Sang). Peng argues that a judgment in a prior unlawful detainer action against her,
in which Hong Sang was awarded one month's ba... More...

$0 (02-14-2018 - CA)


David Pittington v. Great Smoky Mountain Lumberjack Feud, L.L.C. Eastern District of Tennessee - Federal Courthouse - Knoxville, Tennessee
Plaintiffs who successfully prove that they
were fired in violation of Title VII of the Civil Rights Act of 1964 ("Title VII") are
presumptively entitled to back pay for the amount they would have earned had they not been
unlawfully terminated. Such awards are intended to compensate fully plaintiffs for the wrongs
that they suffered. For the same reason, an award of prejudgment int... More...

$0 (01-26-2018 - TN)


Samuel Duran v. U.S. Bank National Association
In our second encounter with this class action case, plaintiffs Samuel Duran and
Matt Fitzsimmons appeal from the trial court's order denying class certification. This
case is a wage and hour class action challenging whether defendant U.S. Bank National
Association (Bank) had properly classified its business banking officers (BBOs) as
exempt employees under the outside salesperson ... More...

$0 (01-18-2018 - CA)


Thomas Hockaday, Jr. v. Vasyl Zabiiaka and Aries Logistics, Inc. District of Wyoming Federal Courthouse - Cheyenne, Wyoming
Cheyenne, WY - Thomas Hockaday, Jr., individually and on behalf of Kimberly Tubbs and Katrina Faulkner, sued Vasyl Zabiiaka and Aries Logistics, Inc. on auto negligence, wrongful death and respondeat superior theories.

Some docket entries for this case:

Date Filed # Docket Text
12/01/2017 239 NOTICE OF PLAINTIFFS' UNTIMELY SUBMISSION OF RESPONSE TO OBJECTIONS AND COUNTER-P... More...

$0 (12-11-2017 - WY)


Joseph Abuzaid v. Anani, LLC, Big D Concrete, Inc., Muamar Anani and Hanadi Anani Dallas County Courthouse - Dallas, Texas
This appeal involves appellant Joseph Abuzaid's alleged fraudulent filing of UCC
Financing Statements. Appellees Anani, LLC and Big D Concrete, Inc. challenged the financing
statements as fraudulent liens and sought partial summary judgment. Appellees Muamar and
Hanadi Anani subsequently intervened and filed a separate summary judgment motion
challenging the fraudulent liens Abuzai... More...

$0 (11-23-2017 - TX)


John PD Doe v. San Diego-Imperial Council

I.
INTRODUCTION
Plaintiff John PD Doe was sexually abused by a Boy Scout master beginning in
1998 and continuing for a number of years at a ranch owned and operated by the
2
defendants, San Diego-Imperial Council and Boy Scouts of America (the defendants). In
2013, many years after the abuse and after Doe obtained psychological therapy, he filed
this action agains... More...

$0 (10-19-2017 - CA)


Jose Flores; Ryan Reyes; Brian Perez v. City of Westminster, et al. Ninth Circuit Court of Appeals Courthouse - San Francisco, California
Jose Flores, Ryan Reyes, and Brian Perez, three police officers of Latino descent (collectively, "Plaintiffs"), sued their employer and, after a nine-day jury trial, they won. The officers alleged that the City of Westminster ("the City" or "the Department") as well as current and former Westminster Police Chiefs Mitchell Waller, Andrew Hall, Ronald Coopman, and Kevin Baker ("the Chiefs"), discrim... More...

$0 (10-11-2017 - CA)


Stephen Lukacs v. Christina Brooke Ice Hillsborough County Courthouse - Tampa, Florida
R.J. Reynolds Tobacco Company (R.J. Reynolds) appeals a second amended final judgment entered in favor of Cindy Evers, in her capacity as personal representative of the Estate of Jacqueline Loyd. Evers' wrongful death action was predicated on claims that Loyd was an Engle1 class member and that Loyd's lung cancer was, at least in part, caused by R.J. Reynolds and Lorillard Tobacco Company (for who... More...

$0 (10-01-2017 - )


Next Page