Please E-mail suggested additions, comments and/or corrections to Kent@MoreLaw.Com.
Help support the publication of case reports on MoreLaw
Date: 01-26-2018
Case Style:
United States of America v. Arthur Rathburn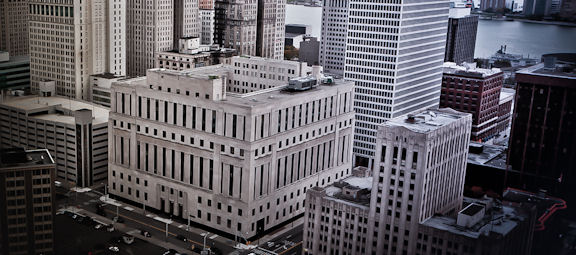 Eastern District of Michigan Federal Courthouse - Detroit, Michigan
Case Number: 2:16-cr-20043-PDB-EAS
Judge: PDB
Court: United States District Court for the Eastern District of Michigan (Wayne County)
Plaintiff's Attorney: Linda Aouate
Defendant's Attorney: Craig A. Daly
Description: Detroit, MI - Grosse Pointe Park Man Convicted in Fraud Scheme Involving Distribution of Infectious Human Remains

A Grosse Pointe Park resident was convicted today by a jury on charges of wire fraud, transportation of hazardous material, and false statements in a scheme involving the distribution of body parts, some that tested positive for diseases, including HIV and hepatitis, announced United States Attorney Matthew Schneider.

Schneider was joined in the announcement by Special Agent in Charge David P. Gelios, Federal Bureau of Investigation, Detroit Division; Regional Special Agent-in-Charge Thomas J. Ullom, U.S. Department of Transportation - Office of Inspector General; Officer in Charge Elizabeth Harton of the Centers for Disease Control and Prevention, Division of Global Migration & Quarantine and Arizona Attorney General Mark Brnovich.

Convicted was Arthur Rathburn, 63. The jury deliberated approximately 4 hours. Rathburn was convicted on 7 of the 9 wire fraud counts and the count alleging illegal transportation of hazardous material. He was acquitted of the false statement count.


United States Attorney Matthew Schneider stated, "The jury has delivered justice in this case, and we thank trial prosecutors John Neal and Tim Wyse and our law enforcement partners for their outstanding work in investigating and prosecuting these particularly gruesome crimes."

Today's verdict is a victory for the cause of justice", said David P. Gelios, Special Agent in Charge, Detroit Division of the FBI. "The fraud scheme orchestrated by IBI shocked even the most experienced of our investigative team as individuals, even in death, were victimized as IBI intentionally and recklessly marketed and transported contaminated human remains despite regulations prohibiting such practices. Once again, personal greed overcame decency. And, once again, the message should be clear that protecting the public from fraudulent business practices will remain a priority of the FBI and our federal partners."

According to evidence presented during the two-week trial, Arthur Rathburn and his wife Elizabeth Rathburn were the owners and operators of International Biological, Inc. ("IBI"). IBI's primary function was renting human body parts, such as heads and torsos, to customers who used the remains for medical or dental training. The Rathburns participated in a scheme to defraud in which IBI obtained donated bodies and body parts from suppliers, which IBI would then typically dismember and rent out to customers for medical or dental training. Arthur and Elizabeth Rathburn knew that the donors of a number of these bodies had died of an infectious disease, or that the bodies had tested positive for an infectious disease. IBI sometimes obtained diseased remains from their suppliers at a reduced cost, due to the fact that end users of human remains generally reject infectious bodies and body parts for use in medical or dental training.

It was part of the scheme that the Rathburns would provide human remains to IBI's customers, falsely representing to those customers that the remains were free of certain infectious diseases. The Rathburns were aware that IBI's customers would not accept remains infected with certain diseases. The scheme included directly profiting from infectious remains supplied to unwitting customers in violation of contractual agreements and failing to disclose to customers that IBI ignored industry standard precautions to prevent potential cross-contamination between infectious and non-infectious remains.

Evidence further demonstrated that Arthur Rathburn willfully caused to be delivered hazardous material regulated by the Department of Transportation, namely a human head of an individual known to have died from bacterial sepsis and aspiration pneumonia, to Delta Cargo, an air carrier, for transportation in air commerce in violation of federal regulations. In violation of these regulations, the human head was packaged in a trash bag placed within a camping cooler. Seven other human heads were also part of the shipment and packed in the same manner. Large quantities of liquid blood were found within the coolers. Furthermore, Arthur Rathburn was charged with making three false statements connected to this shipment.

Elizabeth Rathburn, 56, pleaded guilty to wire fraud in March, 2016. According to the plea agreement, Elizabeth Rathburn admitted to providing human remains to a customer of IBI's falsely representing to that customer that the remains were free of certain infectious diseases, when in fact she knew the remains had tested positive for Hepatitis B and HIV. She is awaiting sentencing.

Arthur Rathburn face a maximum statutory penalty of twenty years in prison for each of nine counts of wire fraud. Arthur Rathburn also faces a maximum of five years in prison for one charge of Transporting Hazardous Material under 49 U.S.C. §46312 and a maximum of five years in prison for each of three counts charging him with making false statements to the United States Government.

The investigation in this case was handled by the Federal Bureau of Investigation, the Centers for Disease Control and Prevention, the Arizona Attorney General's Office, and the U.S. Department of Transportation, Office of Inspector General with support from U.S. Customs and Border Protection and Homeland Security Investigations. Special thanks are also due to the Wayne County Medical Examiner's Office for their critical assistance.
Outcome: Guilty
Plaintiff's Experts:
Defendant's Experts:
Comments: