Please E-mail suggested additions, comments and/or corrections to Kent@MoreLaw.Com.
Help support the publication of case reports on MoreLaw
Date: 05-10-2019
Case Style:
United States of America v. Jarrod M. Andra
Case Number: 6:19-cr-10037-EFM
Judge: Eric F. Melgren
Court: United States District Court for the District of Kansas (Sedgwick County)
Plaintiff's Attorney: Larry Welch
Defendant's Attorney: James R. Pratt
Description: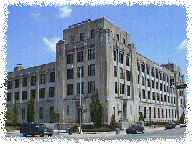 Wichita, KS - Sumner County Man Pleads Guilty To Impersonating an FBI Agent
A Sumner County man pleaded guilty today to trying to get out of a traffic ticket by pretending to be an FBI agent, U.S. Attorney Stephen McAllister said.
Jarrod M. Andra, 36, Milan, Kan., pleaded guilty to one count of impersonating an agent. In his plea, he admitted that on Nov. 30, 2018, he was stopped for speeding in Sumner County by a Sumner County Sheriff's Deputy. Andra claimed he was a special agent for the FBI and presented what appeared to be an FBI identification card with his photo.
Both parties are expected to recommend a sentence of probation and a $1,000 fine. McAllister commended the FBI, the Sumner County Sheriff's Department.

18:912 False personation (INDICTMENT 2/27/2019)
(1)
18:1001(a)(2) Making a false statement (INDICTMENT 2/27/2019)
(2)
Outcome: 05/09/2019 10 MINUTE ENTRY for proceedings held before District Judge Eric F. Melgren: CHANGE OF PLEA HEARING as to Jarrod M. Andra held on 5/9/2019. SENTENCING set for 7/31/2019 at 09:30 AM in Wichita Courtroom 408 (EFM) before District Judge Eric F. Melgren. (Court Reporter Jo Wilkinson) (This is a TEXT ENTRY ONLY. There is no.pdf document associated with this entry.) (cm) (Entered: 05/09/2019)
05/09/2019 11 PETITION TO ENTER PLEA OF GUILTY AND ORDER ENTERING PLEA as to Jarrod M. Andra (1) - Count 1 of the Indictment. Signed by District Judge Eric F. Melgren on 5/9/2019. (mam) (Entered: 05/09/2019)
05/09/2019 12 PLEA AGREEMENT as to Jarrod M. Andra re 11 Petition and Order to Enter Plea of Guilty. (mam) (Entered: 05/09/2019)
Plaintiff's Experts:
Defendant's Experts:
Comments: