Please E-mail suggested additions, comments and/or corrections to Kent@MoreLaw.Com.
Help support the publication of case reports on MoreLaw
Date: 10-15-2019
Case Style:
United States of America v. Cory Shane Disotell
Case Number: 6:19-cr-00126-RRS-CBW
Judge: Robert R. Summerhays
Court: United States District Court for the Western District of Louisiana (Lafayette Parish)
Plaintiff's Attorney: Myers P. Namie
Defendant's Attorney:

Call 888-354-4529 if you need help finding a Using a Facility in Interstate Commerce to Entice or Coerce a Minor to Engage in Criminal Sexual Activity defense lawyer in Lafayette, Louisiana

Description: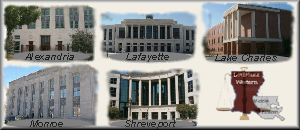 LaFayette, LA - Port Barre Man Pleads Guilty to Transportation of a Minor with Intent to Engage in Criminal Sexual Activity
Cory Shane Disotell, 48, of Port Barre, Louisiana, appeared before U.S. District Judge Robert R. Summerhays and pled guilty to transportation of a minor with the intent to engage in criminal sexual activity.
According to facts presented during today's plea, Disotell devised a plan to coerce a 15-year old Port Barre minor to leave school and run away with him. On March 28, 2019, the defendant traveled to the school where the minor was a student and convinced the child to leave with him. He then transported her to Mississippi, and thereafter to Durango, Colorado, where he was apprehended after an extensive nationwide manhunt. At the time of his arrest, the defendant admitted he took the child from Port Barre, Louisiana, to Mississippi, and ultimately to Durango, Colorado, engaging in sexual acts along the way.
At sentencing Disotell faces 10 years to life in prison, five years to life of supervised release, mandatory registration as a sex offender, a fine of up to $250,000, and forfeiture of a Braztech S41118 .410 caliber shotgun seized at the time of his arrest in Colorado.
The FBI, U.S. Marshal's Service, Port Barre Police Department, Archuleta County Sheriff's Office, and Durango, Colorado Police Department conducted the investigation.
This case was brought as part of Project Safe Childhood, a nationwide initiative launched in May 2006 by the Department of Justice to combat the growing epidemic of child sexual exploitation and abuse. Led by United States Attorneys' Offices and the Criminal Division's Child Exploitation and Obscenity Section, Project Safe Childhood combines federal, state and local resources to locate, apprehend and prosecute individuals who sexually exploit children, and to identify and rescue victims. For more information about Project Safe Childhood, please visit www.usdoj.gov/psc. For more information about Internet safety education, please visit www.usdoj.gov/psc and click on the tab "resources."

Charges:


COERCION OR ENTICEMENT OF FEMALE - Using a Facility in Interstate Commerce to Entice or Coerce a Minor to Engage in Criminal Sexual Activity
(1s-3s)
COERCION OR ENTICEMENT OF MINOR FEMALE - Transportation of a Minor With the Intent to Engage in Criminal Sexual Activity with Forfeiture Allegations
(4s)
Outcome: 10/11/2019 40 MINUTES for proceedings held before Judge Robert R Summerhays: CHANGE OF PLEA HEARING as to Cory Shane Disotell (1) held on 10/11/2019, PLEA ENTERED: Guilty Count 4s. Presentence report ordered. Sentencing set for 1/10/2020 09:00 AM in Lafayette, Courtroom 3 before Judge Robert R Summerhays. Defendant detained pending sentencing. (Court Reporter: LaRae E Bourque) (crt,Bray, K) (Entered: 10/11/2019)
10/11/2019 41 ORDER OF REFERRAL to Probation for Pre-Sentence Investigation and Report as to Cory Shane Disotell (1) by Judge Robert R Summerhays on 10/11/2019. (crt,Bray, K) (Entered: 10/11/2019)
10/11/2019 42 WAIVER OF RE-INDICTMENT by Cory Shane Disotell (1) (crt,Bray, K) (Entered: 10/11/2019)
10/11/2019 43 PLEA AGREEMENT Accepted as to Cory Shane Disotell (1) (Attachments: # 1 Affidavit of understanding, # 2 Factual basis for guilty plea, # 3 Elements of offense, # 4 Consent Decree of Forfeiture)(crt,Bray, K) (Entered: 10/11/2019)
Plaintiff's Experts:
Defendant's Experts:
Comments: