Please E-mail suggested additions, comments and/or corrections to Kent@MoreLaw.Com.
Help support the publication of case reports on MoreLaw
Date: 10-24-2019
Case Style:
United States of America v. William T. Gangemi
Case Number: 4:19-cr-00216-JED
Judge: John E Dowdell
Court: United States District Court for the Northern District of Oklahoma (Tulsa County)
Plaintiff's Attorney: Ryan M. Roberts
Defendant's Attorney:

Call 888-354-4529 if you need help finding a Lacey Act conspiracy criminal defense lawyer in Tulsa, Oklahoma

Description: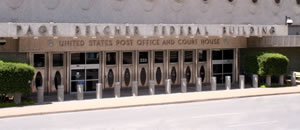 Tulsa, OK - Tulsa parking company executive sentenced to prison in bank fraud scheme claims he did it to pay an Internet scammer
A former American Parking employee was sentenced for defrauding BancFirst and his employer of $426,220.36.
U.S. District Judge Claire V. Eagan sentenced Jerry Albert Wiley, 70, of Tulsa, to 24 months in federal prison to be followed by three years of supervised release. Judge Eagan further ordered restitution be paid to American Parking in the amount of $426, 220.32.
"White collar criminals can devastate small business owners who are vital contributors to our local economy," said U.S. Attorney Trent Shores. "In this case, Defendant Wiley fraudulently stole nearly half a million dollars from his employer, American Parking. What he is learning now is that there are serious consequences for his greed fueled criminal acts."
In his position as controller at American Parking, Wiley directed authorized funds transfers related to business expenses from the company's corporate checking account at BancFirst. Starting Jan. 5, 2018, Wiley knowingly abused his position by transferring funds from American Parking's accounts at BancFirst to accounts owned and controlled by one of Wiley's acquaintances. The defendant claimed that he lost the funds after sharing them with an online acquaintance to pursue a personal investment opportunity. In return for the investment, Wiley had hoped to receive $100,000,000 from the acquaintance's supposed inheritance.
The United States argued that Mr. Wiley was not a helpless victim but an experienced, well-educated professional motivated by greed. The prosecution contended that Wiley could have obtained the funds to assist his acquaintance through a number of legal means, but instead knowingly bilked American Parking out of nearly half a million dollars in order to eventually receive a greater payout from the promised "inheritance".
The FBI conducted the investigation.
Tulsa, OK - New Jersey Man Pleads Guilty to Smuggling Over 1,000 Illegally Collected Box Turtles from Oklahoma
A New Jersey man pleaded guilty Wednesday in federal court to conspiring with others to purchase, transport and sell more than 1,000 box turtles that were unlawfully collected from the state of Oklahoma, announced U.S. Attorney Trent Shores.
From May 1, 2017 to May 31, 2018, William T. Gangemi, 26, of Freehold, New Jersey, knowingly facilitated the purchase and transport of unlawfully collected three-toed and western (ornate) box turtles from Oklahoma to New Jersey in order to sell them for profit. Gangemi was part of a syndicate of wildlife smugglers where protected turtles were exchanged back and forth between the United States and China.
By smuggling the turtles, Gangemi violated the Lacey Act, a federal law which makes it a felony to engage in the sale or purchase of protected wildlife with a market value in excess of $350 knowing that the wildlife was taken, possessed, transported or sold in violation of laws or regulations of any state. In Oklahoma, the collection of both types of box turtles for commercial purposes is against the law. Box turtles reach sexual maturity at approximately 10 years of age and have a high nest and juvenile mortality rate. Due to these factors, the harvest of the turtles can have highly detrimental effects on populations.
"Oklahomans respect and value wildlife, and we don't appreciate those who would seek to exploit our vulnerable wildlife populations for their corrupt greed. Laws created by Congress to protect wildlife, like the box turtle, will be enforced by the U.S. Attorney's Office. Defendant Gangemi flagrantly violated state and federal laws by illegally collecting and exporting box turtles to the black market," said U.S. Attorney Trent Shores. "As a result of the diligent investigative work undertaken by agents from the U.S. Fish and Wildlife Service and Oklahoma Department of Wildlife Conservation, Mr. Gangemi must now face the consequences."
"This case is an excellent example of how state and federal law enforcement agencies work together to combat the illegal wildlife trade," said Phillip Land, a Special Agent in Charge for the U.S. Fish and Wildlife Service. "We would like to thank the Oklahoma Department of Wildlife Conservation and the U. S. Attorney's Office for their assistance with this case. Together, we can hold traffickers accountable and protect imperiled species for future generations."
As part of his plea agreement, Gangemi agreed to pay $250,000 in restitution to the Oklahoma Department of Wildlife Conservation and a $100,000 fine to the U.S. Fish and Wildlife Service for violation of the Lacey Act. The final restitution and fine amounts will be determined by the Court at the time of sentencing, which is scheduled for Jan. 27, 2020.
Gangemi also pleaded guilty to additional federal charges for trafficking wildlife in South Carolina and New Jersey.
The United States Fish and Wildlife Service, the Oklahoma Department of Wildlife Conservation and the U.S. Postal Inspection Service conducted the investigation.
Outcome: 10/23/2019 6 MINUTES of Proceedings - held before Magistrate Judge Jodi F Jayne: Initial Appearance held on 10/23/2019 , Arraignment held on 10/23/2019 , adding attorney Matthew Peter Cyran for William T Gangemi, setting/resetting bond, striking/terminating deadline(s)/hearing(s) as to William T Gangemi (Court Reporter: C1) (tjc, Dpty Clk) Modified on 10/23/2019 to correct the name of the judge (tjc, Dpty Clk). (Entered: 10/23/2019)
10/23/2019 7 WAIVER of Indictment approved by Magistrate Judge Jodi F Jayne by William T Gangemi (tjc, Dpty Clk) (Entered: 10/23/2019)
10/23/2019 8 BOND approved by Magistrate Judge Jodi F Jayne as to William T Gangemi (tjc, Dpty Clk) (Entered: 10/23/2019)
10/23/2019 9 ORDER by Magistrate Judge Jodi F Jayne , setting conditions of release as to William T Gangemi (tjc, Dpty Clk) (Entered: 10/23/2019)
10/23/2019 10 MINUTES of Proceedings - held before Chief Judge John E Dowdell: Change of Plea Hearing held on 10/23/2019 , guilty plea entered, setting/resetting deadline(s)/hearing(s): ( Sentencing set for 1/27/2020 at 10:00 AM before Chief Judge John E Dowdell) as to William T Gangemi (Court Reporter: Terri Beeler) (lml, Dpty Clk) (Entered: 10/23/2019)
10/23/2019 11 WAIVER of Right to Trial by Jury approved by Chief Judge John E Dowdell by USA, William T Gangemi as to William T Gangemi (lml, Dpty Clk) (Entered: 10/23/2019)
10/23/2019 12 WAIVER of Right to have Thirty Days to Prepare for Trial approved by Chief Judge John E Dowdell by USA, William T Gangemi as to William T Gangemi (lml, Dpty Clk) (Entered: 10/23/2019)
10/23/2019 13 PETITION to Enter Plea of Guilty and ORDER Accepting Plea by Chief Judge John E Dowdell as to William T Gangemi (lml, Dpty Clk) (Entered: 10/23/2019)
10/23/2019 14 PLEA AGREEMENT by USA, William T Gangemi as to William T Gangemi (lml, Dpty Clk) (Entered: 10/23/2019)
10/23/2019 15 SEALED PLEA SUPPLEMENT (lml, Dpty Clk) (Entered: 10/23/2019)

Plaintiff's Experts:
Defendant's Experts:
Comments: