Please E-mail suggested additions, comments and/or corrections to Kent@MoreLaw.Com.
Help support the publication of case reports on MoreLaw
Date: 10-19-2019
Case Style:
United States of America v. Lee Charles Smith
Case Number: 4:19-cr-00169-GKF
Judge: Gregory Kent Frizzell
Court: United States District Court for the Northern District of Oklahoma (Tulsa County)
Plaintiff's Attorney: Michael Scott Proctor
Defendant's Attorney:

Call 888-354-4529 if you need help finding a destruction and theft of oil field equipment criminal defense lawyer in Tulsa, Oklahoma.

Description: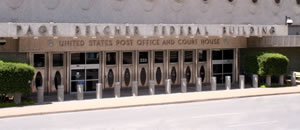 Tulsa, OK - Man Admits to Dismantling and Stealing Oil Field Equipment
A Wynona man pleaded guilty to dismantling and stealing oil pumping rig equipment from pumpjacks in Osage County.
Lee Charles Smith, 32, pleaded guilty to Destruction of an Energy Facility. In his plea agreement, Smith admitted to dismantling and stealing the oil pumping rig equipment from Sept. 14 through Sept. 17, 2018.
"The oil and gas industry is the life blood of the Oklahoma economy. Lee Charles Smith dismantled pumpjack rig motors in Osage County to sell for parts. His thievery was an attack on the livelihood of all Oklahomans," said U.S. Attorney Trent Shores. "I'm proud of the investigative team for bringing Smith to justice. He caused in excess of $30,000 in damages and disrupted valuable production time. This United States Attorney's Office will work with our law enforcement partners to prosecute the destruction and theft of pumping equipment."
The Osage County Sheriff's Office, Oklahoma State Bureau of Investigation and FBI conducted the investigation.

Charges:


18:1366(b): Destruction of an Energy Facility
(1-5)
18:1366(b): Destruction of an Energy Facility
(6)

Outcome: 10/16/2019 36 MINUTES of Proceedings - held before Judge Gregory K Frizzell: Change of Plea Hearing held on 10/16/2019 , correcting defendant's name by interlineation to Lee Charles Smith, II and amending all previous filings by interlineation to reflect same, guilty plea entered, setting/resetting sentencing: ( Sentencing set for 1/16/2020 at 09:30 AM before Judge Gregory K Frizzell) as to Lee Charles Smith (Court Reporter: Brian Neil) (kjp, Dpty Clk) (Entered: 10/16/2019)
10/16/2019 37 WAIVER of Right to Trial by Jury approved by Judge Gregory K Frizzell by Lee Charles Smith, II (kjp, Dpty Clk) (Entered: 10/16/2019)
10/16/2019 38 PETITION to Enter Plea of Guilty and ORDER Accepting Plea by Judge Gregory K Frizzell as to Lee Charles Smith, II (kjp, Dpty Clk) (Entered: 10/16/2019)
10/16/2019 39 PLEA AGREEMENT as to Lee Charles Smith, II (kjp, Dpty Clk) (Entered: 10/16/2019)
10/16/2019 40 SEALED PLEA SUPPLEMENT (kjp, Dpty Clk) (Entered: 10/16/2019)

Plaintiff's Experts:
Defendant's Experts:
Comments: