Please E-mail suggested additions, comments and/or corrections to Kent@MoreLaw.Com.
Help support the publication of case reports on MoreLaw
Date: 10-16-2019
Case Style:
United States of America v. Thomas Dustin Daughtry
Case Number: 4:19-cr-00161-CVE
Judge: Clair V. Egan
Court: United States District Court for the Northern District of Oklahoma (Tulsa County)
Plaintiff's Attorney: Shannon Cozzoni
Defendant's Attorney:

Call 888-354-4529 if you need help finding a sexual exploitation of a child with possession of child pornography criminal defense lawyer in Tulsa, Oklahoma.

Description: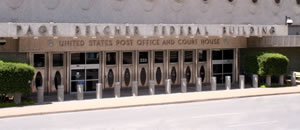 Tulsa, OK - Operation Independence Day Arrest Results in Guilty Plea
Sperry Man Admits to Sexual Exploitation of a Child
A man arrested as part of a month long operation to capture predators and identify child victims pleaded guilty Friday in federal court for sexual exploitation of a child, announced U.S. Attorney Trent Shores.
Thomas Dustin Daughtry, 42, of Sperry, illegally engaged with the minor from Feb. 18, 2019 through June 25, 2019. In his plea agreement, Daughtry stated that he knowingly enticed a 15-year-old into engaging in sexually explicit conduct and persuaded the minor to send sexual images to him.
"The U.S. Attorney's Office is a fierce advocate for Oklahoma's children," said U.S. Attorney Trent Shores. "Child predators like Mr. Daughtry use the internet as their hunting grounds to find vulnerable prey. Prosecutors and our law enforcement partners will remain vigilant in our own righteous hunt for these abusers and bring them forward to account for their crimes."
This prosecution resulted from Operation Independence Day, an investigation which was conducted in the month of July and resulted in nine individuals being charged federally in the Northern District of Oklahoma.
The nationwide operation relied on the 86 FBI-led Child Exploitation and Human Trafficking Task Forces, which leverage the resources and intelligence of other federal, state, local and tribal partners. In total, law enforcement recovered or identified 103 child victims and arrested of 67 sex traffickers.
The FBI and Tulsa Police Department conducted the investigation.

18:2251(a) and 2251(e): Sexual Exploitation of a Child; FORFEITURE ALLEGATION: 18:2253 and 2428: Child Pornography
(1)
18:2252(a)(4)(B) and 2252(b)(2): Possession of Child Pornography; FORFEITURE ALLEGATION: 18:2253 and 2428: Child Pornography
(2)
18:2422(b): Coercion and Enticement; FORFEITURE ALLEGATION: 18:2253 and 2428: Child Pornography
(3)
Outcome: 10/11/2019 31 MINUTES of Proceedings - held before Judge Claire V Eagan: Change of Plea Hearing held on 10/11/2019 , setting/resetting deadline(s)/hearing(s): ( Sentencing set for 1/15/2020 at 09:30 AM before Judge Claire V Eagan), guilty plea entered as to Thomas Dustin Daughtry (Court Reporter: Greg Bloxom) (crp, Dpty Clk) (Entered: 10/11/2019)
10/11/2019 32 WAIVER of Right to Trial by Jury approved by Judge Claire V Eagan by Thomas Dustin Daughtry (crp, Dpty Clk) (Entered: 10/11/2019)
10/11/2019 33 PETITION to Enter Plea of Guilty and ORDER Accepting Plea by Judge Claire V Eagan as to Thomas Dustin Daughtry (crp, Dpty Clk) (Entered: 10/11/2019)
10/11/2019 34 PLEA AGREEMENT by USA, Thomas Dustin Daughtry as to Thomas Dustin Daughtry (crp, Dpty Clk) (Entered: 10/11/2019)
10/11/2019 35 SEALED PLEA SUPPLEMENT (crp, Dpty Clk) (Entered: 10/11/2019)
Plaintiff's Experts:
Defendant's Experts:
Comments: