Please E-mail suggested additions, comments and/or corrections to Kent@MoreLaw.Com.
Help support the publication of case reports on MoreLaw
Date: 10-15-2019
Case Style:
United States of America v. Darryl Henry
Case Number: 2:18-cr-00193-LMA-JVM
Judge: Lance M. Africk
Court: United States District Court for the Eastern District of Louisiana (Orleans Parish)
Plaintiff's Attorney: Myles Ranier
Defendant's Attorney:

Call 888-354-4529 if you need help finding an armed robbery criminal defense lawyer in New Orleans, Louisiana

Description: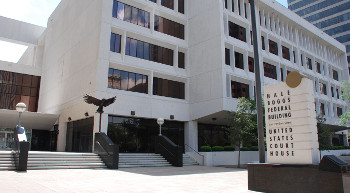 New Orleans, LA - Westbank Gunman Sentenced To 15 Years for Two Attempted Robberies in Orleans Parish and One Robbery in Jefferson Parish
Darryl Henry ("Henry"), age 27, was sentenced on October 9, 2019, for committing three Hobbs Act Robberies and Brandishing a Firearm during a Crime of Violence.
On August 24, 2018, HENRY entered the Walmart Supercenter at 4001 Behrman Place in Algiers, New Orleans, Louisiana, and passed the teller a demand note and displayed a firearm. The teller was unable to open the safe, and HENRY left the business empty-handed. HENRY then went to the Winn-Dixie Supermarket at 3008 Holiday Drive, in Algiers, New Orleans, Louisiana, and unsuccessfully attempted to rob a clerk at that location. HENRY then drove to the Walmart Neighborhood Market located 3265 Manhattan Boulevard, Harvey, Louisiana, and passed a demand note to a cashier while holding a gun in his right hand. HENRY ultimately fled the store with $6,992.00 in United States currency.
HENRY was sentenced to 180 months by United States District Judge Lance M. Africk. HENRY was also sentenced to a period of five (5) years of supervised release after his term of imprisonment.
Project Safe Neighborhoods (PSN) is the centerpiece of the Department of Justice's violent crime reduction efforts. PSN is an evidence-based program proven to be effective at reducing violent crime. Through PSN, a broad spectrum of stakeholders work together to identify the most pressing violent crime problems in the community and develop comprehensive solutions to address them. As part of this strategy, PSN focuses enforcement efforts on the most violent offenders and partners with locally based prevention and reentry programs for lasting reductions in crime.
U.S. Attorney Strasser praised the diligent work of the Federal Bureau of Investigation's New Orleans Violent Crime Task Force, the New Orleans Police Department, and the Jefferson Parish Sheriff's Office.

Charges:


18:1951(a) INTERFERENCE WITH COMMERCE BY THREAT OR VIOLENCE
(1)

18:1951(a) INTERFERENCE WITH COMMERCE BY THREAT OR VIOLENCE
(3)

18:1951(a) INTERFERENCE WITH COMMERCE BY THREAT OR VIOLENCE
(5)

18:924(c)(1)(A)(i) and (ii) POSSESSION OF A FIREARM IN FURTHERANCE OF A CRIME OF VIOLENCE
(6)
Outcome: 10/10/2019 57 Statement of Reasons for sentencing as to Darryl Henry. NOTE: This document will be accessible only to the District Judge, the government attorney, the attorney for the applicable defendant, the U.S. Probation Office and the U.S. attorney's financial litigation unit. Other defendants in the case and the general public will NOT be able to view this document. (blg) (Entered: 10/10/2019)
10/10/2019 58 NOTICE OF HEARING as to Darryl Henry. Restitution Hearing set for 1/8/2020 02:00 PM before Judge Lance M Africk. (blg) (Entered: 10/10/2019)
Plaintiff's Experts:
Defendant's Experts:
Comments: