United States of America v. Freedom Woody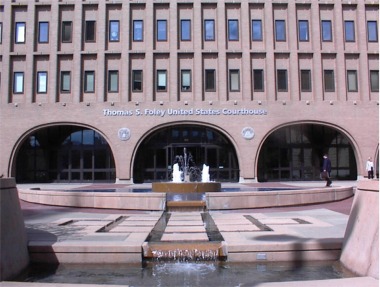 Eastern District of Washington Federal Courthouse - Spokane, Washington
Morelaw Internet Marketing

National Find A Lawyer Directory
888-354-4529
Case Number: 2:17-cr-00070-TOR
Judge: Thomas O. Rice
Court: United States District Court for the Eastern District of Washington (Spokane County)
Plaintiff's Attorney: Alison L Gregoire
Defendant's Attorney: Matthew A Campbell - FPD
Description: Spokane, WA - Spokane Man Sentenced to 21 Years for Production of Child Pornography

Freedom Woody, age 22, of Spokane, Washington, was sentenced on June 21, 2018 after having pleaded guilty to on February 21, 2018 to production of child pornography. Chief United States District Judge Thomas O. Rice sentenced Woody to a 21-year term of imprisonment, to be followed by a 30-year term of court supervision after he is released from federal prison. Upon release from prison, Woody will be required to register as a sex offender for the rest of his life.

According to information disclosed during court proceedings, investigators found Woody and a 13-year old girl from Oregon in a homeless camp near the Spokane River after the girl's grandmother reported her missing. When interviewed by officers, Woody admitted having sex with her. A search of Woody's phone revealed child pornography images of seven additional minor aged victims. Woody enticed the minors to engage in sexual activity with him, produced child pornography, and distributed several of the images.

United States Attorney Harrington said, "This case is a fine example of the great work that can be done when state and federal law enforcement work together. The United States Attorney's Office will continue to prosecute aggressively child exploitation crimes that occur in the Eastern District of Washington."

This case was pursued as part of Project Safe Childhood, a nationwide initiative launched in May 2006 by the United States Department of Justice to combat the growing epidemic of child sexual exploitation and abuse. Led by the United States Attorneys' Offices and the Criminal Division's Child Exploitation and Obscenity Section, Project Safe Childhood marshals federal, state, and local resources to locate, apprehend, and prosecute individuals who sexually exploit children, and to identify and rescue victims. The Project Safe Childhood Initiative ("PSC") has five major components:

• Integrated federal, state, and local efforts to investigate and prosecute child exploitation cases, and to identify and rescue children;

• Participation of PSC partners in coordinated national initiatives;

• Increased federal enforcement in child pornography and enticement cases;

• Training of federal, state, and local law enforcement agents; and

• Community awareness and educational programs.

For more information about Project Safe Childhood, please visit www.usdoj.gov/psc. For information about internet safety education, please visit www.usdoj.gov/psc and click on the tab "resources."

This case was investigated by the Federal Bureau of Investigation Spokane Child Exploitation Task Force in conjunction with the Spokane County Sheriff's Office and the Spokane Police Department. This case was prosecuted by Alison L. Gregoire, an Assistant U.S. Attorney for the Eastern District of Washington.
Outcome: Defendant was sentenced to 21 years in prison.
Plaintiff's Experts:
Defendant's Experts:
Comments: