Please E-mail suggested additions, comments and/or corrections to Kent@MoreLaw.Com.
Help support the publication of case reports on MoreLaw
Date: 06-25-2017
Case Style:
United States of America v. Crystal Langdon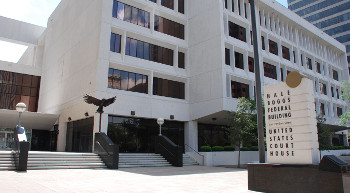 Federal Courthouse - New Orleans, Louisiana
Case Number: 2:17-cr-00010-JTM-KWR
Judge: Jane Triche Milazzo
Court: United States District Court for the Eastern District of Louisiana (Orleans Parrish)
Plaintiff's Attorney: David Haller
Defendant's Attorney: Gary V. Schwabe, Jr. - FPD
Description: New Orleans, LA - Slidell Woman Sentenced for Possessing Precursor Chemicals Used to Manufacture Methamphetamine

CRYSTAL LANGDON, age 35, of Slidell, was sentenced yesterday after previously pled guilty to buying cold medications with the knowledge that they would be used to manufacture methamphetamine.

U.S. District Judge Jane Triche Milazzo sentenced LANGDON to 36 months imprisonment, to be followed by 3 years of supervised release and a $100 special assessment.

According to court documents, LANGDON was engaged in "smurfing," which involves various individuals going to the same or nearby stores and each making individual purchases of cold medication, which are then grouped together in order to make a batch of methamphetamine. This "smurfing" activity is in response to laws that have been passed in order to combat the domestic production of methamphetamine by restricting the sale of over-the-counter cold medications. These medications often contain pseudoephedrine, which is a precursor chemical that can be processed to create methamphetamine. LANGDON admitted to participating in this "smurfing" activity from May through June of 2015, and to buying over the counter cold medication that she gave to another individual so that he could use it to produce methamphetamine at a house on Swan Street in Slidell.

Acting U.S. Attorney Evans praised the work of the Department of Homeland Security, Homeland Security Investigations and the St. Tammany Parish Sheriff's Office in investigating this matter.
Outcome: Defendant was sentenced to 36 months imprisonment, to be followed by 3 years of supervised release and a $100 special assessment.
Plaintiff's Experts:
Defendant's Experts:
Comments: