Please E-mail suggested additions, comments and/or corrections to Kent@MoreLaw.Com.
Help support the publication of case reports on MoreLaw
Date: 07-11-2019
Case Style:
United States of America v. Ricky Martinez
Case Number: 1:19-cr-00089-JB
Judge: James O. Browning
Court: United States District Court for the District of New Mexico (Bernalillo County)
Plaintiff's Attorney: Allison C. Jaros
Defendant's Attorney: Hans Peter Erickson


Do you need a criminal defense lawyer in Albuquerque?
Call: 888-354-4529 and we will help you find one for free.
Description: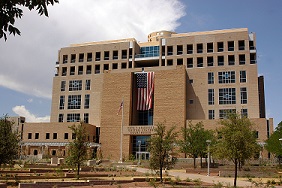 Albuquerque, NM - MAN FROM CHIMAYO, N.M., PLEADS GUILTY TO ASSAULT RESULTING IN SERIOUS BODILY INJURY IN INDIAN COUNTRY
Ricky Martinez, 27, of Chimayo, N.M., pleaded guilty in federal court on June 13, 2019, to assault resulting in serious bodily injury in Indian Country.
In Martinez's plea agreement, he admitted committing this offense in Rio Arriba County on September 2, 2017. Martinez assaulted the victim by stabbing him with a knife in the face, neck, chest, and back causing extreme pain. The assault happened within the boundaries of Ohkay Owingeh Pueblo. The victim is an Indian. Martinez is not an Indian.
Martinez is currently in custody awaiting sentencing. He faces 41 to 51 months in prison.
The Santa Fe office of the FBI investigated this case with the Ohkay Owingeh Police Department.

Charges:


18:1152 and 113(a)(1): Assault with Intent to Commit Murder

18:1152 and 113(a)(3): Assault with a Dangerous Weapon

18:1152 and 113(a)(6): Assault Resulting in Serious Bodily Injury

Outcome: 06/13/2019 25 CONSENT TO PLEA BEFORE US MAGISTRATE JUDGE by Ricky Martinez (vv) (Entered: 06/13/2019)
06/13/2019 26 PLEA AGREEMENT as to Ricky Martinez (vv) (Entered: 06/13/2019)
06/13/2019 27 Clerk's Minutes for proceedings held before Magistrate Judge Laura Fashing: Plea Hearing as to Ricky Martinez held on 6/13/2019; Guilty Plea entered by Ricky Martinez as to Count 3 of the Indictment. (Recording Info: Rio Grande - FTR) (nm) (Entered: 06/13/2019)
Plaintiff's Experts:
Defendant's Experts:
Comments: