Please E-mail suggested additions, comments and/or corrections to Kent@MoreLaw.Com.
Help support the publication of case reports on MoreLaw
Date: 10-24-2019
Case Style:
United States of America v. Adonis Baker, Inkosi Grandberry and Leotha Williams
Case Number: 1:17-cr-02556-JB
Judge: James O. Browning
Court: United States District Court for the District of New Mexico (Bernalillo County)
Plaintiff's Attorney: Letitia Simms and Joseph M. Spindle
Defendant's Attorney:

Call 888-354-4529 if you need help finding a Sex Trafficking by Means of Force, Threats, Fraud, and Coercion, Aiding and Abetting criminal defense lawyer in Albuquerque, New Mexico

Description: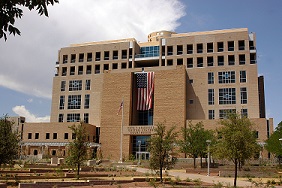 Albuquerque, NM - Three defendants plead guilty to federal charges in sex trafficking ring
Three defendants pleaded guilty on Oct. 15 in federal court to charges of sex trafficking and coercion and enticement to engage in prostitution.
Adonis Baker, 35, of Albuquerque, pleaded guilty to sex trafficking of a child. He admitted meeting "Jane Doe 6," a teen between the ages of 15 and 18, while in Phoenix between Aug. 15, 2017, and Aug. 17, 2017. Baker convinced "Jane Doe 6" to get into his car by offering her drugs. Baker then drove her to Albuquerque, and took her to his apartment where he told her she was to engage in commercial sex acts. Baker faces a sentence of 14 years in prison based on the terms of his plea agreement.
Inkosi Grandberry, 38, of Albuquerque, pleaded guilty to transportation for prostitution by coercion and enticement. Grandberry admitted in a plea agreement to committing this offense on June 3, 2015. Grandberry aided and abetted Adonis Baker in persuading "Jane Doe 1" to travel by automobile from Phoenix to Albuquerque for prostitution. Grandberry paid for a hotel in Phoenix as part of the offense. Grandberry faces up to 20 years in prison.
Leotha Williams, 58, of Memphis, Tennessee, also pleaded guilty to transportation for prostitution by coercion and enticement. Williams admitted in a plea agreement to approaching "Jane Doe 2" with Adonis Baker at a bus stop in Albuquerque between June 2016 and September 2016. Williams and Baker instructed "Jane Doe 2" to get into a vehicle with them. They then traveled to Colorado Springs, Colorado, where Williams ensured "Jane Doe 2" engaged in prostitution. Williams faces 36 months to 60 months in prison under the terms of the plea agreement. The defendants will be sentenced at a later date to be scheduled by the court.
Homeland Security Investigations investigated this case with assistance from the Bureau of Alcohol, Tobacco, Firearms and Explosives, the Albuquerque Police Department, and the Bernalillo County Sheriff's Office.

Charges:


18:1591(a)(1)and(2)and 2: Sex Trafficking by Means of Force, Threats, Fraud, and Coercion, Aiding and Abetting
(1)
18 USC 1591(a)(1)(2) and 2: SEX TRAFFICKING BY MEANS OF FORCE THREATS, FRAUD, AND COERCION, AIDING AND ABETTING
(1s)
18 USC 1591(a)(1) and 2: SEX TRAFFICKING BY MEANS OF FORCE, THREATS, FRAUD, AND COERCION; AIDING AND ABETTING
(1ss)
18:2242(a)and 2: Coercion and Enticement to Engage in Prostitution, Aiding and Abetting
(2)
18 USC 2422(a) and 2: COERCION AND ENTICEMENT TO ENGAGE IN PROSTITUTION; AIDING AND ABETTING
(2s)
18 USC 2422(a) and 2: COERCION AND ENTICEMENT TO ENGAGE IN PROSTITUTION; AIDING AND ABETTING
(2ss)
18:1591(a)(1)and(2): Sex Trafficking by Means of Force, Threats, Fraud and Coercion
(3)
18 USC 1591(a)(1)(2): SEX TRAFFICKING BY MEANS OF FORCE THREATS, FRAUD, AND COERCION
(3s)
18 USC 1591(a)(1): SEX TRAFFICKING BY MEANS OF FORCE, THREATS, FRAUD, AND COERCION
(3ss)
18:2242(a): Coercion and Enticement to Engage in Prostitution
(4)
18 USC 2422(a): COERCION AND ENTICEMENT TO ENGAGE IN PROSTITUTION
(4s)
18 USC 2422(a): COERCION AND ENTICEMENT TO ENGAGE IN PROSTITUTION
(4ss)
18:1591(a)(1)and(2)and 2: Sex Trafficking by Means of Force, Threats, Fraud and Coercion, Aiding and Abetting
(5)
18 USC 1591(a)(1)(2) and 2: SEX TRAFFICKING BY MEANS OF FORCE THREATS, FRAUD, AND COERCION, AIDING AND ABETTING
(5s)
18 USC 1591(a)(1) and 2: SEX TRAFFICKING BY MEANS OF FORCE, THREATS, FRAUD, AND COERCION; AIDING AND ABETTING
(5ss)
18:2242(a)and 2: Coercion and Enticement to Engage in Prostitution, Aiding and Abetting
(6)
18 USC 2422(a) and 2: COERCION AND ENTICEMENT TO ENGAGE IN PROSTITUTION; AIDING AND ABETTING
(6s)
18 USC 2422(a) and 2:COERCION AND ENTICEMENT TO ENGAGE IN PROSTITUTION; AIDING AND ABETTING
(6ss)
18:2421(a): Transportation for Prostitution
(7-9)
18 USC 2421(a): TRANSPORTATION FOR PROSTITUTION
(7s-9s)
18 USC 2421(a): TRANSPORTATION FOR PROSTITUTION
(7ss-9ss)
18:1591(a)(1)and(2): Sex Trafficking by Means of Force, Threats, Fraud and Coercion
(10)
18 USC 1591(a)(1)(2): SEX TRAFFICKING BY MEANS OF FORCE THREATS, FRAUD, AND COERCION
(10s)
18 USC 1591(a)(1): SEX TRAFFICKING BY MEANS OF FORCE, THREATS, FRAUD, AND COERCION
(10ss)
18:1591(a)(1): Sex Trafficking of a Child
(11)
18 USC 1591(a)(1): SEX TRAFFICKING OF A CHILD
(11s)
18 USC 1591(a)(1): SEX TRAFFICKING OF A CHILD
(11ss)
18:2423(a): Transportation of a Minor with Intent to Engage in Criminal Sexual Activity
(12)
18 USC 2423(a) and (e): TRANSPORTATION OF A MINOR WITH INTENT TO ENGAGE IN CRIMINAL SEXUAL ACTIVITY
(12s)
18 USC 2423(a) and (e): TRANSPORTATION OF A MINOR WITH INTENT TO ENGAGE IN CRIMINAL SEXUAL ACTIVITY
(12ss)
18 USC 1591(a)(1)(2) and 2: SEX TRAFFICKING BY MEANS OF FORCE THREATS, FRAUD, AND COERCION, AIDING AND ABETTING
(13s)
18 USC 1591(a)(1) and 2: SEX TRAFFICKING BY MEANS OF FORCE, THREATS, FRAUD, AND COERCION; AIDING AND ABETTING
(13ss)
18 USC 2422(a) and 2: COERCION AND ENTICEMENT TO ENGAGE IN PROSTITUTION; AIDING AND ABETTING
(14s)
18 USC 2422(a) and 2: COERCION AND ENTICEMENT TO ENGAGE IN PROSTITUTION; AIDING AND ABETTING
(14ss)
18 USC 2421(a) and 2: TRANSPORTATION FOR PROSTITUTION; AIDING AND ABETTING
(15s)
18 USC 2421(a) and 2: TRANSPORTATION FOR PROSTITUTION; AIDING AND ABETTING
(15ss)
18 USC 1591(a)(1)(2): SEX TRAFFICKING BY MEANS OF FORCE THREATS, FRAUD, AND COERCION
(16s)
18 USC 1591(a)(1): SEX TRAFFICKING BY MEANS OF FORCE, THREATS, FRAUD, AND COERCION
(16ss)
18 USC 2422(a): COERCION AND ENTICEMENT TO ENGAGE IN PROSTITUTION
(17s)
18 USC 2422(a): COERCION AND ENTICEMENT TO ENGAGE IN PROSTITUTION
(17ss)
18 USC 2421(a): TRANSPORTATION FOR PROSTITUTION
(18s-19s)
18 USC 2421(a): TRANSPORTATION FOR PROSTITUTION
(18ss-19ss)
18 USC 1591(d): OBSTRUCTION
(20ss)
Outcome: 10/16/2019 174 NOTICE OF HEARING as to Defendant Adonis Baker: Sentencing set for 1/23/2020 at 08:30 AM in Albuquerque - 460 Vermejo Courtroom before District Judge James O. Browning. (cjw)
[THIS IS A TEXT-ONLY ENTRY. THERE ARE NO DOCUMENTS ATTACHED.] (Entered: 10/16/2019)
10/16/2019 175 NOTICE OF HEARING as to Defendant Leotha Williams: Sentencing set for 1/23/2020 at 09:00 AM in Albuquerque - 460 Vermejo Courtroom before District Judge James O. Browning. (cjw)
[THIS IS A TEXT-ONLY ENTRY. THERE ARE NO DOCUMENTS ATTACHED.] (Entered: 10/16/2019)
10/16/2019 176 NOTICE OF HEARING as to Defendant Inkosi Grandberry: Sentencing set for 1/23/2020 at 09:30 AM in Albuquerque - 460 Vermejo Courtroom before District Judge James O. Browning. (cjw)
[THIS IS A TEXT-ONLY ENTRY. THERE ARE NO DOCUMENTS ATTACHED.] (Entered: 10/16/2019)

Plaintiff's Experts:
Defendant's Experts:
Comments: