Please E-mail suggested additions, comments and/or corrections to Kent@MoreLaw.Com.
Help support the publication of case reports on MoreLaw
Date: 10-21-2019
Case Style:
United States of America v. Jenny Hernandez
Case Number: 19-CR-601134
Judge: Patrick M. Hunt
Court: United States District Court for the Southern District of Florida (Miami-Dade County)
Plaintiff's Attorney: Randy Katz
Defendant's Attorney:

Call 888-354-4529 if you need help finding a visa fraud immigration criminal defense lawyer in Miami, Florida

Description: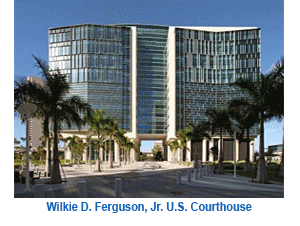 Miami, FL - Broward County Business Owner Sentenced to Prison for Immigration Fraud Scheme
A Coral Springs business owner was sentenced to prison yesterday for a visa fraud immigration scheme. She attempted to obtain visas with false information for individuals from overseas.
Ariana Fajardo Orshan, U.S. Attorney for the Southern District of Florida, and Anthony Salisbury, Special Agent in Charge, Homeland Security Investigations (HSI), Miami Field Office, made the announcement.
Jenny Hernandez, 51, of Parkland, was sentenced to eighteen months in prison after previously pleading guilty to visa fraud, in violation of Title 18, United States Code, Section 1546(a) before U.S. District Judge Marcia G. Cooke (Case No. 19-cr-60134). A restitution hearing is scheduled for Dec. 18, 2019.
According to the court record, including stipulated facts and statements made during hearings, Hernandez knowingly made false material statements in immigration documents, specifically Form I-140's, Immigrant Petitions for Alien Workers. Hernandez owned and operated the Immigration Form Center, Inc. (IFC) in Coral Springs. The defendant stated in applications she filed with U.S. Citizenship & Immigration Services (USCIS) that individuals from overseas were to be employed at certain businesses as multinational executives or managers. However, these businesses never knew about these individuals and, furthermore, never made employment offers to them. Hernandez profited from these misrepresentations, by receiving between $14,200 to $50,900 from individual applicants. Hernandez also filed an application for an overseas individual to work at her bakery in Coral Springs, as a multinational executive or manager, when the individual was only selling jewelry inside the bakery. This individual paid $64,000 to the defendant.
All of these petitions were completed at IFC in Coral Springs and subsequently filed with USCIS. In addition to these documents, Hernandez filed additional documents accompanying the I-140 Petitions, including I-485 applications to adjust for permanent residency in the United States. All of these payments were deposited into business checking accounts primarily controlled by the defendant.
U.S. Attorney Fajardo Orshan commended the investigative efforts of HSI in this matter. She thanked the members of USCIS for their assistance.
Outcome: Defendant was sentenced to 18 months in prison.
Plaintiff's Experts:
Defendant's Experts:
Comments: