Please E-mail suggested additions, comments and/or corrections to Kent@MoreLaw.Com.
Help support the publication of case reports on MoreLaw
Date: 11-07-2017
Case Style:
Jules Williams v. Marvlyn Jennifer Williams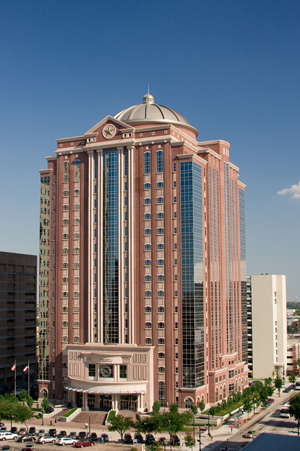 Harris County Courthouse - Houston, Texas
Case Number: 01-16-00970-CV
Judge: Jan Bland
Court: Texas Court of Appeals, First District on appeal from the 246th District Court of Harris County
Plaintiff's Attorney: Jules Williams
Defendant's Attorney: Gogo Owor
Description: Jules Williams appeals from the final decree entered in his divorce from Marvlyn Jennifer Williams. We affirm.
2
BACKGROUND
Jules sued Marvlyn for divorce, and Marvlyn countersued. The trial court
subsequently entered a final divorce decree, from which Jules appeals.
DISCUSSION
In ten issues, Jules contends that the trial court erred in:
● issuing temporary orders, including one or more temporary restraining
orders and temporary injunctions;
● denying him his constitutional right to a jury trial;
● failing to afford him appropriate relief as to opposing counsel's alleged
witness tampering;
● violating his right to free speech by admitting into evidence statements that
Jules made on the internet;
● granting Marvlyn a divorce on grounds of adultery and cruelty, making her
sole managing conservator of their children, and dividing their property
based on insufficient evidence; and
● improperly awarding Marvlyn $10,700 in attorney's fees.
I. Temporary orders
Jules contends that the trial court's temporary orders improperly excluded him
from his home, removed the children from his care, and deprived him of access to
the children. These orders continued in force until the trial court entered the divorce
decree.
This court has jurisdiction to hear appeals from final judgments, not
interlocutory orders, unless interlocutory appeal is authorized by statute. Qwest
Commc'ns Corp. v. AT&T Corp., 24 S.W.3d 334, 336 (Tex. 2000) (per curiam).
3
Temporary restraining orders are not reviewable by appeal. In re Office of Att'y Gen., 257 S.W.3d 695, 698 (Tex. 2008) (per curiam). Temporary injunctions ordinarily are reviewable by interlocutory appeal, TEX. CIV. PRAC. & REM. CODE § 51.014(a)(4), but become moot once the trial court renders a final judgment. Isuani v. Manske-Sheffield Radiology Grp., 802 S.W.2d 235, 236 (Tex. 1991) (per curiam). However, in cases involving the conservatorship of children and in divorce proceedings, temporary orders are not subject to interlocutory review, other than an order appointing a receiver. TEX. FAM. CODE §§ 6.507, 105.001(e). These temporary orders likewise become moot upon the entry of a final order or decree. Mauldin v. Clements, 428 S.W.3d 247, 261–62 (Tex. App.—Houston [1st Dist.] 2014, no pet.). Accordingly, we lack jurisdiction to review challenges to the trial court's temporary orders, and thus overrule Jules's first, third, and eighth issues.
II. Lack of a reporter's record
The appellate record was due on January 30, 2017. Jules failed to pay or make satisfactory arrangements to pay for the record. The clerk of the court notified Jules, who is not appealing as an indigent, that unless he filed proof of payment or satisfactory arrangement of payment by March 3, the court could consider and decide any issues for which a reporter's record was unnecessary. After Jules failed to satisfy this deadline, the court notified him that it would decide those issues and ordered the parties to file their briefs. To date, a reporter's record has not been filed
4
and Jules has filed neither proof of payment nor proof of satisfactory arrangement of payment for it.
The remainder of Jules's challenges turn on the evidence introduced at trial or rulings made by the trial court. Jules contends that he did not waive trial by jury; Marvlyn responds that he did. Jules contends that Marvlyn's counsel tampered with a witness by excusing that witness before the witness had testified and that the trial court failed to provide him with adequate relief from this misconduct; Marvlyn disputes Jules's account. Jules contends that the trial court violated his free-speech rights by considering statements Jules made on the internet, but there is nothing in the record that demonstrates the substance of these statements and the trial court's consideration of them at trial. Jules contends that the evidence is insufficient to support multiple aspects of the divorce decree; however, neither the witness testimony nor the trial exhibits are before us. Finally, Jules contends that the trial court's fee award was improper, but the record does not contain any of the proceedings concerning attorney's fees.
When the merits of an appellate issue depend on the evidence introduced at trial or the rulings made by the trial court, a reporter's record of the relevant proof or challenged ruling is necessary; without the reporter's record, the appellate court cannot ascertain whether there was reversible error. See Curry v. Tex. Dep't of Pub. Safety, 472 S.W.3d 346, 349–50 (Tex. App.—Houston [1st Dist.] 2015, no pet.);
5
Huston v. United Parcel Serv., 434 S.W.3d 630, 636–37 (Tex. App.—Houston [1st Dist.] 2014, pet. denied); Nicholson v. Fifth Third Bank, 226 S.W.3d 581, 583 (Tex. App.—Houston [1st Dist.] 2007, no pet.). Jules was responsible for presenting a record sufficient to show reversible error. Christiansen v. Prezelski, 782 S.W.2d 842, 843 (Tex. 1990) (per curiam); Garcia v. Sasson, 516 S.W.3d 585, 590 (Tex. App.—Houston [1st Dist.] 2017, no pet.). He failed to make the necessary arrangements to provide one; we hold that the lack of a record forecloses appellate review of his remaining challenges. See TEX. R. APP. P. 35.3(b)(3).

Outcome: We affirm the judgment of the trial court.
Plaintiff's Experts:
Defendant's Experts:
Comments: