Please E-mail suggested additions, comments and/or corrections to Kent@MoreLaw.Com.
Help support the publication of case reports on MoreLaw
Date: 07-12-2019
Case Style:
United States of America v. Edgar Raul Sanchez-Miranda
Case Number:
Judge: John E. Dowdell
Court: United States District Court for the Northern District of Oklahoma (Tulsa County)
Plaintiff's Attorney: Charles M. McLoughlin
Defendant's Attorney: Public Defender's Office
Description: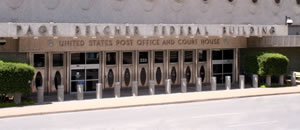 Tulsa, OK - Mexican Citizen Pleads Guilty to Firearms and Illegal Re-entry Charges
A Mexican citizen unlawfully living in Tulsa pleaded guilty Tuesday to being an alien unlawfully in the United States in possession of a firearm and ammunition and to reentry of a removed alien.
Edgar Raul Sanchez-Miranda, 42, also known as Raul Sanchez-Sanchez, was convicted of being an alien unlawfully in the United States in possession of a Lorcin .380 caliber semi-automatic pistol and associated ammunition. Sanchez-Miranda returned to the United States unlawfully after being deported on May 7, 2016, at or near Laredo, Texas. The Tulsa Police Department- Special Investigations Division arrested Sanchez-Miranda on April 1, 2019, after an extensive investigation of methamphetamine trafficking that involved the use of court ordered tracking devices and a search warrant. He later pleaded guilty in Tulsa County District Court for possession of a controlled drug with intent to distribute and for maintaining a place for keeping/selling controlled drugs.
"Sanchez-Miranda wasn't "just" an illegal alien living in our country, he was an illegal alien who had been previously deported and snuck back into the United States to deal drugs on our streets. He also armed himself with a semi-automatic gun to protect his house that he used for dealing drugs," said U.S. Attorney Trent Shores. "Sanchez-Miranda is the poster boy for cooperation between the Tulsa County Sheriff's Office and ICE. Specially trained Tulsa County detention officers at the David L. Moss Detention Center were able to promptly identify Sanchez-Miranda as an alien who had illegally re-entered the United States. That quick identification directly led to the Alien Unlawfully in the United States in Possession of a Firearm charge."
The Tulsa Police Department, Tulsa County Sheriff's Office, Department of Homeland Security's Immigration and Customs Enforcement, and Department of Justice's Bureau of Alcohol, Tobacco, Firearms and Explosives conducted the investigation.
Outcome: Guilty
Plaintiff's Experts:
Defendant's Experts:
Comments: