Please E-mail suggested additions, comments and/or corrections to Kent@MoreLaw.Com.
Help support the publication of case reports on MoreLaw
Date: 10-19-2019
Case Style:
United States of America v. Francisco Joseph Arcila Ramirez
Case Number:
Judge: Jose E. Martinez
Court: United States District Court for the Southern District of Florida (Miami-Dade County)
Plaintiff's Attorney: Randy A. Hummel, Michael R.Sherwin and David Smith
Defendant's Attorney:

Call 888-354-4529 if you need help finding a conspiracy to illegally deal in firearms, conspiracy to defraud of the United States, False Statements, Dealing in Firearms Without of License, Providing Material Support to Terrorists criminal defense lawyer in Miami, Florida.

Description: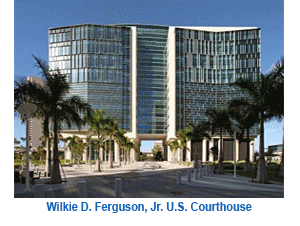 Miami, FL - South Florida Resident Pleads Guilty to Selling Firearms to a Designated Foreign Terrorist Organization, the ELN
A South Florida resident pled guilty to illegally selling firearms to the National Liberation Army (ELN), a designated Foreign Terrorist Organization and a violent paramilitary group operating in South America.
Francisco Joseph Arcila Ramirez (Arcila), a Colombian national, pled guilty to providing material support to a foreign terrorist organization, in violation of Title 18, United States Code, Section 2339B(a)(1).
According to court records, on August 16, 2018, Arcila instructed two co-conspirators to illegally purchase six firearms in Miami-Dade County on Arcila's behalf. These firearms included four Draco 7.62mm caliber AK-style pistols and two Zastava M92 7.62mm AK-style pistols. The firearms were then concealed in Husky air-compressors purchased by Arcila at a Miami-area Home Depot and shipped to Barranquilla, Colombia. This shipment also contained approximately one hundred AK-47 ammunition magazines.
On Sept. 5, 2018, Arcila attended a meeting in Colombia, where he met with an ELN weapons broker to discuss the sale of the six firearms Arcila had recently shipped into Colombia. In addition to agreeing to the sale of these six firearms, Arcila and the weapons broker further discussed other future sales, to include firearm magazines and firearm components in the coming months. At the conclusion of this meeting, the weapons broker provided approximately sixty million Colombian pesos as the purchase price for the firearms.
Arcila is scheduled to be sentenced in Miami by U.S. District Judge Jose E. Martinez on Dec. 19, 2019 at 1:45 p.m. (Case No. 19CR20036). Arcila faces a maximum statutory sentence of 20 years in prison, a lifetime term of supervised release, and a maximum fine of $250,000.
U.S. Attorney Fajardo Orshan commended the investigative efforts of FBI, CBP, ATF and ICE-HSI.

Charges:



18:U.S.C.§371 CONSPIRACY TO ILLEGALLY DEAL FIREARMS
(1)
CONSPIRACY TO DEFRAUD THE UNITED STATES
(1s)
18:U.S.C.§922(a)(6)and(2)FALSE STATEMENTS IN CONNECTION WITH ACQUISITION OF FIREARMS
(2-5)
FALSE STATEMENTS IN CONNECTION WITH ACQUISITION OF FIREARMS
(2s-5s)
18:U.S.C.§922(a)(1)(A)and (2)DEALING IN FIREARMS WITHOUT A LICENSE
(6)
DEALING IN FIREARMS WITHOUT A LICENSE
(6s)
CONSPIRING TO PROVIDED MATERIAL SUPPORT OR RESOURCES TO TERRORISTS
(7s)
PROVISION OF MATERIAL SUPPORT OR RESOURCES TO TERRORISTS/FORFEITURE 21:853
(8s)
Outcome: 10/17/2019 90 Minute Order for proceedings held before Judge Jose E. Martinez: Change of Plea Hearing as to Francisco Joseph Arcila Ramirez held on 10/17/2019 Francisco Joseph Arcila Ramirez (1) Guilty Count 8s. Spanish Interpreter present. Court Reporter: Dawn Savino (Whitmarsh), 305-523-5598 / Dawn_Savino@flsd.uscourts.gov. Signed by Judge Jose E. Martinez on 10/17/2019. (dq) (Entered: 10/17/2019)
10/17/2019 91 FACTUAL PROFFER IN SUPPORT OF PLEA AGREEMENT as to Francisco Joseph Arcila Ramirez. (COURT EXHIBIT #1) (dq) (Entered: 10/17/2019)
10/17/2019 92 PLEA AGREEMENT as to Francisco Joseph Arcila Ramirez. (COURT EXHIBIT #2) (dq) (Entered: 10/17/2019)
10/17/2019 93 NOTICE OF SENTENCING HEARING as to Francisco Joseph Arcila Ramirez. Sentencing set for 12/19/2019 01:45 PM in Miami Division before Judge Jose E. Martinez. (dq) (Entered: 10/17/2019)
Plaintiff's Experts:
Defendant's Experts:
Comments: