Probate Law
Robert Sturm v. Todd Andrew Moyer
The question presented in this case is one of first impression:
Assuming fraudulent intent, can the Uniform Voidable Transactions
2
Act (Civ. Code, § 3439 et seq., formerly known as the Uniform
Fraudulent Transfer Act, or UFTA)1 apply to a premarital agreement in
which the prospective spouses agree that upon marriage each spouse's
earnings, income, and other property acquir... More...

$0 (02-17-2019 - CA)


Shirley Fanuiel v. The State of Texas



The complainant, Wade Watkins, was born in 1925. Watkins moved from San Antonio to Galveston in 1945, where he started working at Gaido's Restaurant.... More... $0 (02-14-2019 - TX)


In the Matter of the Guardianship and Conservatorship of LOIS CRIST



At the time the events giving rise to this action began, Crist was 82 years old and had been a widow for about 10 years. She is a col... More... $0 (02-05-2019 - KS)


Patrick Trolan et al., as Trustees v. Nellie Trolan
This appeal arises out of a dispute between six siblings over the interpretation of
the Trolan Family Trust (the trust), created by their parents in 1974. Upon the death of
their mother in 2015, the siblings became cotrustees of the trust, with the power to act by
majority vote. Five of the siblings, Appellants in this matter, agreed to maintain the
assets in trust, hoping they wou... More...

$0 (02-02-2019 - CA)


Heather Tyler v. Supreme Judicial Court of Massachusetts





This appeal arises from Heather
Tyler's six-year-long legal battle to void two Massachusetts
Superior Court conditions of probation imposed on the adult male
who was convicted of statutory rape after impregnating her w... More... $0 (01-29-2019 - MA)


City of Hammond v. John Rostankovski



Rostankovski is the owner of residential rental property located on Spruce
Street, in Hammond, Indiana. ... More... $0 (01-28-2019 - IN)


Camille Lee, etc. vs. Nicole Lee



Morelaw Internet Marketing
National Find A Lawyer Directory







Andre Lee died intestate and wa... More... $0 (01-24-2019 - FL)


Conservatorship of the Person and Estate of Joseph E. Ribal, Linda Rogers, as Conservator, etc. v. Lu Tuan Nguyen
We have seen this case before. In 2016, we affirmed the trial court's
judgment ordering Lu Tuan Nguyen to return funds to the Conservatorship of the Person
2
and Estate of Joseph E. Ribal. On remand, the trial court awarded attorney fees incurred
in enforcing the underlying judgment to Linda Rogers, the conservator, of $43,507.50.
Nguyen argues that he has satisfied the underl... More...

$0 (01-21-2019 - CA)


In re Marriage of Richard Begian and Ida Sarajian, Richard Begian v. Ida Sarajian
Family Code section 852, subdivision (a)1 (section 852(a))
provides that a "transmutation," or an interspousal transaction
changing the character of community or separate property, "is not
valid unless made in writing by an express declaration" by the
adversely affected spouse. (Italics added.) In Estate of
MacDonald (1990) 51 Cal.3d 262 (MacDonald), our Supreme
Court held ... More...

$0 (01-20-2019 - CA)


Kamori Nicole Henry v. The State of Texas



The evidence in this case shows that at the time of the offense, there were five warrants for Appellant's arrest. The police called ... More... $0 (01-14-2019 - TX)


Teena Simon v. Bryn A. Myers





Bryn Myers appeals from a judgment holding that her deceased brother's
widow, as the personal representative of his estate and his sole heir, has standing
as a beneficiary under a family trust. She contends the circuit court misapplied the
law because h... More... $0 (12-18-2018 - MO)


Amanda Meleski v. Estate of Albert Hotlen
This case involves a procedure by which an insurance company, as the entity
controlling the litigation and incurring the risk of loss, is a de facto party under Probate
Code sections 550 through 555 in "an action to establish [a] decedent's liability for which
2
the decedent was protected by insurance" (Prob. Code, § 550),
1 and thus also is a party
under Code of Civil Pro... More...

$0 (12-10-2018 - CA)


David Haddad v. Randall Gregg


Market Your Practice In Ten Counties for $10 A Month
Cost Effective Affordable Internet Marketing For Your Practice






David Haddad su... More... $0 (12-06-2018 - MI)


CHANDRA NOTT, ADMN. OF THE ESTATE OF VICTOR JOHN STEGALL, DECEASED v. DEBORAH STEGALL
MoreLaw Suites
More... $0 (11-08-2018 - OH)


Joan Mauri Barefoot v. Jana Susan Jennings
Appellant Joan Mauri Barefoot appeals following the trial court's decision to
dismiss her petition under Probate Code section 172001
to, among other things, set aside
the 17th through 24th amendments and declare effective the 16th amendment to the
Maynord 1986 Family Trust (Trust). The trial court dismissed the petition on standing
grounds. For the reasons set forth below, we a... More...

$0 (11-06-2018 - CA)


State of Tennessee v. Areanna O. Lloyd
MoreLaw Receptionist Services
Never Miss Another Call With MoreLaw's Receptionists Answering Your Calls


Defendant and co-defendants Jarol Noel Jiminez and Devon Rydell Frazier were indicted for three co... More... $0 (10-24-2018 - TN)


A.G., a Minor, etc. v. County of Los Angeles
After an incident with sheriff's deputies, Brian Pickett died,
leaving his partner, two biological children, and his partner's
child, A.G., whom Brian had raised and held out as his own child.
In the subsequent wrongful death action, the trial court held that
A.G. lacked standing to sue, and entered judgment against him.
With apologies to Sigmund Freud, biology is not destiny. ... More...

$0 (10-21-2018 - CA)


Orange Catholic Foundation v. Rose Marie Arvizu
Probate Code section 16440, subdivision (b) (16440(b)) provides that if a
"trustee has acted reasonably and in good faith under the circumstances as known to the
trustee," a court has discretion to excuse him or her from liability for a breach of trust if it
would be equitable to do so.
1
(Italics added.) Acting under this express authority, the
trial court denied a petiti... More...

$0 (10-19-2018 - CA)


United States of America v. Michael Dewane Overton
Mobile, AL - Michael Devane Overton Sentenced Following Guilty Plea to a Federal Firearm Charge


Michael Devane Ove... More... $0 (10-02-2018 - AL)


Richard L. Fowler v. Caliber Homes Loans, Inc.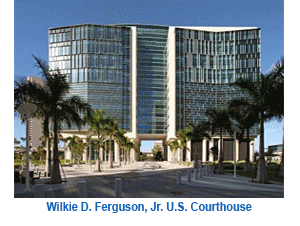 When an individual takes out a mortgage, he or she secures the loan with real property. To protect its security interest, lenders usually require borrowers to maintain hazard insurance in an amount that is at least equal to the loan's unpaid principal balance. Should a ... More... $0 (10-02-2018 - FL)


Sara Hart v. Clear Recon Corp.
Following summary judgment against plaintiffs Sara and
Guy Hart in this wrongful foreclosure action, defendant
Nationstar Mortgage LLC obtained its attorney's fees as
prevailing party, based on a clause in the deed of trust. On
appeal from the fee award, the Harts contend the clause in
question is not an attorney's fees provision. We agree and
reverse.
FACTUAL AND PROCE... More...

$0 (09-22-2018 - CA)


Melody Chacker v. JPMorgan Chase Bank. N.A.
Pursuant to California Rules of Court, rules 8.1105(b) and
8.1110, this opinion is certified for publication with the exception
of Parts II.A–II.B and Part II.D.

Plaintiff and appellant Melody Chacker (plaintiff)
refinanced a loan on her home and then failed to make required
loan payments, which triggered non-judicial foreclosure
proceedings. Plaintiff sued to stop the... More...

$0 (09-19-2018 - CA)


Guadalupe A. Ontiveros v. Kent Constable
Guadalupe Ontiveros, as the minority shareholder in Omega Electric, Inc.
(Omega), sued majority shareholder Kent Constable, his wife (Karen Constable), and
Omega,1 asserting direct and derivative claims arising from a dispute over management
of Omega and its assets. In response to Ontiveros's claim of involuntary dissolution of
Omega, Appellants filed a motion to stay proceedings ... More...

$0 (09-19-2018 - CA)


Oklahoma Attorney Mutual Insurance Company v. Christopher Mansfield, et al.
Oklahoma Attorney Mutual Insurance Company v. Christopher Mansfield, David A. Cox, Elizabeth Fox, Gayle Boyle, Sharon C. Hart, Kathryn R. Stewart, Jim McGough, and Catherine Welsh seeking a declaratory judgment determining a real and justiciable controversy among the parties respecting their rights and obligations under a certain insurance contract.

Mansfield was an attorney who practiced... More...

$0 (09-13-2018 - OK)


Joan Mauri Barefoot v. Jana Susan Jennings
Appellant Joan Mauri Barefoot appeals following the trial court's decision to
dismiss her petition under Probate Code section 172001
to, among other things, set aside
the 17th through 24th amendments and declare effective the 16th amendment to the
Maynord 1986 Family Trust (Trust). The trial court dismissed the petition on standing
grounds. For the reasons set forth below, we a... More...

$0 (09-12-2018 - CA)


Next Page