Nuisance Law
Hopi Tribe v. Arizona Snowbowl Resort, et al.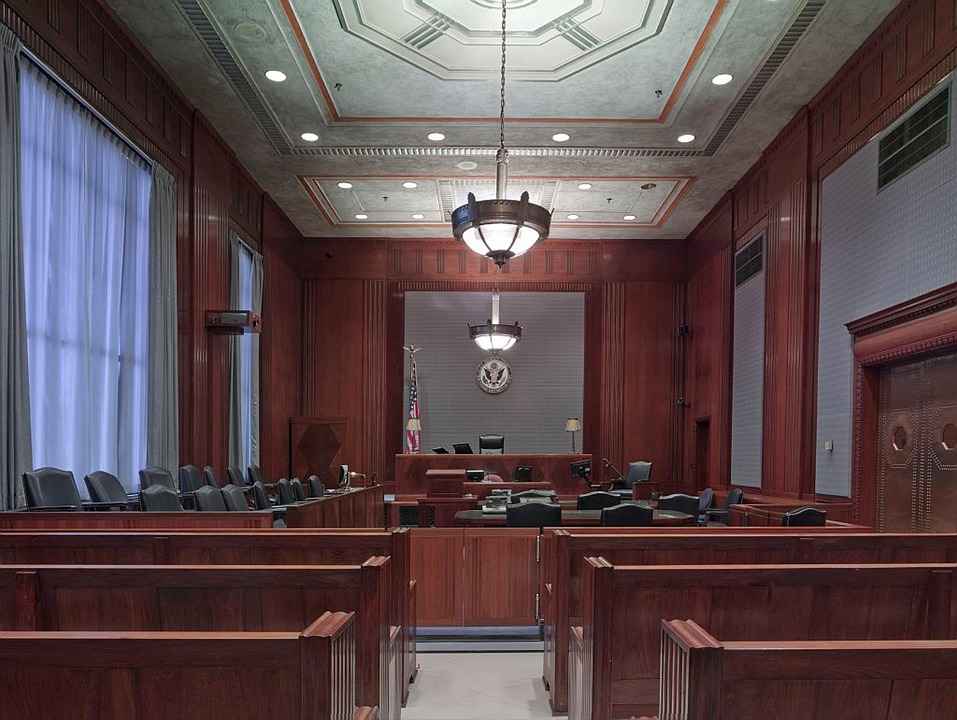 ¶1 Private parties may bring public nuisance claims in Arizona if the alleged
nuisance caused the plaintiff special injury, meaning "damage [that is] different in kind
or quality from that suffered by the public ... More... $0 (11-30-2018 - )


BRANDON SMITH v. BL COMPANIES, INC., ET AL

Legal Suites and Virtual Offices In Downtown Tulsa
624 South Denver
918-398-5678 or Pat@morelaw.com


More... $0 (10-26-2018 - MS)


Jimmy Joe Small v. State of Indiana




Following a tip that Small possessed a firearm, several detectives of the
Evansville Police Department's drug task force conducted a "knock and talk"
on Small's motel room. Small, who was joined in the room by Brittany Harper,
... More... $0 (10-04-2018 - IN)


Christopher Carter v. State of Indiana
MoreLaw Receptionist Services
Never Miss Another Call With MoreLaw's Receptionists Answering Your Calls

On October 14, 2016, the State charged Carter with Level 3 felony conspiracy
to commit dealing in ... More... $0 (10-04-2018 - IN)


Jordan Marks v. Crunch San Diego, LLC




Jordan Marks appeals the grant of summary judgment to
Crunch Fitness on his claim that three text messages he
received from Crunch violated the Telephone Consumer
Protection Act (TCPA), 47 U.S.C. § 227. The district cour... More... $0 (09-30-2018 - CA)


Alain Ellis Living Trust v. Harvey D. Ellis Living Trust
MoreLaw Suites - Legal Suites and Virtual Offices



The Best Places In Downtown Tulsa To Practice Law



406 South Boulder and 625 South Denver - 582-3993





More... $0 (09-24-2018 - KS)


Francis A. Bottini, Jr. v. City of San Diego
Office of the City Attorney, Mara W. Elliott, City Attorney, and Carmen A.
Brock, Deputy City Attorney, for Defendants and Appellants.
Francis A. Bottini, Jr., Nina M. Bottini, and the Bernate Ticino Trust dated March
9, 2009, Trust 3 (the Bottinis) applied to the City of San Diego for a coastal development
permit (CDP) to construct a single-family home on a vacant lot in La Jolla.... More...

$0 (09-21-2018 - CA)


Harmun Takhar v. The People ex rel. Feather River Air Quality Management District
This appeal challenges the trial court's denial of a special motion to strike
pursuant to Code of Civil Procedure section 425.16, the anti-SLAPP statute,1 directed at a
cross-complaint asserting causes of action arising from a civil enforcement action
brought by Feather River Air Quality Management District against Harmun Takhar for
multiple violations of state and local air pollut... More...

$0 (09-13-2018 - CA)


Richard Lee Rynearson, III v. Robert Ferguson Western District of Washington Federal Courthouse - Seattle, Washington
This appeal calls on us to consider the scope of federal
court abstention under Younger v. Harris, 401 U.S. 37 (1971).
In particular, we consider whether federal courts should
abstain from exercising jurisdiction over a constitutional
challenge to a state criminal statute while there are ongoing
state court protection order proceedings arguably related to
the challenge to t... More...

$0 (09-10-2018 - WA)


Suzanne J. Black v. City of Rancho Palos Verdes
The appellants (landowners) own eight lots in an area of
Rancho Palos Verdes that is the subject of a 1978 building
moratorium based on the resurgence of an ancient landslide.1 In
the trial court, the landowners sought relief from the building
moratorium and damages for inverse condemnation primarily on
the basis of our opinion in Monks v. City of Rancho Palos Verdes
(2008)... More...

$0 (09-10-2018 - CA)


THOMAS TUBBS, et al. v. BNSF RAILWAY COMPANY, INC
The Tubbses own and operate a farm in a floodplain near the Missouri River in Holt
County, Missouri. The farm is located just southeast of Big Lake and about three-and-a-half
miles east of the Missouri River. BNSF, an interstate freight railroad, owns and operates a track
that runs east to west across the floodplain and bisects the Tubbses' farm. The track sits atop an
earth... More...

$0 (09-05-2018 - MO)


Mark C. Morr v. State of Indiana
Late in the evening of December 28, 2016, Kendallville Police Officer Matthew
Haber ("Officer Haber") initiated a traffic stop after observing a vehicle turn
without a signal and then cross the fog line. The driver, Boni Coffelt ("Coffelt")
was arrested upon the discovery of drug paraphernalia and methamphetamine
in the vehicle. Coffelt produced marijuana that had been hidden... More...

$0 (09-03-2018 - IN)


Wendy Younger v. El Paso County Emergency Services District No. 2 and El Paso County, Texas
Wendy Younger purchased the lot at issue in the Montana Vista area in 1997. She purchased the property as part of an agreement between the Paso View Christian Association and the Montana Vista Volunteer Fire Department. Due to a rash of fires and resulting property loss in the area, the Association donated two lots on Kyle Road to the Fire Department in exchange for the department building a... More...

$0 (09-02-2018 - TX)


Terry Martin v. Behr Dayton Thermal Products, LLC Southern District of Ohio Courthouse - Cincinnati, Ohio
This toxic tort class action case arises from
Defendants' alleged contamination of the groundwater in the McCook Field neighborhood of
Dayton, Ohio. Plaintiffs own properties in McCook Field, which is a low-income area
surrounding a Superfund site. They allege that Defendants released volatile organic compounds
and other hazardous substances into the groundwater underlying their pr... More...

$0 (08-26-2018 - OH)


Shameka Winslett v. 1811 27th Avenue, LLC
Shameka Winslett filed a complaint asserting various claims against her former
landlord Yugal Sagi and his LLC after he failed to make repairs to her apartment and filed
an unlawful detainer action against her. Sagi responded by filing an anti-SLAPP motion to
strike three of these claims, for retaliation and retaliatory eviction under Civil Code section
1942.5,1
former subdivis... More...

$0 (08-15-2018 - )


Jevon R. Bates-Smith v. State of Indiana
Indiana State Police Detective Joshua Allen works for the drug enforcement
section and is assigned to covert operations in an undercover role investigating
people who deal in cocaine, heroin, and methamphetamine. He has been
involved in over 500 criminal investigations related to controlled substances.
Detective Allen often employs confidential informants (CIs), who are usual... More...

$0 (08-12-2018 - IN)


STATE OF KANSAS v. LARRY W. INGRAHAM
On March 1, 2017, Ingraham was charged with class B misdemeanor battery in Neosho County for an incident that occurred on November 24, 2016. The case went to a
2
bench trial on May 9, 2017. The victim in this case, S.I., is Ingraham's daughter. Some years before the incident, Ingraham and S.I.'s mother were divorced. S.I. lived with her mother in another town, but at the time of the inci... More...

$0 (07-28-2018 - KS)


Jeffrey Parchman v. SLM Corporation Western District of Tennessee Federal Courthouse - Memphis, Tennessee
Plaintiffs Jeffrey Parchman ("Parchman") and Nancy Carlin ("Carlin"), individually and on behalf of all others similarly situated, sued Defendants SLM Corporation ("SLM"), Navient Corporation ("Navient"), Navient Solutions Inc. f/k/a Sallie Mae, Inc. ("NSI"), and Sallie Mae Bank ("SMB") for negligent and knowing/willful violations of the Telephone Consumer Protection Act ("TCPA"), 47 U.S.C. § 227.... More...

$0 (07-26-2018 - TN)


Destiny Hoffman v. Susan Knoebel Southern District of Indiana Federal Courthouse - Indianapolis, Indiana Morelaw Internet Marketing National Find A Lawyer Directory 888-354-4529
Like many jurisdictions, Indiana has turned to "drug courts" to tackle substance-abuse problems more flexibly than traditional sentencing regimes might al-low. Ind. Code § 33-23-16-5. These non-traditional court pro-grams have been shown to reduce recidivism rates, at least in some jurisdictions. Compare Michael W. Finigan, et al., IMPACT OF A MATURE DRUG COURT OVER 10 YEARS OF
2 No. 17-2750More...

$0 (07-07-2018 - IN)


Quincy Hawkins v. State of Indiana (mem
The evidence most favorable to the verdict shows that on August 21, 2015, officers with the Indianapolis Metropolitan Police Department SWAT team executed a no-knock search warrant on Hawkins's home. In an effort to keep everyone safe, the SWAT team broke a window and used a flash bang, a diversionary device meant to disorient the occupants of a residence, as they announced their presence by... More...

$0 (07-01-2018 - IN)


Tamara M. Loertscher v. Eloise Anderson, et al. Western District of Wisconsin Federal Courthouse - Madison, Wisconsin Morelaw Internet Marketing National Find A Lawyer Directory 888-354-4529
Tamara M. Loertscher brought this
action under 42 U.S.C. § 1983 challenging the constitutionality
of 1997 Wisconsin Act 292 ("Act 292" or "the Act"), a legislative
measure designed to address the effects of prenatal substance
abuse. Act 292 brings unborn children and their mothers
within the jurisdiction of the juvenile courts if the mothers
exhibit a habitual lack of self&... More...

$0 (06-27-2018 - WI)


Trump, President of the United States, et al. v.Hawaii, et al. United States Supreme Court Building - Washington, D.C.
Under the Immigration and Nationality Act, foreignnationals seeking entry into the United States undergo a vetting process to ensure that they satisfy the numerous requirements for admission. The Act also vests the President with authority to restrict the entry of aliens whenever he finds that their entry "would be detrimental to the interests of the United States." 8 U. S. C. §1182(f). Relying on... More...

$0 (06-26-2018 - DC)


Jyll Brink v. Raymond James & Associates, Inc. Northern District of Alabama Federal Courthouse - Birmingham, Alabama
Jyll Brink appeals the district court's dismissal of her putative class action complaint. She argues that the district court erred in determining that her state law claims for negligence and breach of contract against Raymond James and Associates, Inc. ("RJA") were precluded under Title I of the Securities Litigation Uniform Standards Act of 1998 ("SLUSA"), which prohibits class actions alleging s... More...

$0 (06-21-2018 - FL)


Shawn M. Saylor v. State of Indiana COURT OF APPEALS OF INDIANA
In June 2016, Brian Stem, a confidential informant, told Detective Steve
Coleman with the Harrison County Sheriff's Department that he could
purchase methamphetamine from Saylor. Accordingly, on June 15, Detective
Coleman initiated a controlled buy between Stem and Saylor.
[4] On that date, while in the presence of Detective Coleman, Stem placed a phone
call to Saylor's... More...

$0 (06-18-2018 - IN)


The People of the State of Colorado v. Alyse Elaine Shank and Six Thousand Fourteen Dollars in United States Currency Colorado Supreme Court
The People charged Shank with three drug offenses, including one alleging
distribution. She was appointed a public defender. The People later brought a civil
forfeiture action related to the criminal charges. In that case, the People sought
forfeiture of the proceeds of Shank's alleged crimes pursuant to section 16-13-303(6),
C.R.S. (2017). The P.D. entered its appearance o... More...

$0 (06-11-2018 - CO)


Next Page