Mediation Law
Du-All Safety, LLC v. The Superior Court of Alameda County, Mark krien, Real Party in Interest

MoreLaw Virtual Receptionists
Nosotros hablamos español




On March 2, 2017, plaintiffs Mark Krein and his wife Lori Krein (when referred to
collectively, plaintiffs) filed the... More... $0 (04-21-2019 - CA)


Michael D. Castro v. Tri Marine Fish Company, LLC




Central to the United Nations Convention on the Recognition and Enforcement of Foreign Arbitral Awards, June 10, 1958, 21 U.S.T. 2517 ("New York Convention"), and related federal law is the principle insulating foreign arbitral awards from second-guessing by cour... More... $0 (04-15-2019 - WA)


John Doe v. Federal Election Commission
This is an appeal from the decision of the district court reftising to enjoin the Federal
Election Commission from releasing information identifying a
trust and its trustee in connection with a misreported federal
campaign contribution. Doe v. FEC, 302 F. $upp. 3d 160
(D.D.C. 201$).
Plaintiffs — the trust and its trustee — appear incognita as
John Doe 2 and John Doe 1. They... More...

$0 (04-12-2019 - DC)


NICOLE CORRIGAN vs MANUEL ISRAEL VARGAS III



Mother and Father, who never married, had a child in 2006. The parties had an informal agreement to exercise timesharing with the child. In 2015, Father filed a petition ... More... $0 (04-07-2019 - FL)


Lorena M. Milligan v. CCC Information Services, Inc. and Geico General Insurance Company





Defendants-Appellants GEICO General Insurance Company ("GEICO")
and CCC Information Services ("CCC") appeal from an order of the United
States District Court for the Eastern District of New York (Azrack, J.), denying
their motions to compel appraisal in a suit brought by P... More... $0 (04-03-2019 - NY)


National Asian American Coalition v. Gavin Newsom, as Governor




This appeal arises out of the subprime mortgage crisis, a nationwide banking
emergency that began in 2007 with the collapse of a housing financing bubble created in
large part by an increase in housing speculation and subprime lending practices. This
crisis led to a deep recession in the Unite... More... $0 (04-03-2019 - CA)


Damien Guedes v. Bureau of Alcohol, Tobacco and Explosives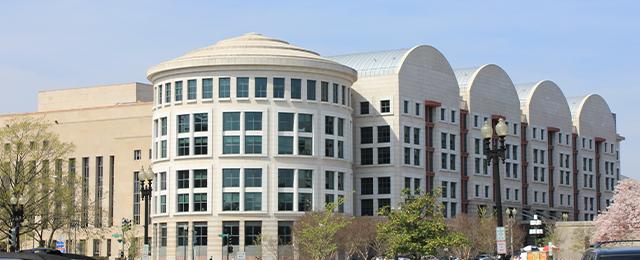 In October 2017, a lone gunman armed with bump-stock-enhanced semiautomatic weapons murdered 58 people and wounded hundreds more in a mass shooting at a concert in Las Vegas, Nevada. In the wake of that tragedy, the Bureau of Alcohol, Tobacco, Firearms and Explosives ("Bureau... More... $0 (04-01-2019 - DC)


STATE OF NEBRASKA V. DEIGO CARTER, JR.




Carter's date of birth is November 19, 2001. The offenses which triggered this case occurred on August 2 and 3, 2018, when Carter was 16 years old. Carter was charged with robbery; a Class II felony, use of a firearm to commit a felo... More... $0 (04-01-2019 - NE)


Bertha A. Molinaro v. Michael M. Molinaro
Michael Molinaro appeals from a restraining order issued
under the Domestic Violence Prevention Act (DVPA) (Fam. Code,
§ 6200 et seq.).
1 We conclude the part of the restraining order
prohibiting Michael from posting anything about his divorce case
on Facebook constitutes an overbroad, invalid restraint on his
freedom of speech. We therefore will reverse that provision and<... More...

$0 (04-01-2019 - CA)


STATE OF NEBRASKA V. DUT WOL



Wol, born in December 2000, is alleged to have been involved in an armed robbery on July 2, 2018. At 3:49 a.m... More... $0 (03-19-2019 - NE)


Yilkal Bekele v. Lyft, Inc.





This case is about the
enforceability of an arbitration clause alleged to be
unconscionable under Massachusetts law.
Yilkal Bekele, the plaintiff, drove for Lyft, Inc., the
defendant, starting in mid-2014. Bekele tapped "I accept" on his
iPhone 4 when presente... More... $0 (03-14-2019 - MA)


Richard Muller v. John Weeder



In 2013, Muller obtained real property in Boyd County, Nebraska, which property shares a fence line with prope... More... $0 (02-27-2019 - NE)


TIMOTHY JOSEPH LAMAR v. MICHELLE KEEFER LAMAR n/k/a MICHELLE CHRISTMAN



During the pendency of their divorce and after their divorce was final, Michelle Keefer Lamar, now Michelle Christman, took $23,138.63 from Timothy Jo... More... $0 (02-22-2019 - KS)


Rhody Cancino vs. Fernando Cancino




The wife and Fernando Cancino (the "husband") were married in 2002. The
husband and wife have three minor children from the marriage. On May 6, 2013,
the husband filed his petition for dissolution of marriage and other relief. On ... More... $0 (02-14-2019 - FL)


COOPER v. BROWNELL





While Cooper was stopped at an intersection in Deadwood i... More... $0 (02-14-2019 - MO)


RICKIE PATTON and CATHLEEN MARQUARDT v. BARRY JOHNSON




We briefly rehearse the background and travel of the
case. In 2007, the plaintiffs retained defendants JLF and Steven
M. Johnson to represent them in a products liability suit
concerning an allegedly defective hernia me... More... $0 (02-12-2019 - ma)


Rickie Patton and Cathleen Marquardt v. Barry Johnson and Steven Johnson, d/b/a The Johnson Law firm





Over time, this case has become
a procedural motley. In its current iteration, defendantappellant
Barry Johnson emphasizes his association with the
Johnson Law Firm (JLF) in attempting to compel the plaintiffs,
Ric... More... $0 (02-11-2019 - OK)


Thomas Virgil Messner v. Dawn Marie Messner




Mother and Father have two children born of their marriage, Ri... More... $0 (01-28-2019 - IN)


Janet Linton v. County of Contra Costa



Plaintiff Janet Linton appeals from an order denying her request for attorney fees.
Linton contends defendants County of Contra Costa (County), Gr... More... $0 (01-23-2019 - CA)


The Estate of Brenda Taber v. Mudassir Nawaz, M.D., et al.



Norman, OK - The Estate of Brend Taber, deceased, by and through her Surviving Spouse, Phil Taber, personal representative, sued Mudazzir Nawaz, M.D.,... More... $1 (01-11-2019 - OK)


Berkeley Cement, Inc v. Regents of the University of California
Berkeley Cement, Inc. (Berkeley) appeals from the judgment entered
against it after a jury trial in this dispute over construction of a building on the Merced
campus of the University of California. Berkeley contends the jury's findings on the
complaint and on the cross-complaint were fatally inconsistent; the trial court incorrectly
instructed the jury that a particular specificat... More...

$0 (01-09-2019 - CA)


Lisa Cox v. Aram Bonni
Plaintiff Lisa Cox (plaintiff) appeals from the judgment
confirming an arbitration award in favor of defendant and
respondent Aram Bonni, M.D. (defendant), whom she sued for
medical malpractice following a hysterectomy. Plaintiff had
moved successfully to vacate the award based on the neutral
arbitrator's failure timely to disclose his past dealings and
ex parte communicati... More...

$0 (12-18-2018 - CA)


State of Tennessee v. Reuben Eugene Mitchell




This case arises from a fire that occurred on December 5, 2011, at a home where the Defendant was living. In re... More... $0 (12-14-2018 - TN)


C.A. v. C.P.
This case involves a little girl bonded to and loved by each of her three parents.
The wife in a married couple (defendants C.P. and J.P., wife and husband)
conceived the child with a coworker (plaintiff C.A.), but hid that fact from wife's
2
employer and--initially--from husband. The marriage remains intact and wife and
husband parent the child. For the first three years of th... More...

$0 (11-14-2018 - CA)


Ali Al-Fayez, et al v. Baycliffs Homeowners Association, Inc., et al.

Appellees are the owners of Lot 99 in the Baycliff... More... $0 (11-10-2018 - OH)


Next Page