Homeowners Association Law
State of Ohio v. Donald E. Webb, Jr.



<... More... $0 (07-12-2020 - OH)


State of Ohio/City of Toledo v. Keith E. Crosby



<... More... $0 (07-11-2020 - OH)


Ronald Talley v. County of Fresno
Plaintiff Ronald Talley pleaded nolo contendre to a criminal offense for which he
was sentenced to 18 days in the Fresno County Jail. Rather than serving those days in
county jail, plaintiff was deemed eligible to serve the sentence by participation in the
Adult Offender Work Program (AOWP) administered by Fresno County's Probation
Department. Plaintiff was injured while performing... More...

$0 (07-11-2020 - CA)


United States of America v. Mitch Bryan Schoonover, Isaiah Holt and Jay Rodney Ferdig





Portland, OR - The United States of America charged Mitch Bryan Schoonover, age 37, Isaiah Holt, age 32, and Jay Rodney Ferdig, age 44, with being felons in possession of firearms.

"The goal of the Project Safe Neighborhoods program is to reduce violent crime and victimizat... More... $0 (07-10-2020 - )


Pico Neighborhood Association v. City of Santa Monica
A neighborhood organization and a resident sued the City
of Santa Monica, which uses at-large voting to elect its City
Council. The plaintiffs claimed this system discriminated against
Latinos, which is the term all parties use. After a bench trial, the
trial court agreed and ordered the City to switch to district-based
voting. We reverse and enter judgment for the City because... More...

$0 (07-10-2020 - CA)


Jimcy McGirt v. State of Oklahoma

On the far end of the Trail of Tears was a promise. Forced to leave their ancestral lands in Georgia and Alabama, the Creek Nation received assurances that th... More... $0 (07-09-2020 - OK)


WFG National Title Insurance Company v. Wells Fargo Bank, N.A.
This matter arises out of an alleged mortgage fraud scheme
designed to defraud mortgage lenders and involving numerous
realtors, loan brokers, loan officers, and real estate brokers. One
defrauded lender is Milestone Financial d/b/a Alviso Funding
(Alviso), the original plaintiff in this case.
The operative complaint alleges that various defendants set
up a sham transaction... More...

$0 (07-08-2020 - CA)


STATE OF OHIO v. PAUL JEROD LESTER, AKA JEROD LESTER








{¶2} This case stems from a series of drug-related events involving Lester in
Union County, Ohio, that took place at a hotel in Marysville on August 17, 2017
and on... More... $0 (07-07-2020 - OH)


Stanford Vina Ranch Irrigation Company v. State of California
Stanford Vina Ranch Irrigation Company (Stanford Vina) sued the State Water
Resources Control Board (the Board), among other defendants, challenging the Board's
issuance of certain temporary emergency regulations in 2014 and 2015, during the height
of one of the most severe droughts in California's history. The challenged regulations
established minimum flow requirements on three t... More...

$0 (07-07-2020 - CA)


STATE OF OHIO v. TAYVON BROWN



<... More... $0 (07-06-2020 - OH)


Rexina Mize v. Mentor Worldwide, LLC
This case is about preemption and causation:
whether the Medical Device Amendments (MDA) to the federal
Food, Drug, and Cosmetic Act (FDCA) preempt the state-law
products liability claims at issue here, and whether Rexina Mize
and her husband, Minh Nguyen, sufficiently pled causation to
survive Mentor Worldwide LLC's demurrer to those claims. We
conclude that the tort claim... More...

$0 (07-06-2020 - CA)


STATE OF OHIOv. BRANDON DAVIS










{¶ 1} Defendant-appellant, Brandon Davis, appeals from his conviction in the Clark
County Court of Common Pleas after a jury found him guilty of one count of a... More... $0 (07-05-2020 - OH)


Rebecca Nelson Yandell and Edgar Leroy Yandell, Jr. v. Brieanna Hope Deas and United Services Automobile Association
Asheville, NC - Rebecca Nelson Yandell and Edgar Leroy Yandell, Jr. sued Brieanna Hope Deas and United Services Automobile Association on personal injury, auto negligence and insurance law theories claiming to have been injured and/or damaged in a car wreck caused by Deas.... More...

$0 (07-04-2020 - NC)


STATE OF OHIO v. RAMON A. BOYCE








{¶ 3} Boyce's jury trial lasted 15 days, during which the State presented 85
witnesses and Boyce offered 12 witnesses. The pertinent facts underlying the present
ap... More... $0 (07-03-2020 - OH)


Sukru Bayramoglu v. Nationstar Mortgage, LLC
Plaintiffs Sukru and Gulay Bayramoglu, like many others, sought to modify their
home loan in the midst of the 2008 financial crisis. They eventually succeeded in doing
so in late 2011, obtaining at that time a lower interest rate and a lower monthly payment
2
from their loan servicer, Nationstar Mortgage LLC (Nationstar). But, in their view, all
was not well with the loan modi... More...

$0 (07-02-2020 - CA)


STATE OF TENNESSEE v. JEREMY REYNOLDS
Chattanooga gang member convicted of first-degree murder for 2013 killing









This case arises from the May 5, 2013 shooting d... More... $0 (07-01-2020 - TN)


City and County of San Francisco v. All Persons Interested In The Matter of Proposition C
In California, "[a]ll political power is inherent in the people," who
retain "the right to alter or reform" government by voter initiative "when the
public good may require." (Cal. Const., Art. II, § 1.)1 The question in this
case is whether the people of a city or county may exercise this initiative
power to adopt a special tax when a majority of voters concludes it would
serv... More...

$0 (07-01-2020 - CA)


State of Nebraska v. Ker L. Yang








Nebraska State Patrol Trooper Robert Pelster was patrolling Interstate 80 in Lancaster County, Nebraska, on February
22, 2018. He was headed westbound when he saw a... More... $0 (06-28-2020 - NE)


LORENZO A. GREEN v. STATE OF ARKANSAS









Appellant Lorenzo A. Green was convicted by a jury of aggravated robbery and accomplice to tampering with physical evidence. The charges related to the be... More... $0 (06-26-2020 - AR)


TAUTIANA PORTER v. STATE OF ARKANSAS








On September 5, 2017, appellant Tautiana Porter pleaded guilty to the following felony offenses: engaging in continuing gang organization or enterprise in the second degree... More... $0 (06-26-2020 - AR)


United States of America v. Paul Petersen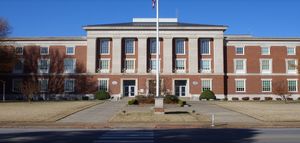 More... $0 (06-25-2020 - AR)


Sharon Dash, et al. v. Mark Barnaby
Mark Barnaby ("Appellant") appeals the judgment entered in favor of Sharon Dash, Angela Simmons and Bill Blacksher, as trustees of the Riverwood Estates Homeowners Association ("Association"). We affirm.
BACKGROUND
Appellant is the owner of a residence located in the Riverwood Estates subdivision, which is bound by the Riverwood Estates Declaration of Residential Covenants and Restrictions... More...

$0 (06-23-2020 - MO)


State of Oklahoma v. Penzy Mark McCoy
El Reno, OK - The State of Oklahoma charged Penzy Mark McCoy with:

Count as Filed: SEXZ, SAFTY ZONES AROUND ELEMENTARY AND JUNIOR HIGH SCHOOLS, CHILD CARE FACILITIES, AND PLAYGROUNDS, in violation of 21 O.S. 1125
Date of Offense: 01/13/2019
Party Name Disposition Information
MCCOY, PENZY MARK Disposed: CONVICTION, 06/22/2020. Guilty Plea
Count as Disposed: SAFTY ZONE... More...

$0 (06-22-2020 - OK)


Richard Simmons v. Bauer Media Group USA, LLC
Defendant and appellant Bauer Media Group USA, LLC,
an entertainment magazine publisher, appeals from the denial of
its special motion to strike the first amended complaint of
plaintiffs and respondents Richard Simmons and Teresa Reveles
(i.e., an anti-SLAPP motion under Code of Civil Procedure section
425.16.).
The well-known Simmons describes himself as "a health
and ... More...

$0 (06-22-2020 - CA)


Abelardo Martinez v. San Diego County Credit Union
Abelardo Martinez, who is blind, brought an action against San Diego County
Credit Union (Credit Union) claiming its website is incompatible with software
permitting him to read website content. He alleged this defect denied him equal access
to, and full enjoyment of, the Credit Union's website and its physical locations. Martinez
asserted a single cause of action under the Unruh C... More...

$0 (06-20-2020 - CA)


Next Page