Fetus Law
STATE OF OHIO v. KELLY A. FOREMAN



<... More... $0 (07-07-2020 - OH)


SAM CORNETT V. COMMONWEALTH OF KENTUCKY
MoreLaw ReceptionistsVOIP Phone and Virtual Receptionist Services
Call 918-582-6422 Today



These charges stem from the shooting death of Alisha Tye and her
unborn child. At the time of h... More... $0 (04-18-2020 - KY)


Jackson Women's Health Organization, et al. v. Thomas E. Dobbs, M.P.H., et al.
This case concerns a Mississippi law that prohibits abortions, with limited exceptions, after 15 weeks' gestational age. The central question before us is whether this law is an unconstitutional ban on pre-viability abortions. In an unbroken line dating to Roe v. Wade, the Supreme Court's abortion cases have established (and affirmed, and re-affirmed) a woman's right to choose an abortion before v... More...

$0 (12-16-2019 - MS)


United States of America v. Luis Antonio Zayas




Scranton, PA - Luzerne County Man Convicted Of Drug Distribution Resulting In Death Of Pregnant Woman And Unborn Fetus

Luis Antonio Zayas, age 48, of Hazleton, Pennsylvania, was convicted on June 21, 2019, for drug distribution resulting in death after a four-day trial be... More... $0 (06-24-2019 - PA)


STATE OF MISSOURI v. EMILY USNICK




Usnick was an unmarried mother of three when she became pregnant in 2008. Two ... More... $0 (06-21-2019 - MO)


STATE OF KANSAS v. FRANCISCO MORENO




Moreno was stopped while driving his vehicle on October 9, 2016, by an offi... More... $0 (06-09-2019 - KS)


Bryan Keith Martin and Mary Elizabeth Martin vs. Carolyn Summers, et al




The relevant and somewhat tortured legal history of this case began in 1999. In
September 1999, the Cole County Circuit Court appointed Mary Martin to be the legal
guardian of DeBrodie, who was the... More... $0 (04-05-2019 - MO)


Justo Armando Jiminez v. The State of Texas



On February 9, 2016, the trial court placed appellant on community
supervision, subject to certain conditions. On March 27, 2017, the State filed a
motion to ... More... $0 (04-03-2019 - TX)


Planned Parenthood of Greater Ohio v. Richard Hodges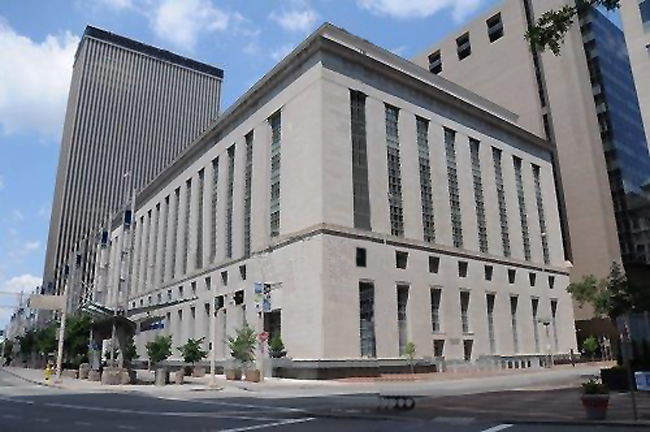 Ohio, like many governments, often partners with nonprofit organizations to promote policies of the State. Through one such partnership, the State distributes government funds to several organizations to address a wide range of public health issues. For many years, Planned Parenthood ... More... $0 (03-12-2019 - OH)


Planned Parenthood of Greater Texas Family Planning and Preventative Health Services, Inc., et al. v. Charles Smith





The Texas Health and Human Services Commission's Office of Inspector General ("OIG") sought to terminate the Medicaid provider agreements of Planned Parenthood affiliates throughout the state. The agency based this
1 Judge Haynes concurs in the judgment only.
United State... More... $0 (01-18-2019 - )


David Lee Huckaba vs State of Florida





In December 2014, Appellant was charged by information with three counts of vehicular homicide, three counts of reckless driving causing serious bodily injury, and one count of reckless driving causing injury, plus several counts based on driving under the influence of alcohol. All char... More... $0 (11-30-2018 - FL)


Whole Woman's Health v. Charles Smith Western District of Texas Federal Courthouse - San Antonio, Texas
This is an emergency appeal from an extraordinary discovery order by the district court to a religious body. The court compelled document production of the group's internal communications despite its status as a non-litigant and its voluntary furnishing of substantial discovery materials. Because the trial date looms, and with the benefit of full briefing from both parties, we elect to consolidate... More...

$0 (07-25-2018 - TX)


Kathryn L. Preston v. The State of Texas Morelaw Internet Marketing for Legal Professionals MoreLaw Will Make Your Phone Ring $0 to $1000+ Per Month - No Contract 888-354-4529
Preston's conviction for the murder of Jose Mario Hernandez arose from a series of 1
events that occurred the afternoon before she called Llano County 911 to report a fire at her house.
In the 911 call played for the jury, Preston states that she thinks she will need some help, that she has
a fire in her house, and that "somebody better hurry up, I kinda got a controlled burn going her... More...

$0 (07-23-2018 - TX)


Planned Parenthood of the Heartland and Jill Meadows v. Kimberly K. Reynolds, ex rel State of Iowa and Iowa Board of Medicine SUPREME COURT OF IOWA
In this appeal, we must decide if the constitutional right of women to choose to terminate a pregnancy is unreasonably restricted by a statute that prohibits the exercise of the right for a period of seventy-two hours after going to a doctor. In making this decision, we recognize the continuing debate in society over abortion and acknowledge the right of government to reasonably regulate the const... More...

$0 (07-15-2018 - IA)


STATE OF NEW MEXICO v. JOSEPH BLEA Convicted rapist Joseph Blea, left, is taken into custody after being sentenced to 36 years by District Court Judge Judith Nakamura on Monday.
On November 2, 1988, A.W. (Victim 1), who was 13 years old, went to her
15 home after school where an unknown man wearing a ski mask was lying in wait,
16 armed with a knife. The man vaginally penetrated Victim 1, and then forced her into
17 the bathroom. After securing the bathroom door so Victim 1 could not escape, the
18 unknown man fled. Victim 1 was taken to the hospital, whe... More...

$0 (06-28-2018 - NM)


National Institute of Family and Life Advocates, d/b/a NIFLA, et al. v. Becerra Attorney General of California, et al. United States Supreme Court Building - Washington, D.C.
Freedom, Accountability, Comprehensive Care, and Transparency Act (FACT Act) requires clinics that primarily serve pregnant women toprovide certain notices. Cal. Health & Safety Code Ann. §123470 et seq. (West 2018). Licensed clinics must notify women that California provides free or low-cost services, including abortions, and give them a phone number to call.Unlicensed clinics must notify women t... More...

$0 (06-26-2018 - DC)


Mateel Environmental Justice Foundation v. Office of Environmental Health Harzard Asse
In 1989, the predecessor to respondent Office of Environmental Health Hazard
Assessment (OEHHA), the lead agency charged with implementing California's Safe
Drinking Water and Toxic Enforcement Act (Proposition 65) (Health & Saf. Code,
§ 25249.5 et seq.), adopted a regulation setting a "maximum allowable dose level" or
MADL for lead as a reproductive toxicant. (Cal. Code Regs., tit... More...

$0 (06-08-2018 - CA)


STATE OF OHIO v. TANNER D. HOPKINS
This case arises from the January 13, 2015 assault suffered by Chaenin
Taylor. At the time of the assault, Taylor was seven-months pregnant. As a result of
the assault, the fetus died.
{¶ 3} Following an investigation, Hopkins was indicted on one count of murder
(purposeful) in violation of R.C. 2903.02(A), one count of involuntary manslaughter in
violation of R.C. 2903... More...

$0 (05-13-2018 - OH)


STATE OF KANSAS v. SCOTT ROBERT BOLLIG
We begin with an introduction of the people involved in or affected by the criminal conspiracy and an outline of the circumstances that drew them together. Bollig, a bank officer, became acquainted with Naomi Abbott in late 2012, while she was married to Rahn Abbott. As her acquaintance with Bollig took an intimate turn, Naomi and Rahn were divorcing. After the divorce, Bollig and Naomi continued ... More...

$0 (04-28-2018 - KS)


Planned Parenthood of Greater Ohio v. Lance Himes Sixth Circuit Court of Appeals for the Sixth Circuit
Enacted in 2016, Ohio Revised Code § 3701.034
requires the Ohio Department of Health (ODH) to ensure that all funds it receives through six
non-abortion-related federal health programs are not used to contract with any entity that
performs or promotes nontherapeutic abortions, or becomes or continues to be an affiliate of any
entity that performs or promotes nontherapeutic abortion... More...

$0 (04-18-2018 - OH)


ANNE O'HARA BYNUM V. STATE OF ARKANSAS
There are no factual disputes. In early 2015, Bynum, a 37-year-old divorced woman
living with her mother, stepfather, brother, and four-year-old son, T.B., outside of
Monticello, discovered she was pregnant. She believed her mother would not allow her
and T.B. to continue living in her home if her mother learned Bynum was pregnant;
therefore, Bynum did not tell her mother abo... More...

$0 (04-01-2018 - AR)


Lane Walker Waldron v. The State of Texas
As set out above, Waldron was charged with capital murder for the death of S.F.'s
unborn daughter. According to the undisputed evidence presented at trial, Waldron and S.F. were
romantically involved and were living together at the time of the offense, and S.F. was pregnant with
Waldron's twin children. One of the twins was male, and the other was female. On the day after
the of... More...

$0 (03-30-2018 - TX)


State of Missouri v. Phillip Douglas and Jennifer M. Gaulter Jackson County Courthouse - Kansas City, Missouri
The state appeals from the circuit court's order sustaining the defendants' motions
to suppress all evidence seized pursuant to a warrant authorizing search of a residence for
stolen items. The state admits an officer submitted a prepared search warrant form, which
was then executed by a circuit judge, authorizing a search for any deceased human fetus
or corpse despite the fact the... More...

$0 (02-16-2018 - MO)


Jennifer Debuhr v. Warren M. Hern District of Colorado Federal Courthouse - Denver, Colorado
Denver, CO - Jury Finds In Favor of Doc In Medical Malpractice Case

Jennifer Debuhr sued Dr. Warren M. Hern on a medical negligence (medical malpractice) theory claiming that she received substandard care from the Defendant who performed at late-term abortion on her and, as a direct result, she can no longer have children. She had to have a hysterectomy to remove a portion of the fetus' ... More...

$0 (01-24-2018 - CO)


John Lipsey v. United States of America, et al. Central District of Illinois Federal Courthouse - Urbana, Illinois
In this appeal, John Lipsey seeks
relief on behalf of his minor daughter J.L., for tragic injuries
suffered by J.L. at birth. The district court granted summary
judgment to the defendants, and Lipsey appeals that determination.
The facts underlying the grant of summary judgment are
set forth in detail in the district court opinion, and in relevant
part are as follows. On Ju... More...

$0 (01-04-2018 - IL)


Next Page