Excessive Damages Law
Regina Thomas v. Southern Farm Bureau Life Insurance Company
Plaintiffs appeal an order denying attorney's fees and costs under 28 U.S.C. § 1447(c). Because the district court did not abuse its discretion, we affirm.
Case: 18-60400 Document: 00514719491 Page: 1 Date Filed: 11/12/2018
No. 18-60400
2
I.
Regina Thomas and Pam Pilgrim sued in state court, challenging their terminations by Southern Farm Bureau Life Insurance Company ("the com... More...

$0 (11-16-2018 - MS)


Felix Huerta v. Kava Holdings, Inc.
Defendant Kava Holdings, Inc., dba Hotel Bel-Air
(defendant) terminated two restaurant servers after they were
involved in an altercation during work. One of the fired
employees, plaintiff Felix Huerta, sued defendant on a variety of
legal theories, most of which were dismissed before or during
trial. The trial court granted defendant's motion for nonsuit as to
plaintiff's ... More...

$0 (11-16-2018 - CA)


United States of America v. SK Energy Co. Ltd., GS Caltex Corporation, and Hanjin Transportation Co. Ltd.
Cincinnati, OH - Three South Korean Companies Agree to Plead Guilty and to Enter Into Civil Settlements for Rigging Bids on United States Department of Defense Fuel Supply Contracts

South Korea-based companies SK Energy Co. Ltd., GS Caltex Corporation, and Hanjin Transportation Co. Ltd. have agreed to plead guilty to criminal charges and pay a total of approximately $82 million in crimina... More...

$0 (11-15-2018 - OH)


Robert Genisman v. Hopkins Carley
In this legal malpractice action, appellant Robert Genisman alleges his former
attorneys, Hopkins Carley and Mark Heyl (collectively respondents), were negligent in
their representation of him in connection with the 2005 sale of his ownership interest in
two private companies (the Transaction). Genisman alleges the Transaction initially was
structured as a buyout and respondents re... More...

$0 (11-15-2018 - CA)


State of Ohio v. Dequez Reed




On July 21, 2015, Ohio State Highway Patrol Trooper Elizabeth Grabel was
patrolling a stretch of the Ohio turnpike in Erie County, Ohio, when she observed a red
Jeep SUV traveling eastbound at 86 m.p.h. Trooper Grabel initiated a... More... $0 (11-11-2018 - OH)


David Schmidt v. Citibank, N.A.
Plaintiffs David and Hedda Schmidt appeal from a judgment entered in favor of
defendants Citibank, N.A., as Trustee for Structured Asset Mortgage Investments II Trust
2
2007-AR3 Mortgage Pass Through Certificates Series 2007-AR3, and Select Portfolio
Servicing, Inc. (defendants).
The Schmidts filed this action against the defendants, alleging violations of the
Homeowners' ... More...

$0 (11-11-2018 - CA)


1550 Laurel Owner's Association v. Appellate Division of the Superior Court of Los Angeles County, Stephen Munshi, Real Party in Interest



No appearance for Respondent Appellate Division of the
Superior Court of California, County o... More... $0 (11-10-2018 - CA)


STATE OF OHIO -vs- BRENT FIELDS




Defendant-Appellant Brent Alan Fields appeals his convictions, in the Court
of Common Pleas, Stark County, for murder and multiple counts of child endangering.
Appellee is the State of Ohio. The relevant facts leading to this appe... More... $0 (11-09-2018 - OH)


United State of America v. Daniel Davis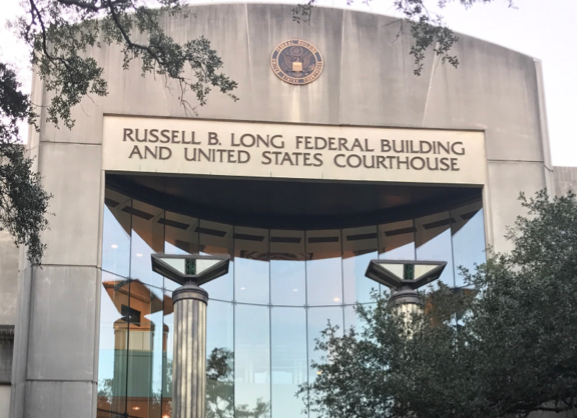 Baton Rouge, LA - Former Major at Angola Prison Convicted of Beating a Handcuffed and Shackled Inmate

Officer Was Previously Convicted of Related Obstruction Offenses

Daniel Davis, 41, a former Major at Louisiana State Penitentiary (LSP) in Angola, Louisiana, was fou... More... $0 (11-09-2018 - LA)


Curtis Rockaird v. BNSF Railway Company
These appeals follow a civil jury trial. The jury found
that BNSF Railway Company violated the anti-retaliation
provision of the Federal Railroad Safety Act ("FRSA") when
BNSF fired Curtis Rookaird for, in part, refusing to stop
performing an air-brake test on a 42-car train that he was
tasked with moving. Rookaird was awarded over $1.2
million in damages. BNSF appeals issu... More...

$0 (11-09-2018 - WA)


Citizens For Amending Proposition L v. City of Pomona
In June 1993, appellant City of Pomona (Pomona) entered
into an agreement with non-party Regency Outdoor Advertising,
Inc. (Regency). Pursuant to that agreement, Regency erected
advertising billboards alongside several Pomona freeways.
Shortly thereafter, in November 1993, the citizens of Pomona
passed a ballot initiative, Proposition L (Prop. L), which
prohibited the const... More...

$0 (11-09-2018 - CA)


Paul Randy Farrow v. Jacobs Engineering Group, Inc.





Knoxville, TN Paul Randy Farrow sued Jacobs Engineering Group, Inc. on a negligence theory seeking $9,999,000 in damages he sustained as a direct result having his property flooded with water and coal ash ... More... $0 (11-08-2018 - TN)


Victor Guerrero v. California Department of Corrections and Rehabilitation
Victor Guerrero, a Mexican immigrant and aspiring California correctional officer,
filed a federal action alleging discriminatory failure-to-hire against the California
Department of Corrections and Rehabilitation (the CDCR), among other defendants. He
pled federal and state law claims, but only his state claims allowed him to seek general
damages.
The federal court dismissed G... More...

$0 (11-08-2018 - CA)


United States ex rel. Jihaad Abdul-Majid, et al. v. ImmediaDent Specialty, P.C., et al.



Louisville, KY - $5.1 Million Dollar Settlement Reached With Indiana Dental Firm To Resolve False... More... $0 (11-06-2018 - KY)


Jeannine L. Somberg v. Utica Community Schools



This case arises under the Individuals with
Disabilities Education Act (IDEA), 20 U.S.C. § 14... More... $0 (11-06-2018 - MI)


Matthew N. Fulton, D.D.S. v. Enclarity, Inc.
Plaintiff Matthew N. Fulton, DDS, P.C., a dental practice in Linden, Michigan, brings this suit on behalf of itself and others similarly situated. Fulton alleges that it received a fax from Defendants in September 2016 that was an unsolicited advertisement under the Telephone Consumer Protection Act (TCPA), 47 U.S.C. § 227, but that failed to include the requisite opt-out provision. Arguing that t... More...

$0 (11-06-2018 - MI)


Tynisa Williams v. City of Cleveland



In 2009, Tynisa Williams brought suit against the City of
Cleveland ("the City"), on behalf o... More... $0 (11-06-2018 - OH)


John Daniel v. Commissioner, Social Security Administration
Plaintiffs, administrators of the estates of their deceased spouses, appeal the district court's dismissal of their suit under the Federal Tort Claims Act ("FTCA"). They allege that the Social Security Administration ("SSA") caused the suicide deaths of their spouses by improperly notifying them of the suspension of their disability benefits and of the need to redetermine their eligibility for ben... More...

$0 (11-06-2018 - KY)


Constance Ramos v. The Superior Court of San Francisco, Winston & Strawn, LLP



Constance Ramos, an experienced litigator and patent practitioner with a doctorate
in biophys... More... $0 (11-06-2018 - CA)


STATE OF LOUISIANA Vs. RODERICK JERMAINE CAWTHORNE, JR.




On February 21, 2015, Vermilion Parish Sheriff's deputies responded to a call
regarding a burned vehicle in an isolated area abou... More... $0 (11-05-2018 - LA)


CAROLYN A. WATTS Vs. GOLDEN NUGGET LAKE CHARLES, LLC




Plaintiff, Carolyn A. Watts,1 filed a petition against Golden Nugget alleging
damages for injuries allegedly resulting from a slip and fall on a wet floor in the
lobby of the casino on December 28, 2014.2 Ms. Wat... More... $0 (11-05-2018 - LA)


STATE OF LOUISIANA VERSUS NICHOLAS JAMES FACIANE -AKA- NICHOLAS FACIANE




On October 25, 2011, Defendant was charged by four separate grand jury
indictments with thirty-seven counts of sexual offenses against two different
victims—M.L. and T.R.B. The indictments were filed... More... $0 (11-05-2018 - LA)


Jason Olive v. General Nutrition Centers, Inc.
Jason Olive is a model and actor who contracted with
General Nutrition Centers, Inc. (GNC) to use his likeness in its
advertising campaign. GNC continued using Olive's likeness in
its advertising after its right to do so expired. GNC admitted
liability for the unauthorized use of Olive's likeness in violation of
Civil Code section 33441 but contested the amount of damages. AMore...

$0 (11-05-2018 - CA)


Amanda Quiles v. Arthur J. Parent, Jr.
In this latest chapter in what originated as a wage and hour class action,
defendant Arthur J. Parent, Jr. (Parent) appeals from the amended judgment entered in
favor of plaintiff Amanda Quiles on her individual claim for wrongful employment
termination in violation of the federal Fair Labor Standards Act of 1938 (FLSA; 29
U.S.C. § 201 et seq.). (All further statutory references ar... More...

$0 (11-04-2018 - CA)


Jane Doe v. Live Oak Classical School




Austin, TX - The parents of Jane Doe, age 12, sued Live Oak Classical School on negligence theories ... More... $0 (11-03-2018 - TX)


Next Page