Construction Law
Jorge Fierro v, Landry's Restaurant, Inc.
Plaintiff Jorge Fierro filed the underlying action against defendant Landry's
Restaurants, Inc.,1 seeking remedies for what Fierro alleges to be Landry's Restaurants's
violations of specified California labor laws and wage orders. Fierro asserts claims on
behalf of himself and on behalf of a class of individuals that he alleges is similarly
situated. Landry's Restaurants demurred t... More...

$0 (02-19-2019 - CA)


Barry Korman v. Princess Cruise Lines, Ltd.




On August 29, 2017, appellant sued respondent based on injuries
appellant suffered while he was a passenger on a cruise ship operated
by respondent. Appellant alleged that he was injured during a
February 2017 cruise on the "Crown Princess," a cruise ship traveling
from Buenos Aire... More... $0 (02-18-2019 - CA)


STATE OF OHIO -vs- DAVID E. ROGERS




Rogers was driving a car owned by a friend. The friend was in the backseat.
She was not driving because her license is under suspension. Sergeant Joel Smith of
the Ohio State Highway Patrol testified that he witnessed a vehi... More... $0 (02-17-2019 - OH)


STATE OF OHIO -vs- HECTOR GOMEZ




On April 9, 2017, the Muskingum County Grand Jury indicted Gomez on
one count of possession of drugs (methamphetamines) in violation of R.C. 2925.11(A), a
felony of the first degree. The count was accompanied by forfeiture and... More... $0 (02-17-2019 - OH)


STATE OF OHIO v. JUSTIN KYLE ANDERSON




The Highland County Grand Jury returned an indictment charging
Anderson with one count of failure to comply with the order or signal of a police officer in
violation of R.C. 2921.331(B), a third-degree felony; one count of aggr... More... $0 (02-17-2019 - OH)


United States of America v. Susan Wenszell




Milwaukee, WI - Former Owner of Electrical Construction Company Pleads Guilty to Felony Tax Charge

Susan Wenszell (57) of Milwaukee, Wisconsin, pleaded guilty to one count of failing to account for and pay federal payroll taxes to the Internal Re... More... $0 (02-17-2019 - WI)


Robert Sturm v. Todd Andrew Moyer
The question presented in this case is one of first impression:
Assuming fraudulent intent, can the Uniform Voidable Transactions
2
Act (Civ. Code, § 3439 et seq., formerly known as the Uniform
Fraudulent Transfer Act, or UFTA)1 apply to a premarital agreement in
which the prospective spouses agree that upon marriage each spouse's
earnings, income, and other property acquir... More...

$0 (02-17-2019 - CA)


Al Mijares v. Orange County Employees' Retirement System
In this declaratory relief action, the trial court ruled the Orange County
Department of Education (Employer) must pay approximately $3.3 million in additional
contributions to fund pension benefits promised to its employees. Employer argues we
must independently review the legal issues raised in its complaint because the judgment
arises from an order granting a motion for judgment... More...

$0 (02-16-2019 - CA)


City of Philadelphia v. Attorney General of the United State of America





The City of Philadelphia has received funds under the federal Edward Byrne Memorial Justice Assistance Grant Program ("Byrne JAG") every year since the program's inception
in 2006. Last year, however, the Justice Department notified
the City that it was withholding its FY... More... $0 (02-15-2019 - PA)


JUAN CRUZ V. STATE OF ARKANSAS




On April 8, 2015, at approximately 5:30 p.m., Arkansas State Police (ASP) initiated
an investigation of the report of a gunshot fired at a tractor trailer on Interstate 40 by a
Hispanic driver in a Suburban with Texas plates. ... More... $0 (02-14-2019 - AR)


James Benjamin v. John Stemple



The Rebekah C. Benjamin Trust owns vacant properties in Saginaw. James Benjamin is its trustee. The Saginaw law, formally known as the Unsupervised ... More... $0 (02-13-2019 - )


R. Alexander Acosta v. Off Duty Police Servs.
MoreLaw Suites - Legal Suites and Virtual Offices
The Best Places In Downtown Tulsa To Practice Law
406 South Boulder and 625 South Denver - 918 - 582-3993



... More... $0 (02-13-2019 - KY)


Rand Resources, LLC v. City of Carson



The City of Carson (City) hired Rand Resources as its
agent to negotiate with the National Football League (NFL)
about the possibility of buil... More... $0 (02-13-2019 - CA)


James Benjamin v. Jones Family Trust






Most cities in America regulate vacant properties and the risks
to the public health and safety that come with them. Saginaw is no different. Located in eastern
Michigan, the city requires owners of vacant property to register their property with the city.
The registration ... More... $0 (02-12-2019 - MI)


R. Alexander Acosta, Secretary of Labor, United States Department of Labor v. Off Duty Police Services, Inc.





The way we work in America is changing. The
relationships between companies and their workers are more fluid and varied than in decades
past. Our task in this appeal is to apply traditional legal protections to one such relationship. In
the proceedings below, th... More... $0 (02-12-2019 - KY)


Orlando v. Nassau Cty. Dist. Atty's Off




On Friday night, December 3, 2004, at approximately 8:45 p.m., 18
in response to a... More... $0 (02-12-2019 - NY)


RICKIE PATTON and CATHLEEN MARQUARDT v. BARRY JOHNSON




We briefly rehearse the background and travel of the
case. In 2007, the plaintiffs retained defendants JLF and Steven
M. Johnson to represent them in a products liability suit
concerning an allegedly defective hernia me... More... $0 (02-12-2019 - RI)


SCOTT L. HEAGNEY v. LISA A. WONG; CITY OF FITCHBURG




Heagney first submitted his application for the position
of Fitchburg Police Chief in October 2013. On the résumé
accompanying his application, Heagney listed positions that he had
held at the Police Department of Frank... More... $0 (02-12-2019 - MA)


United States of America v. Elizabeth Ann Pierce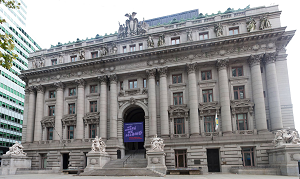 New York, NY - Former Ceo Of Alaska-Based Fiber Optic Cable Company Pleads Guilty To Wire Fraud And Aggravated Identity Theft For Defrauding New York Investment Companies

ELIZABETH ANN PIERCE, the former Chief Executive Officer of a telecommunications company bas... More... $0 (02-12-2019 - NY)


United States of America, ex rel. Stephanie Strubbe, et al. v. Crawford County Memorial Hospital and Bill Bruce





Stephanie A. Strubbe, Carmen Trader, and Richard Christie sued Crawford
County Memorial Hospital (CCMH) as relators in a qui tam action for violations of
the False Claims Act. 31 U.S.C. § 3729(a). They also sued CCMH and its Chief
Exec... More... $0 (02-12-2019 - IA)


Merilyn Jackson v. Kaiser Foundation Hospitals, Inc.
The record on appeal discloses the following undisputed facts.
On December 29, 2015, Merilyn Jackson, acting in propria persona, filed a
complaint against Kaiser Foundation Hospitals, Inc. (Kaiser), alleging Kaiser had
discriminated against her in violation of the California Fair Employment and Housing
Act (FEHA). After unsuccessfully attempting to serve the summons and complaint,<... More...

$0 (02-12-2019 - CA)


Scott L. Heagney v. Lisa A. Wong; City of Fitchburg




This case concerns a suit that
Scott Heagney, a past applicant for the position of the police
chief of Fitchburg, Massachusetts, brought against the City of
Fitchburg ("Fitchburg") and its mayor after the mayor decided not<... More... $0 (02-11-2019 - MA)


Rickie Patton and Cathleen Marquardt v. Barry Johnson and Steven Johnson, d/b/a The Johnson Law firm





Over time, this case has become
a procedural motley. In its current iteration, defendantappellant
Barry Johnson emphasizes his association with the
Johnson Law Firm (JLF) in attempting to compel the plaintiffs,
Ric... More... $0 (02-11-2019 - OK)


KELLEY P. KOHLER v. CAROLYNN L. CHAMBERS
MoreLaw Suites - Legal Suites and Virtual Offices
The Best Places In Downtown Tulsa To Practice Law
406 South Boulder and 625 South Denver - 918 - 582-3993



... More... $0 (02-11-2019 - OK)


Devlon Deaquel Johnson v. The State of Texas




Both parties agree the underlying facts are irrelevant to this appeal's disposition so we do not recount them in any detail. A Bell County grand jury indicted appellant for possession of cocaine in an amount less than one gram. A... More... $0 (02-11-2019 - TX)


Next Page