Information
About MoreLaw
Contact MoreLaw

Please E-mail suggested additions, comments and/or corrections to Kent@MoreLaw.Com.
Help support the publication of case reports on MoreLaw
Date: 03-21-2017
Case Style:
Robbie Emery Burke v. Stanley Glanz, et al.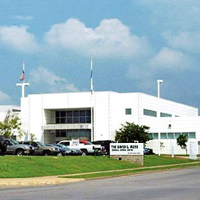 Case Number: 4:11-cv-00720-JED-PJC
Judge: John E. Dowdell
Court: United States District Court for the Northern District of Oklahoma (Tulsa County)
Plaintiff's Attorney: Dan Smolen, Don Smolen, II, Greg Denney, Patricia Bullock, Lou Bullock, Bob Blakemore, Laura Hamilton, Tom Mortensen
Defendant's Attorney: Guy Fortney, Corbin Brewster, Mbilike Mwafulirwa, Katie Wassam and Meredith Baker for Stanley Glanz and Vic Regalado
Description: Tulsa, OK - Jury Awards Family Of Dead Jail Inmate $10.25 Million

The Estate of Elliott Williams sued Stanley Glanz, Vic Regalado and others on civil rights violation theories claiming that Elliott Williams' rights were violated while he was being held in the David L. Moss Correctional Center (Tulsa County Jail) by being deprived of a appropriate health care and died on October 27, 2011. Williams' death was attributed to "complications of vertebrospinal injuries due to blunt force trauma."

Williams was arrested in at a motel in Owasso on October 21, 2011 after he came into contact with the Owasso Police Department. He was apparently us suicidal, having suffered an emotional breakdown. He was pepper sprayed by Owasso police officers and was transferred to the Tulsa County jail, which is supposed to be better equipped for dealing with mental health problems. Rather than being evaluated, he was placed in a holding cell. While in that cell, he may have deliberately ran his head into his cell door. Jail officials thought that he was faking an injury and did not provide care to him. Over the following 51 hours, he was left laying on the floor of his jail cell without food, water or medical care.

An autopsy revealed that he died from complications of a broken neck and dehydration.

Plaintiff's attorneys asked the jury to award $51 million in damages.

The Estate settled with Correctional Healthcare Management, Inc. and other individuals initially named in the case for and undisclosed sum before trial.
Outcome: Plaintiff's verdict for $10 million compensatory damages and $250,000 in punitive damages against former Tulsa County sheriff Stanley Glanz.
Plaintiff's Experts:
Defendant's Experts:
Comments: