Recent Verdicts and Judgements
United States of America v. Alvaun Thompson a/k/a "Love Pimpin"
Brooklyn, NY - Brookyln Sex Trafficker Sentenced To 30 Years For Prostituting Minors And Producing Child Pornography
Defendant Used Force and Coercion to Prostitute Girls as Young as 13 Years Old

Today, defendant Alvaun Thompson, also known as "Love Pimpin," was principally sentenced to 30 years' imprisonment for forcibly sex trafficking minors—including a 13-year-old girl—and produci ...
More
$0
(

08-25-2016

-

NY

)
State of Missouri vs. Amanda N. Bazell,
Amanda Bazell (Defendant) was convicted of burglary and four counts of stealing
for breaking into two residences and stealing numerous items of property from each. On
appeal, she challenges her convictions for two counts of felony stealing that arose from
the theft of two firearms, which she stole in the course of one burglary, as a violation of
her right to be free from doubl ...
More
$0
(

08-25-2016

-

MO

)
United States of America v. Jacob Alexander a/k/a Kobi Alexander"
Brooklyn, NY - Jacob "Kobi" Alexander Pleads Guilty To Securities Fraud

Founder and Former CEO of Comverse Technology Was Extradited from Namibia to Face Charges Related to an Options Backdating Scheme

Jacob Alexander, also known as "Kobi Alexander," an Israeli national, pleaded guilty today to one count of securities fraud for his role in a stock options backdating scheme involv ...
More
$0
(

08-25-2016

-

NY

)
STATE OF LOUISIANA V. GREGORY J. GRANT, JR.
On April 14, 2015, the defendant, Gregory Grant, was charged with one
count of possessing a firearm having been previously convicted of a domestic
abuse battery, in violation of La. R.S. 14:95.10. The bill of information under La.
R.S. 14:95.10 was predicated upon the defendant's March 10, 2014 guilty plea to
domestic abuse battery relative to La. R.S. 14:35.3, a misdemeanor. ...
More
$0
(

08-25-2016

-

LA

)
United States of America v. Beth Israel Medical Center d/b/a Mount Sinai Beth Israel ("Beth Israel"), St. Luke's-Roosevelt Hospital Center d/b/a Mount Sinai St. Luke's and Mount Sinai Roosevelt ("St. Luke's Roosevelt," and together with Beth Israel, the "Hospitals"), and Continuum Health Partners, Inc. ("Continuum," and together with the Hospitals
New York, NY - Manhattan U.S. Attorney Announces $2.95 Million Settlement With Hospital Group For Improperly Delaying Repayment Of Medicaid Funds

Continuum Admits That It Did Not Fully Reimburse Medicaid For Erroneously Billed Claims For Over Two Years

Preet Bharara, the United States Attorney for the Southern District of New York, Scott J. Lampert, Special Agent in Charge of the ...
More
$29,500,000
(

08-25-2016

-

NY

)
State of Louisiana v. Kenneth P. Jones aka Kenneth Paul Jones
Eliza Jones ("Eliza") ordered a box of personal checks from Sabine
State Bank but failed to receive them by mail. After contacting the bank,
Eliza was told that the checks had been delivered and at least two of the
checks had already been used. Thereafter, Eliza reported the missing checks
to the Mansfield Police Department. After further investigation, it was
discovere ... More $0 (08-25-2016 - LA)
John Joseph Jordan v. The State of Texas
Appellant John Joseph Jordan attempts to appeal from his conviction for
possession of a controlled substance, Oxycodone, and his conviction for the theft
of property worth less than $2,500, enhanced by two prior convictions. See Tex.
Health & Safety Code Ann. § 481.115 (West 2010), Tex. Penal Code Ann.
§ 31.03 (West Supp. 2016). Appellant pleaded guilty in both cases pursuant ...
More
$0
(

08-25-2016

-

TX

)
Paul L. Harris v. The State of Texas
On April 25, 2016, as part of a plea bargain agreement, Appellant Paul L.
Harris pleaded guilty to indecency with a child by contact. See Tex. Pen. Code
Ann. § 21.11(a)(1) (West 2011). In accordance with the agreement, the trial
court sentenced him to eight years' confinement, and it certified that he had no
right to appeal. See Tex. R. App. P. 25.2(a)(2).
On May 25, ...
More
$0
(

08-25-2016

-

TX

)
Jordan Bajonero-Palma v. The State of Texas
On October 16, 2015, appellant Jordan Bajonero-Palma pleaded guilty to
and was convicted of possession of a controlled substance, committed on March
23, 2014; aggravated robbery, committed on April 7, 2014; and two counts of
aggravated robbery, both committed on April 6, 2014. The trial court assessed
his punishment at concurrent sentences of two years, twenty-five years, and ...
More
$0
(

08-25-2016

-

TX

)
Ernesto Fregoso, Jr. v. The State of Texas
We have considered "Appellant's Motion To Voluntary Withdraw His
Appeal." The motion complies with rule 42.2(a) of the rules of appellate
procedure. ...
More
$0
(

08-25-2016

-

TX

)
Jake Bradley McLemore v. The State of Texas
According to her testimony at trial, when Brittany3 was in the fourth grade,
appellant touched her sexual organ, and she touched his penis with her hands
and her mouth. Appellant also showed Brittany pornographic videos on his
phone and took pictures of her with his phone while she was naked. Appellant
told Brittany that these acts were a secret and that he would "make it wor ...
More
$0
(

08-25-2016

-

TX

)
James Anderson v. The State of Texas
Appellant James Anderson attempts to appeal from the trial court's five
February 3, 2016 judgments convicting him of aggravated robbery.
On July 21, 2016, we sent Anderson a letter stating that because no
motion for new trial had been filed in any of these cases, his notices of appeal in
these cases appeared to be untimely because they were due March 4, 2016, but
not filed ...
More
$0
(

08-25-2016

-

TX

)
Rickey Lee Womack v. The State of Texas
We have considered the "Affidavit of Appellant," which we construe as a
motion to dismiss the appeal. The motion complies with rule 42.2(a) of the rules
of appellate procedure. ...
More
$0
(

08-25-2016

-

TX

)
Chad Eugene McMurtrey v. The State of Texas
Appellant Chad Eugene McMurtrey pleaded guilty to three misdemeanor
"violation of bond/protective order" offenses in exchange for 365 days'
confinement and a $500 fine and court costs, suspension of the sentence and
fine, and 20 months of community supervision in each case. He now attempts to
appeal.
On June 8, 2016, we notified Appellant that the trial court's certific ...
More
$0
(

08-25-2016

-

TX

)
Harold Michael Moore v. The State of Texas
Appellant entered an open plea of guilty to the new offense and pled not
true to the deadly weapon allegation. Regarding the petition to revoke his
community supervision on the 2006 conviction, Appellant pled true to the
allegations that he committed a new offense and that he operated a vehicle
without an Interlock device in violation of his community supervision. The trial < ...
More
$0
(

08-25-2016

-

TX

)
Bryan Garner v. The State of Texas
Garner is Rachel's2 father. Garner and Michelle—Rachel's mother and
Garner's wife—had their parental rights terminated when Rachel was a "very
young child." After their rights were terminated, Susan—Michelle's mother and
Rachel's grandmother—took custody of Rachel.
Rachel testified3 that the first time she was sexually abused by Garner she
was three years old and liv ...
More
$0
(

08-25-2016

-

TX

)
United States of America v. Noel Blackman
Brooklyn, NY - Long Island Doctor Pleads Guilty To Conspiracy To Illegally Prescribe Oxycodone

Former Health Minister of Guyana Sold Oxycodone Prescriptions for Cash

Noel Blackman, a medical doctor and the former Health Minister of Guyana, who operated from "pain management" clinics in Elmhurst in Queens County, Franklin Square in Nassau County, and Cypress Hills in Brooklyn, tod ...
More
$0
(

08-24-2016

-

NY

)
United States of America v. Matthew Scott Holt and Jordain Larsen
Denver, CO - Male and Female Child Pornography Production Team Sentenced to a Total of 100 Years in Federal Prison

Matthew Scott Holt, age 35, was sentenced to serve 660 months (55 years) and sentenced his co-defendant Jordain Larsen, age 27, to 540 months (45 years). Both defendants were ordered to serve a term of supervised release for the remainder of their lives once released. Each d ...
More
$0
(

08-24-2016

-

CO

)
Michael Roseberry v. The State of Texas
In April 2010, about eight months after the trial court placed Appellant on
DACS, the State filed a motion to adjudicate his guilt, alleging several violations
of the conditions of DACS. More than six months later, in November 2010, the
trial court chose not to revoke Appellant's DACS and instead extended it for an
additional year, requiring that Appellant also plead true to t ...
More
$0
(

08-24-2016

-

TX

)
Juan Alejandro Valderama v. The State of Texas
At a hearing on appellant's motion to suppress, Pasadena Independent
School District ("PISD") Police Department Officer M. Rodriguez testified that on
April 2, 2014, he was assigned to monitor Pasadena Memorial High School (the
"high school"). He saw appellant and another student, Jonathan Castillo, standing
at the trunk of a "blue sports car" that was parked in the "horseshoe ...
More
$0
(

08-24-2016

-

TX

)
STATE OF KANSAS v. GREGORY VINCENT KEENAN
On December 23, 2010, Julie Hynes agreed to babysit her 4-year-old grandson overnight. About 11 p.m., Keenan, the boy's father, unexpectedly came into Hynes' residence. He was acting "bizarre," according to Hynes—speaking nonsensically, slurring his speech, stumbling, and swaying. He also smelled of alcohol. He picked up the sleeping boy and stumbled while carrying him out to his vehicle. It was s ... More $0 (08-24-2016 - KS)
State of Nebraska v. James M. Saylor
Sometime in 1984, the State charged Saylor with first degree
murder. The original information is not in the record for this
appeal. At that time, hiring the killing of another person was an
aggravating factor supporting the death penalty. Neb. Rev. Stat.
§ 29-2523(1)(c) (Reissue 1979) (repealed 2015 Neb. Laws,
L.B. 268, § 35).
Police had arrested Saylor in April 1984, immed ... More $0 (08-24-2016 - NE)
Commonwealth of Pennsylvania v. Anthony Wright
Philadelphia, PA - Jury Finds Defendant Not Guilty of 1991 Rape-Murder

The Commonwealth of Pennsylvania charged Anthony Wright with the rape and murjder of a 77-year-old woman a quarter of a century ago. He was convicted and sentenced to life in prison without parole.

His conviction was overturned in 2013 when DNA evidence excluded him as the perpetrator of the crime.

...
More
$0
(

08-24-2016

-

PA

)
State of Nebraska v. Erica A. Jenkins
On the morning of August 19, 2013, a body, later identified as Bradford, was discovered outdoors near a garage in the vicinity of 18th and Clark Streets in Omaha, Nebraska. Although no one called emergency services until approximately 7 a.m. on August 19, residents later reported hearing gunshots the night of August 18. Some of these residents reported they heard the gunshots as early as 10:30 p.m ... More $0 (08-24-2016 - NE)
State of North Dakota v. Chris Engelhorn
According to McLean County Deputy Sheriff Curt Olson's affidavit, Olson approached a running vehicle after responding to an early-morning report the vehicle was in a ditch. Olson observed the driver sleeping inside the vehicle. The driver identified himself as Chris Engelhorn and admitted he had been drinking alcohol the night before. After Engelhorn recited the alphabet and counted backwards, Ols ...
More
$0
(

08-24-2016

-

ND

)
STATE OF MONTANA v. TOBY EUGENE GRIEGO
Between the months of January 2013 and July 2013 a series of home-invasion
sexual assaults and robberies occurred in the Billings, Montana, area. The first reported
assault occurred in the early morning of January 27, 2013, when twenty-one-year-old
victim K.L., asleep in her bed, was awakened by a gloved hand cupped over her mouth, a
knife held to her throat, and a man tellin ... More $0 (08-24-2016 - MT)
STATE OF MONTANA v. THERON JAMES BLAKE
On January 9, 2013, the State of Montana filed an Information charging Blake
with eight offenses: seven sex offenses involving three alleged victims—two minors, B.S.
and L.L., and one adult, K.L.—and one offense of tampering with evidence. Blake pled
not guilty to all eight charges, and a trial was scheduled for June 25, 2013. Less than one
week before trial, the State filed ... More $0 (08-24-2016 - MT)
STATE OF MONTANA v. SHAWNA MICHELLE DAVIS
On May 12, 2012, Montana Highway Patrol Trooper Fetterhoff stopped Davis's
vehicle on a public highway in Flathead County because she was speeding. Fetterhoff
asked Davis for proof of insurance. Davis failed to provide any proof of insurance and
stated "I don't have insurance." Trooper Fetterhoff gave Davis a citation for violating
§61-6-301(4), MCA, which prohibits operating ...
More
$0
(

08-24-2016

-

MT

)
John W. Terry v. State of Ohio
This case presents serious questions concerning the role of the Fourth Amendment in the confrontation on the street between the citizen and the policeman investigating suspicious circumstances.

Petitioner Terry was convicted of carrying a concealed weapon and sentenced to the statutorily prescribed term of one to three years in the penitentiary. 1 Following the denial of a pret ...
More
$0
(

08-24-2016

-

OK

)
STATE OF MONTANA v. JOSEPH EDWARD LAWRENCE
Pursuant to Section I, Paragraph 3(c), Montana Supreme Court Internal Operating
Rules, this case is decided by memorandum opinion and shall not be cited and does not
serve as precedent. Its case title, cause number, and disposition shall be included in this
Court's quarterly list of noncitable cases published in the Pacific Reporter and Montana
Reports.
¶2 Joseph Edward ... More $0 (08-24-2016 - MT)
Peter L. Vasquez v. Dax K. Lewis; Richard Jimerson
This case asks us to determine whether, under the totality of circumstances,
Kansas Highway Patrol Officers Richard Jimerson and Dax Lewis (the "Officers")
had reasonable suspicion to detain and search the vehicle of Peter Vasquez. In
particular, this case presents the question of what weight to afford the state
citizenship of a motorist in determining the validity of a search. Vas ...
More
$0
(

08-24-2016

-

KS

)
Hugo Rosario Gutierrez-Barizula v. Loretta E. Lynch
We recently confronted the thorny problem what to do when an executive
agency, exercising delegated legislative authority, seeks to overrule a judicial
precedent interpreting a congressional statute. In our constitutional history, after
all, judicial declarations of what the law is haven't often been thought subject to
revision by the executive, let alone by an executive endowed wi ...
More
$0
(

08-24-2016

-

OK

)
Noice v. BNSF Ry. Co.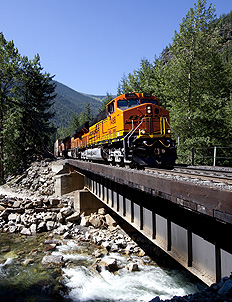 In January of 2009, Noice was conducting a BNSF train traveling from Clovis
4 to Belen. The train was pulled by four locomotives. At some point around 6:00 p.m.,
5 Noice ceded operation of the train to his assistant, John Royal. Noice exited the lead
6 locomotive and proceeded rearwards. Before leaving the lead locomotive, however,
7 Noice instructed Royal to "start pulling o ... More $0 (08-24-2016 - NM)
United States of America v. Christopher Mailloux
Philadelphia, PA - Former U.S. Army Reservist Sentenced For Production Of Child Pornography

Christopher Mailloux, 25, of Reading, PA, was sentenced today to 15 years' imprisonment, following his guilty plea to two counts of production of child pornography and two counts of possession of child pornography. The Honorable Lawrence F. Stengel also sentenced the defendant to 15 years' supervis ...
More
$0
(

08-24-2016

-

PA

)
United States of America v. Edward Durante, a/k/a "Ted Wise," a/k/a "Efran Eisenberg," a/k/a "Yulia," a/k/a "Ed Simmons"
New York, NY - Recidivist Securities Fraud Defendant Edward Durante Pleads Guilty In Manhattan Federal Court To Securities Fraud, Money Laundering, And Perjury Offenses

Edward Durante, a/k/a "Ted Wise," a/k/a "Efran Eisenberg," a/k/a "Yulia," a/k/a "Ed Simmons"
pled guilty today before U.S. Magistrate Judge Andrew J. Peck to conspiracy, securities fraud, money laundering, and perjury ...
More
$0
(

08-24-2016

-

NY

)
United States of America v. Jamal Smalls
New York, NY - Leading Member Of Bloods Sentenced To 55 Years For Murder, Shooting, And Narcotics Trafficking

Jamal Smalls was sentenced today to 55 years in prison for the July 26, 2012, drug-related murder of Doneil White; leading a narcotics trafficking conspiracy that distributed powder cocaine, crack cocaine, and heroin in 2012 and 2013; and using and discharging firearms in connect ...
More
$0
(

08-24-2016

-

NY

)
UNITED STATES OF AMERICA v. ERIC STEVENSON
From 2011 until 2013, Stevenson was a Member of the New 12
York State Assembly as a representative of District 79 in the Bronx.  13
In March 2012, federal law enforcement officers began investigating 14
his interactions with a group of individuals (the "Businessmen") 15
who were seeking assistance in opening and operating adult daycare 16
centers in the Bronx.  For the nex ... More $0 (08-23-2016 - NY)
Rueli v. Baystate Health, Inc.
Plaintiffs are a putative class
of unionized nurses who sued their employer in state court for
unpaid wages and overtime pay for work performed outside their
approved shifts. Their employer removed the case to federal court,
citing the doctrine of complete preemption, under which claims
requiring interpretation of a collective bargaining agreement
("CBA") are reclass ... More $0 (08-23-2016 - MA)
Lockheed Martin Corporation v. USA
The United States appeals its liability under the Comprehensive Environmental Response, Compensation, and Liability Act (CERCLA) for a portion of the cost of cleaning up hazardous substances at three California facilities owned by Lockheed Martin (Lockheed or the Company). The government's involvement at the facilities dates to the Cold War, when the Department of Defense contracted with Lockheed ... More $0 (08-23-2016 - DC)
STATE OF NEW JERSEY v. VICTOR P. SIMPSON
Defendant Victor Simpson appeals from a February 12, 2015
order denying his requests for post-conviction relief (PCR), an
evidentiary hearing, and correction of his sentence. Defendant
sought relief arguing counsel failed to challenge
identifications by the victim, who was robbed and assaulted, and
present testimony from additional eyewitnesses. In a written
stateme ... More $0 (08-23-2016 - NJ)