New Jersey Due Process Law
STATE OF NEW JERSEY v. CALVIN LITTLE
Pursuant to a plea agreement reached by the parties with the
input of Judge Pedro Jimenez, Jr. pursuant to Rule 3:9-3(c),1
defendant pled guilty to first-degree kidnapping, N.J.S.A. 2C:13
1(b).2 Judge Jimenez sentenced defendant to fourteen years in
prison, subject to an 85% period of parole ineligibility pursuant
to the No Early Release Act, N.J.S.A. 2C:43-7.2.
Defe... More...

$0 (02-25-2017 - NJ)


STATE OF NEW JERSEY v. JAMES D. DIXON
Following a bench trial, defendant was convicted of second
degree robbery, N.J.S.A. 2C:15-1; second-degree burglary,
N.J.S.A. 2C:18-2; third-degree aggravated assault, N.J.S.A.
2C:12-1(b)(7); fourth-degree false imprisonment, N.J.S.A. 2C:13
3; fourth-degree resisting arrest by flight, N.J.S.A. 2C:29
2(a)(1)(3); and fourth-degree unlawful possession of a weapon,
N.J.S.A. ... More...

$0 (02-24-2017 - NJ)


STATE OF NEW JERSEY v. ALLISON NASTA, a/k/a ALLISON BONNAR
We first summarize the relevant facts and procedural history.
On August 28, 2012, at approximately 12:45 p.m., defendant crashed
her minivan into a light pole while driving on the Black Horse
Pike in Pleasantville. Defendant's husband, William Nasta, sat
in the front passenger seat, and their two-month-old and five
year-old daughters occupied the rear seat. William died ... More...

$0 (02-24-2017 - NJ)


STATE OF NEW JERSEY v. DAJON G. LESTER
Sex Offender
Tried by a jury, defendant Dajon G. Lester was convicted of
second-degree sexual assault, N.J.S.A. 2C:14-2c(1) (Count One),
and fourth-degree criminal trespass, N.J.S.A. 2C:18-3, as a
lesser-included offense of second-degree burglary, N.J.S.A. 2C:18
2a(1) (Count Two). On December 22, 2014, defendant was sentenced
on Count One to a five-year prison term with an eighty-five... More...

$0 (02-18-2017 - NJ)


STATE OF NEW JERSEY VS. ROCCO C. AGRESTA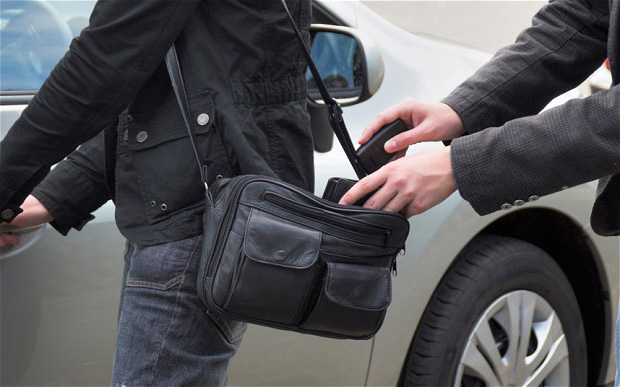 We briefly summarize the evidence presented at trial. In
January 2013, B.K. saw an advertisement for cabinets and a
countertop on Craigslist, which he thought might be appropriate
for his kitchen.1 The advertisement did not mention labor or
installation, and it did not describe defendant as a contractor.
B.K. thought if he purchased the items for sale he would be getting <... More...

$0 (02-18-2017 - NJ)


STATE OF NEW JERSEY v. ADAM C. SPEARS,
This matter regards interpretation of the requirements of
N.J.S.A. 2C:40-26(b), a fourth-degree offense for operating a
motor vehicle during a period of license suspension if the
operator's license was suspended for a second driving while
intoxicated (DWI) violation. A conviction is punishable by a
mandatory 180-day jail term. Defendant Adam C. Spears, a
resident of... More...

$0 (02-18-2017 - NJ)


STATE OF NEW JERSEY VS. ERIC LUNSFORD
Defendant, Eric Lunsford, appeals from the March 23, 2015
Law Division order denying of his petition for post-conviction
relief (PCR) without a hearing. Tried to a jury, defendant was
convicted of aggravated manslaughter, aggravated assault,
assault with a firearm, and related weapons charges stemming
from an attempted home invasion that left one person dead and
anot... More...

$0 (02-18-2017 - NJ)


STATE OF NEW JERSEY v. TODD C. FORD, a/k/a CURTIS FORD, TY FORD, DUTCH FORD / STATE OF NEW JERSEY v. DOMONIQUE HINES
During December 2007, Jones was staying with his long-time
friend, M.B.,1 who was a drug dealer and, the State alleged, the
intended victim of a robbery. Jones was the target of electronic
surveillance.2
M.B. testified for the State that on the morning of December
19, 2007, he and Jones made a plan to meet up later in the day and
go together to Vineland to meet one... More...

$0 (02-13-2017 - NJ)


STATE OF NEW JERSEY v. JAMES MCDOWELL, a/k/a SISA BUTU
A jury convicted defendant James McDowell of eight crimes
related to sexual assaults of a female victim. On two of the
convictions he was sentenced to consecutive terms of eighteen and
ten years in prison. All of the other convictions were either
merged or the sentences were run concurrently. The consecutive
prison terms were subject to the No Early Release Act (NERA), ... More...

$0 (01-27-2017 - NJ)


STATE OF NEW JERSEY VS. STEPHEN F. SCHARF
Defendant purchased a $300,000 life insurance policy and
$200,000 accidental death benefit insuring Scharf's life on May
23, 1991. He was the primary beneficiary; the parties' son,
Jonathan, ten years old at the time of the murder, was the
contingent beneficiary. Scharf's therapist, Patricia Teague, who
had been treating Scharf for depression since July 1990, testified <... More...

$0 (01-27-2017 - NJ)


STATE OF NEW JERSEY v. DESHAUN P. WILSON
We are called upon to determine whether the admission into
evidence of a map, prepared and adopted by a governmental entity
pursuant to N.J.S.A. 2C:35-7.1(e), violates the Confrontation
Clause of the Sixth Amendment to the United States Constitution
and the analogous New Jersey constitutional provision, which
guarantee an accused "the right . . . to be confronted with the ... More...

$0 (01-25-2017 - NJ)


STATE OF NEW JERSEY v. JORGE BULTRON
Reviewing defendant's first challenge to the order denying
suppression, we recite facts presented during the October 24, 2013
suppression hearing. Testimony was provided by two of the
arresting officers.
At approximately 1:52 p.m. on October 4, 2012, plain clothes
Jersey City Police Department Officer Gregory Wojtowicz received
a tip from a reliable confidential in... More...

$0 (12-17-2016 - NJ)


STATE OF NEW JERSEY v. JOSE L. ORTIZ
The evidence presented at trial showed that defendant and
M.P. had lived together in Connecticut. In 2010, M.P. relocated
to New Jersey with her three children following an incident with
defendant at her Connecticut home.
During the evening of March 5, 2012, M.P. was in her
apartment in Woodbury when she noticed someone at the front
door. She approached the door, whi... More...

$0 (12-17-2016 - NJ)


STATE OF NEW JERSEY v. BRANDON T. MORRISON center>
Pemberton Township contracted with the Pemberton First Aid
and Rescue Squad (Pemberton Rescue Squad) -- a private, non
profit organization -- to provide back-up emergency medical
services for the municipality. Defendant Brandon Morrison
served as a volunteer EMT on the Pemberton Rescue Squad and as
the Squad's treasurer. Defendant was charged with official
misconduct... More...

$0 (12-17-2016 - NJ)


STATE OF NEW JERSEY VS. HASSAN SHOULARS
A jury found defendant Hassan Shoulars guilty of theft of
movable property, burglary, and resisting arrest. The judge
sentenced defendant to an aggregate term of five years of
imprisonment, consecutive to a prison term defendant received for
an unrelated offense. Defendant appeals from his conviction and
the sentence imposed, arguing:
POINT I

DEFENDAN... More...

$0 (12-05-2016 - NJ)


State of Vermont v. Cameron Albarelli
This case arises from a fight involving two groups of men that occurred on July 18,
2013, around midnight at the north end of Church Street in Burlington. As a result of the
altercation, defendant was charged with simple assault, disorderly conduct, and giving false
information to a police officer with the intent to deflect the investigation. At his jury trial on
February 3, ... More...

$0 (11-23-2016 - NJ)


STATE OF NEW JERSEY v. JUNE GORTHY (a/k/a JUNE GOVERNALE)
When a criminal defendant is found competent to stand trial
under N.J.S.A. 2C:4-4, he or she has the autonomy to make
strategic decisions at trial, with the advice of counsel. Among
2
those decisions is the choice whether or not to assert the
insanity defense, which absolves a defendant of criminal
responsibility for his or her conduct, if at the time of such
c... More...

$0 (09-29-2016 - NJ)


SSTATE OF NEW JERSEY, Plaintiff-Respondent, v. VIRGIL SUGGS, a/k/a MALIK SUGGS, a/k/a MALIK HINTON, a/k/a VIRGIL L. SUGGS, a/k/a VIRGIL M. SUGGS
The following facts were elicited during defendant's seven
day jury trial. On October 1, 2012, at around 11:28 p.m., two
women, Bronique McLeod and S.B., and two men, P.S. and R.P.,
were going to a club in Irvington.1 S.B. was driving a minivan
with McLeod in the front passenger seat, P.S. sitting behind
S.B., and R.P. sitting behind McLeod.
While stopped at a red ... More...

$0 (09-21-2016 - NJ)


Ramon Cuevas v. Wentworth Group
Wentworth is a property-management company, and the
Wentworth Group is the parent entity. Michael Mendillo was the
president and chief executive officer of Wentworth and the owner
of the Wentworth Group. In May 2005, Mendillo hired Ramon to
serve as one of Wentworth's regional vice presidents -- the only
one of Hispanic descent. In that role, Ramon managed high-rise More...

$0 (09-21-2016 - NJ)


STATE OF NEW JERSEY VS. NOAH MOSLEY
Defendant Noah Mosley appeals from the Law Division's five
year sentence imposed on January 15, 2015, following his guilty
plea for violation of probation (VOP). Defendant challenges the
September 7, 2016
A-3212-14T4 2
trial court's acceptance of hearsay as proof of VOP. He also
seeks new sentencing due to the court's denial of his request
for an adjournment to ... More...

$0 (09-07-2016 - NJ)


STATE OF NEW JERSEY VS. J.T.P.
Pursuant to a negotiated agreement with the State, on
October 4, 2011, defendant J.T.P. pled guilty to counts three
and four of Bergen County Indictment No. 10-12-02172, which
charged him with first degree aggravated sexual assault,
N.J.S.A. 2C:14-2(a)(1),(2)(a). The victim was defendant's
stepdaughter. Defendant admitted he had sexual intercourse with
her on two oc... More...

$0 (09-07-2016 - NJ)


STATE OF NEW JERSEY VS. KESHAWN MCNEIL
We summarize the facts established in defendant's trial,
which were set out at length in our October 21, 2011 opinion on
direct appeal. State v. McNeil, A-0856-09 (App. Div. Oct. 21,
2011), certif. denied, 210 N.J. 109 (2012). We highlight the
relevant facts here.

Defendant's girlfriend, Staci Marshall, was living in a
Newark rental property owned by Liciane ... More...

$0 (09-07-2016 - NJ)


STATE OF NEW JERSEY v. VICTOR P. SIMPSON
Defendant Victor Simpson appeals from a February 12, 2015
order denying his requests for post-conviction relief (PCR), an
evidentiary hearing, and correction of his sentence. Defendant
sought relief arguing counsel failed to challenge
identifications by the victim, who was robbed and assaulted, and
present testimony from additional eyewitnesses. In a written
stateme... More...

$0 (08-23-2016 - NJ)


Salvatore Puglia v. Elk Pipeline, Inc.
New Jersey has a significant body of statutory and
decisional law protecting employee rights -- protections that
exist whether the employee is a union member or not. Among
those are wage and hour and whistleblower protections. Facts
that can give rise to a violation of those state-law protections
can often (for union workers) also give rise to a claim based on
a col... More...

$0 (08-16-2016 - NJ)


STATE OF NEW JERSEY VS. JOSEPH G. GELLENE
The record discloses the following facts and procedural
history. The prosecutor called the victim, D.H., and several
other witnesses to testify in its case. Defendant did not
present any witnesses and he did not testify on his own behalf.
In 2006, defendant was a tennis instructor at the Murray
Hill Health and Racquet Club (MHHRC). He taught group tennis
classes f... More...

$0 (07-27-2016 - NJ)


State of New Jersey v. Khalid Mohammed
The discrete issue raised by defendant in this appeal does
not warrant a lengthy discussion of the facts surrounding the
incident leading to defendant's arrest and conviction. We
provide only a brief summary for context, followed by an account
of pertinent portions of the trial and jury charge.
In the early morning hours of April 22, 2010, police
officers responded... More...

$0 (07-27-2016 - NJ)


United States of America v. David Samson
Newark, NJ - Former New Jersey Attorney General And Chairman Of The Port Authority Board Of Commissioners Pleads Guilty To Bribery

Former New Jersey Transportation Commissioner Also Charged in Bribery Scheme

United Continental Holdings Inc. Agrees to Reforms, Will Pay $2.25 Million Penalty

David Samson, the former chairman of the Board of Commissioners of the Port Autho... More...

$0 (07-15-2016 - NJ)


STATE OF NEW JERSEY VS. JOHN L. WILLIAMS
A grand jury indicted defendant John L. Williams for
second-degree eluding, N.J.S.A. 2C:29-2(b) (count one); fourth
degree unlawful possession of a weapon, N.J.S.A. 2C:39-5(d)
(count two); and fourth-degree certain persons not to have
weapons, N.J.S.A. 2C:39-7(a) (count three). A jury found
defendant guilty on count one and not guilty on count two and
the State dismis... More...

$0 (07-15-2016 - NJ)


STATE OF NEW JERSEY VS. SHERARD WILLIAMS
The State appeals from a July 10, 2015 order denying its
motion for reconsideration of a prior order denying its request
to vacate a plea agreement and stay defendant's sentencing. The
State argued the explicit terms of the negotiated plea agreement
required defendant's testimony during the trial of his co
defendant. The State moved to vacate the plea when defendant
... More...

$0 (07-09-2016 - NJ)


STATE OF NEW JERSEY VS. MARCOS A. RIVERA
Defendant was convicted by juries in 1999 and 2000 of
attempted murder, aggravated assault, various weapons offenses,
and hindering apprehension.1 The sentencing court imposed an
aggregate sentence of twenty-one years imprisonment on May 12,
2003.
Defendant appealed and we affirmed his convictions, but
remanded for re-sentencing as to certain counts. See State v. More...

$0 (07-09-2016 - NJ)


STATE OF NEW JERSEY VS. FRANCIS J. PRETO
The record reveals the following facts. In 2008, defendant
was incarcerated in the Ocean County Jail. Around that time,
his wife filed for divorce. Defendant asked a fellow inmate,
Timothy Milton, to kill defendant's wife in exchange for
$10,000.
Defendant reportedly provided Milton with his wife's
address, and warned Milton that one of his wife's neighbors was ... More...

$0 (07-09-2016 - NJ)


I.M.O. the Application for the Forfeiture of Personal Weapons & Firearms Identification Card Belonging to F.M.
In 2010, respondent F.M.'s personal firearm and firearms
purchaser identification card (identification card) were seized
pursuant to the Prevention of Domestic Violence Act of 1991,
N.J.S.A. 2C:25-17 to -35 (Domestic Violence Act).2 Both items
1 The statute on possession and licensing of firearms, N.J.S.A. 2C:58-3, ref... More...

$0 (07-06-2016 - NJ)


STATE OF NEW JERSEY VS. SADDIQUIE WILLIAMS
On February 17, 2011, Trenton Police officers received an
anonymous tip about a man with a handgun in a black Hyundai
sedan with Georgia license plates, located on Martin Luther
King, Jr. Boulevard. The officers arrived at Martin Luther
King, Jr. Boulevard, and approached defendant. A brief car
chase ensued, which culminated in defendant's arrest. The
officers alle... More...

$0 (07-05-2016 - NJ)


STATE OF NEW JERSEY VS. MALCOLM C. HAGANS
Defendant Malcolm C. Hagans appeals from a May 2, 2014
judgment of conviction for second-degree unlawful possession of
a handgun, N.J.S.A. 2C:39-5(b). Defendant moved to suppress the
seized firearm. When his motion was denied, defendant entered a
guilty plea pursuant to a negotiated agreement. The judge
accepted the plea and, thereafter, sentenced defendant to a
fi... More...

$0 (06-30-2016 - NJ)


STATE OF NEW JERSEY VS. BINH THACH
Defendant Binh Thach appeals from the dismissal of his
petition for post-conviction relief (PCR) following an
evidentiary hearing. He contends his plea counsel was
constitutionally deficient by failing to discover readily
available medical records suggesting defendant suffered from a
serious mental condition at the time he committed his crimes and
by failing to secur... More...

$0 (06-30-2016 - NJ)


STATE OF NEW JERSEY v. LIXANDRA HERNANDEZ and JOSE G. SANCHEZ
New Jersey provides a broad range of discovery to an
accused in a criminal case under Rule 3:13-3. This open-file
approach is intended to ensure fair and just trials. Here, the
issue is not whether defendants have a right to discovery of the
prosecutor's file in their case, but whether they have a right
to discovery of the files in unrelated cases involving the same
... More...

$0 (06-29-2016 - NJ)


STATE OF NEW JERSEY v. CANDIDO MAYAS
Defendant appeals from a June 10, 2014 order denying his
petition for post-conviction relief (PCR) without an evidentiary
hearing. Defendant argues he received ineffective assistance
from trial counsel. After reviewing the arguments raised and
applicable legal principles, we reverse and remand for an
evidentiary hearing before a different judge.
In October 2005, def... More...

$0 (06-22-2016 - NJ)


STATE OF NEW JERSEY VS. NAJEE KELSEY
Tried by a jury, defendant Najee Kelsey was convicted of
first-degree murder, N.J.S.A. 2C:11-3(a)(1) and (2) (count one);
felony murder, N.J.S.A. 2C:11-3(a)(3) (count two); and burglary,
N.J.S.A. 2C:18-2 (count three). On count one, the judge
sentenced defendant to sixty years in prison with an 85% parole
disqualifier pursuant to the No Early Release Act (NERA),
N.J.... More...

$0 (06-13-2016 - NJ)


STATE OF NEW JERSEY VS. J.C.
Defendant J.C. was convicted by a jury of first-degree
aggravated sexual assault, N.J.S.A. 2C:14-2(a)(1), two counts of
second-degree sexual assault, N.J.S.A. 2C:14-2(b), and three
counts of second-degree endangering the welfare of a child,
N.J.S.A. 2C:24-4(a). The charges stem from defendant's
admission, during a telephone call with his daughter, A.C., that
he had s... More...

$0 (06-10-2016 - NJ)


STATE OF NEW JERSEY v. DAVID BUESO (a/k/a YASMIN BUESO
This appeal raises questions about the competency of a
child witness and the process that a trial court should apply to
address that issue. Under the New Jersey Rules of Evidence, a
witness is considered competent to testify unless the court
makes a finding that he or she lacks the capacity to express his
v or her testimony so as to be understood, or is incapable of
... More...

$0 (06-10-2016 - NJ)