Iowa Death Law
STATE OF IOWA vs. MARCOS FIDEL CASTANEDA
Iowa Court of Appeals
The jury was instructed the State would have to prove the following
elements of attempted murder:
1. On or about February 14, 2016, Defendant shot Hugo Salinas with a firearm. 2. By his acts, Defendant expected to set in motion a force or chain of events which would cause or result in the death of Hugo Salinas. 3. When Defendant acted, he specifically intended to cause the death of Hu... More...

$0 (07-24-2017 - IA)


STATE OF IOWA vs. JONATHAN ANTOINE BROWN
Gang members arrested in D.M. stabbing
Jonathan Brown appeals the judgment entered after a jury convicted him
of second-degree murder for his role in the death of Timothy Washington, who
died after suffering multiple stab wounds in a fight that began at a house party in
the early morning hours of June 21, 2015. Witnesses saw Brown in a group
fighting Washington, and several of those witnesses saw Brown holding a kn... More...

$0 (07-24-2017 - IA)


STATE OF IOWA vs. JOSHUA DAVID JOHNSON
Iowa Court of Appeals
We review challenges to terms of probation for abuse of discretion. See
State v. Valin, 724 N.W.2d 440, 444 (Iowa 2006). Our "task on appeal is not to
second guess the decision made by the district court, but to determine if it was
unreasonable or based on untenable grounds." Id. at 445.
II. Analysis
Johnson argues the terms of his probation were not reasonably related... More...

$0 (07-24-2017 - IA)


KEVIN SELLERS vs. STATE OF IOWA
Murder in the second degree
Kevin Sellers beat to death his girlfriend Laura Welch. The State charged
Sellers with murder in the second degree. The parties reached an agreement
pursuant to which the State amended the trial information to charge Sellers with
attempted murder and two counts of willful injury causing serious injury, and
Sellers agreed to proceed with a bench trial on the minutes of testimo... More...

$0 (07-24-2017 - IA)


STATE OF IOWA vs. LOREN ANTON GOODWIN III
Iowa Court of Appeals
Loren Goodwin III appeals the sentence imposed upon his pleas of guilty
to possession of methamphetamine, second offense, and eluding, in violation of
Iowa Code sections 124.401(5) and 321.279(2) (2016), both aggravated
misdemeanors. The plea agreement called for the State to dismiss other
pending charges and to make a sentencing recommendation of a two-year
suspended sen... More...

$0 (06-17-2017 - IA)


VICTOR RIVERA vs. STATE OF IOWA
Rivera sentenced for November 2014 motorcycle accident
Victor Rivera, while driving under the influence of alcohol, caused a traffic
accident that killed a motorcyclist and seriously injured the motorcyclist's
passenger. Rivera fled the scene in his vehicle and led officers on a short chase
before he was apprehended. Rivera pleaded guilty to unintentionally causing the
death of another by operating a motor vehicle while intoxicat... More...

$0 (06-17-2017 - IA)


RYAN NICHOLAS TROWBRIDGE vs. STATE OF IOWA
Former Fairfield man finds more trouble in prison
Ryan Trowbridge appeals from the denial of his application for
postconviction relief (PCR). He claims trial counsel was constitutionally
ineffective in failing to "accurately and properly advise [him] in waiving his
constitutional right to confrontation as to Dr. [Carole] Jenny and allowing her to
testify in rebuttal by telephone."
Generally, our review of PCR proceedi... More...

$0 (06-16-2017 - IA)


STATE OF IOWA vs. CHARLES EMANUEL HALL
Bedford man sentenced to life without parole for murdering daughter
In July 2015, Hall was charged by trial information with murder in the first
degree and child endangerment resulting in serious injury. His three-year-old
daughter, J.K., was the alleged victim in each instance.
The charges were tried to a jury in January 2016.
The State's first witness was Hall's live-in girlfriend, April Clair. Clair
testified J.K. had been staying... More...

$0 (06-15-2017 - IA)


DAVID M. GONZALES BECERRA vs. STATE OF IOWA
Convictions upheld on appeal for 2 murderers
David Gonzales Becerra appeals the denial of his application for
postconviction relief (PCR), which challenges his conviction of first-degree
murder for the role he played in the 2003 death of Oscar Flores. This court
affirmed his conviction on direct appeal in State v. Becerra, No. 04-0567, 2005
WL 3115330, at *1 (Iowa Ct. App. Nov. 23, 2005). Nearly eight years after our More...

$0 (06-15-2017 - IA)


STATE OF IOWA vs. MARCEL ROSE
Iowa Court of Appeals
Marcel Rose and Amanda Guzzle resided together and were involved in a
romantic relationship. Rose and Guzzle knew a mutual acquaintance, Sarah
Medina. On July 6, 2015, Rose and Guzzle were alone at Medina's residence in
the living room when they began to argue. The argument then turned physical,
and according to Guzzle's testimony, she ended up on the couch with Rose on
... More...

$0 (06-15-2017 - IA)


MATTHEW J. ELLIOTT vs. STATE OF IOWA
Iowa Court of Appeals
Matthew Elliott was convicted of willful injury causing serious injury and
child endangerment resulting in death. On appeal, his convictions were vacated,
and the matter was remanded for a new trial. See State v. Elliott, 806 N.W.2d
660, 675 (Iowa 2011) (concluding the admission of hearsay evidence resulted in
prejudicial error to Elliott and remanding for a new trial). On r... More...

$0 (06-15-2017 - IA)


VINCENT A. RAMOS vs. STATE OF IOWA
Iowa Court of Appeals
Vincent Ramos appeals from the summary dismissal of his 2015
postconviction-relief (PCR) application challenging his 2003 conviction for first
degree kidnapping. Ramos asserts the jury instructions given at trial were
defective because they failed to include language that would comply with State v.
Rich, 305 N.W.2d 739 (Iowa 1981),1 and "more importantly the recent case of
... More...

$0 (06-15-2017 - IA)


STATE OF IOWA vs. JOHN DAVID GREEN
2 words lead to mistrial in case where remains of man's friend were found buried in basement
Mark Koster lived in a one-bedroom house in Sac City. In 2009, he seemingly disappeared from the area without notice. Police were alerted after mail began to accumulate in the mailbox at his house and he stopped paying his utility bills. Police found a handwritten note attached to the back door of Koster's house. The note indicated he had gone to Florida for the winter and would return in the ... More...

$0 (06-14-2017 - IA)


STATE OF IOWA vs. BRADLEY STEVEN GRAHAM
In this case, Bradley Graham, a juvenile offender convicted of one count of sex abuse in the third degree, challenges his lifetime special sentence of parole and the lifetime requirement that he register as a sex offender as cruel and unusual punishment under the Eighth Amendment of the United States Constitution and under article I, section 17 of the Iowa Constitution. The district court held Gr... More...

$0 (05-29-2017 - IA)


STATE OF IOWA vs. TROY LEE MURE, JR.
Driver in fatal crash had tarnished record
On the morning of November 23, 2015, Mure was driving his girlfriend,
Scalicity Boyd, in her vehicle in the Drake University neighborhood of Des
Moines. As Mure and Boyd traveled southbound on 34th Street, Mure noticed a
silver Cadillac pull onto the street following them. Mure turned right onto
University Avenue and then proceeded to the middle turn lane to turn left onto More...

$0 (05-11-2017 - IA)


STATE OF IOWA vs. JUSTIN KRUTSINGER
On February 27, 2015, Justin Krutsinger went to the home of Keri Hanzlick
in Waukee at about 5:30 p.m. Krutsinger and Hanzlick had one to two drinks
before going to a restaurant for dinner, where Krutsinger had two or three bottles
of beer. On the way back to Hanzlick's home, they picked up a twelve-pack of
beer and a bottle of vodka. Krutsinger had a few more drinks while t... More...

$0 (05-11-2017 - IA)


CURTIS JOHNSON-JEFFERS III vs. STATE OF IOWA
Curtis Johnson-Jeffers III appeals the district court's denial of his
application for postconviction relief (PCR). In his PCR application, Curtis
claimed, in relevant part, his guilty plea to the charge of stalking was not
knowing, intelligent, and voluntary and his trial counsel was ineffective for
allowing him to plead guilty to the stalking charge without a factual basis. ... More...

$0 (05-10-2017 - IA)


STATE OF IOWA vs. NGOR MAKUEY
Makuey gets life in prison for east Des Moines slaying
Ruppert and Harriet Anderson, residents of Des Moines, had an animal
boarding business operated by their grandson that was adjacent to their home.
Ruppert was ninety-seven years old and Harriet was ninety-two on July 2, 2014,
when they received a knock at their door. Harriet assumed someone was
wanting to pick up an animal and opened the door. She observed a young man
an... More...

$0 (05-10-2017 - IA)


STATE OF IOWA vs. NICHOLAS JOHN LUERKENS
Luerkens Sentenced to Life for Stabbing Ex-Girlfriend in Hy-Vee Parking Lot
The facts as presented at trial demonstrate that Luerkens and Lynnsey
were involved in a romantic relationship beginning in January 2014. Lynnsey
and her son, A.D., moved in with Luerkens, but in December 2015, she moved
out to live with a friend due to Luerkens's drinking issues. In February 2015,
Luerkens went to a doctor for symptoms associated with depression. He
ob... More...

$0 (05-09-2017 - IA)


STATE OF IOWA vs. GLENN LEE MCGHEE
Appeal denied in 1972 tavern shooting
Glenn McGhee appeals from the sentences imposed by the district court
at his 2015 resentencing. In 1972, when he was a minor, McGhee took part in a
robbery of a bar that ultimately resulted in the death of a bartender and two
patrons; two others were also injured. After a jury trial, McGhee was convicted of
three counts of murder in the first degree, three counts of robbery, ... More...

$0 (05-09-2017 - IA)


   ALLEN KILLINGS vs. STATE OF IOWA
Police charged man in Des Moines killing
Allen Killings was convicted of murder in the first degree. This court
affirmed his conviction on direct appeal. See State v. Killings, No. 09-0739, 2010
WL 3894161, at *1 (Iowa Ct. App. Oct. 6, 2010). Killings now appeals from the
denial of his application for postconviction relief, contending his postconviction
counsel was ineffective in two respects. First, Killings claim... More...

$0 (05-09-2017 - IA)


STATE OF IOWA vs. VERNON LEE HUSER
Altoona police make arrest in 4½-year-old slaying
A. Conviction of Woolheater. The partially decomposed body of Morningstar was discovered in February 2005 in a forested area in Altoona near Woolheater's home. Police immediately began investigating Woolheater and subsequently charged him with first-degree murder. Woolheater was convicted after a jury trial. The conviction was upheld by the court of appeals. State v. Woolheater, No. 10–0478,... More...

$0 (05-07-2017 - IA)


JAMES E. WRIGHT, JR. vs. STATE OF IOWA
Judge Overturns Murder Conviction in 2000 Iowa Pub Shooting
In State v. Heemstra, 721 N.W.2d 549, 558 (Iowa 2006), the supreme
court held willful injury cannot serve as the predicate felony for felony murder "if
the act causing willful injury is the same act that causes the victim's death." The
court limited application of this new rule "only to the present case and those
cases not finally resolved on direct appeal in which the issue h... More...

$0 (04-21-2017 - IA)


DENNIS WILLARD vs. STATE OF IOWA
SUPREME COURT OF IOWA
Dennis Willard was involved in a head-on motor vehicle accident in the late hours of November 3, 2011. Willard sustained significant injuries from the collision and was initially treated at the Genesis Medical Center East in Davenport, Iowa. While at Genesis, Willard underwent imaging studies and x-rays. One of the x-rays covered Willard's left shoulder and showed no break or dislocation. Willa... More...

$0 (04-12-2017 - IA)


FRANKLIN LEE HARRIS vs. STATE OF IOWA
Iowa Court of Appeals
In 2008, Franklin Harris pled guilty to second-degree murder in connection
with the stabbing death of his girlfriend. His direct appeal was dismissed as
frivolous, and procedendo issued in 2008.
Harris filed his first application for postconviction relief shortly thereafter.
The district court denied the application, and this court affirmed the ruling. See
Harris v. ... More...

$0 (04-06-2017 - IA)


STATE OF IOWA vs. EDWARD M. CUSIC
On December 7, 2012, officers from the Cedar Rapids Police Department
responded to a call from Cusic in which he admitted killing Labkon with a
crowbar. Officers found Labkon in her bedroom. A pill container was on her
chest and a sheathed dagger was underneath her pillow.
Cusic was arrested. On the drive to the police station, he was sleepy and
slow to respond to offi... More...

$0 (04-06-2017 - IA)


STATE OF IOWA vs. TONY WANGMENG LEE
Lee went to Laos in 2010 to meet and marry M.V. When Lee brought
M.V. to the United States in June 2011, Lee's former wife, O.L.,2 was still living
with him and was pregnant with his child. M.V. did not speak, read, or write
English and had no relatives in the United States.
In April 2012, M.V. called police and reported Lee had beaten her. Lee
was arrested, and M.V... More...

$0 (02-22-2017 - IA)


STATE OF IOWA vs. STEPHEN ROBERT JONAS
On August 23, 2014, Zachery Paulson was found dead in the lot of his
father's business (the lot) bordering the Clive Greenbelt Trail. Following an
autopsy, it was determined that the victim died from approximately thirty-five stab
and incised wounds.1 At the scene, the police discovered a ball-peen hammer
and a cell phone belonging to the victim.
Shortly after the disc... More...

$0 (02-22-2017 - IA)


  KARA MARIE CRAPSER vs. STATE OF IOWA
In 2011, Kara Crapser was charged with murder in the first degree and
child endangerment resulting in death in the death of her boyfriend's five-year-old
child. On April 24, 2012, she pled guilty to the amended charge of murder in the
second degree, in violation of Iowa Code section 707.3 (2011). She was
sentenced to fifty years in prison with a requirement she serve 70% of h... More...

$0 (02-11-2017 - IA)


STATE OF IOWA vs. JORGE PEREZ-CASTILLO
In 2004, following a jury trial, Perez-Castillo was convicted of two counts
of murder in the first degree and two counts of attempted murder. His direct
appeal was affirmed in State v. Perez-Castillo, No. 05-0362, 2006 WL 2419143,
at *6 (Iowa Ct. App. Aug. 23, 2006).
In 2015, Perez-Castillo filed a motion for new trial, raising a claim of newly
discovered evidence—the te... More...

$0 (01-25-2017 - IA)


Marqwan D. Beserra v. State of Indiana
On the afternoon of June 9, 2015, eighteen-year-old Beserra went to the home
of Chanel Partee (Partee), located at 2434 Fredrickson Street in South Bend, St.
Joseph County, Indiana. At the time, Beserra was intermittently living with
Partee. Partee, who had previously dated Beserra's father for several years,
knew Beserra since his childhood, and Beserra considered Partee to ... More...

$0 (01-01-2017 - IA)


State of Minnesota vs. Diamond Lee Jamal Griffin
Following a jury trial, appellant Diamond Lee Jamal Griffin was convicted of first
degree felony murder, Minn. Stat. § 609.185(a)(3) (2014), in connection with the shooting
death of Francisco Benitez-Hernandez.1 On appeal, Griffin contends the district court
committed reversible error when it admitted Spreigl evidence and when it denied his
motion for a mistrial. He also claim... More...

$0 (11-18-2016 - IA)


STATE OF IOWA vs. TYRONE R. WASHINGTON, JR.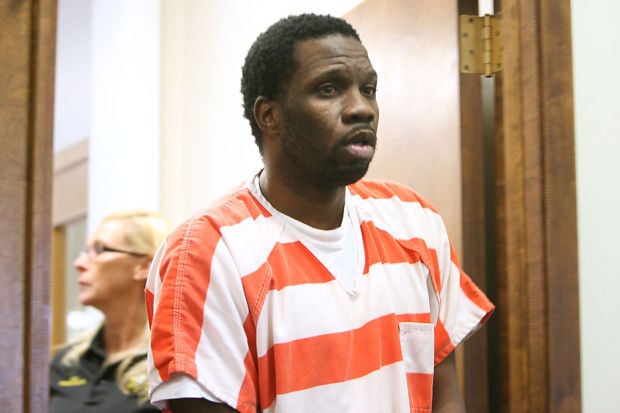 On August 19, 2013, Washington was charged by trial information with murder in the first degree in the death of Justina Smith. Washington entered a plea of not guilty and gave notice he would claim self-defense. The trial was initially set to begin on May 12, 2015. On May 5, 2015, Washington filed a motion to strike the jury panel, arguing there was "a material departure from the statutory... More...

$0 (10-27-2016 - IA)


STATE OF IOWA vs. DONALD DEAN GRIDLEY
A truck slid down an embankment and crashed, killing Donald Gridley's
father. The State charged Gridley with vehicular homicide, defined as
"unintentionally caus[ing] the death of another by operating a motor vehicle while
intoxicated." See Iowa Code § 707.6A(1) (2013). A jury found him guilty.
On appeal Gridley (1) challenges the sufficiency of the evidence
supportin... More...

$0 (10-13-2016 - IA)


STATE OF IOWA vs. JESHUA DAVID DIVIS
For entertainment on Black Friday morning, Cassandra Stever and her
mother decided to gamble at Ameristar Casino in Council Bluffs. After some
initial success on the slot machines, Stever's luck soured, and she moved to a
different bank of machines away from the spot where her mother was playing.
At her new location, a man later identified as Divis sat down next to
S... More...

$0 (09-16-2016 - IA)


STATE OF IOWA vs. JENNIFER MARY BEADER
Jennifer Beader appeals revocation of her deferred judgment and
imposition of judgment and sentence on her conviction for theft in the third
degree. She claims her admissions that she violated probation by failing to pay
restitution and being out of contact with her probation officer violated her due
process rights because the admissions should have been subject to the same More...

$0 (09-15-2016 - IA)


United States of America v. Dale Edward White
Man Involved in Shooting Death of His Father Sentenced to Prison

An Iowa man who illegally possessed firearms was sentenced to more than three years in federal prison.

Dale Edward White, 25, from Nashua, Iowa, received the prison term after a April 27, 2016, guilty plea to possession of a firearm and ammunition as a prohibited person. White was prohibited from possessing firearm... More...

$0 (08-31-2016 - IA)


STATE OF IOWA vs. CASEY FREDERIKSEN
A Floyd County jury convicted Casey Frederiksen of murder in the first
degree and sexual abuse in the first degree for offenses committed against the
five-year-old daughter of his live-in girlfriend. Frederiksen now challenges his
convictions on three grounds. First, he disputes the sufficiency of the State's
proof that he was the perpetrator. Second, he contends the distric... More...

$0 (08-11-2016 - IA)


STATE OF IOWA vs. ANTONIO HUTCHINS
Antonio Hutchins shot two men in a grocery store parking lot; one of the
men died. Hutchins admitted to the shootings but claimed self-defense. A jury
found him guilty of first-degree murder and willful injury.1 On appeal, Hutchins
contends (I) the district court unreasonably limited his opening statement and (II)
the district court abused its discretion in excluding (A) evi... More...

$0 (08-11-2016 - IA)


RANDY ALAN ZAABEL vs. STATE OF IOWA
Zaabel first argues his trial counsel was ineffective in failing to present
certain evidence at trial. Zaabel has continued to correspond with his trial
lawyers, Kevin Fors and Leonard Holland, post-conviction. Zaabel claims he has
learned, since his first application for postconviction relief, Fors found additional
blood and brain tissue left at the Mining Boulevard site aft... More...

$0 (08-10-2016 - IA)