Iowa Certiorari Law
STATE OF IOWA vs. DEONTE THOMPSON
Iowa Court of Appeals
Deonte Thompson appeals from the district court's denial of his motion to
reduce the sentence imposed upon his 2015 conviction for second-degree
robbery, in violation of Iowa Code sections 711.1 and .3 (2015). He contends
counsel was ineffective because in arguing the motion to reduce sentence counsel
failed to raise due-process and equal-protection challenges to the non-retro... More...

$0 (04-05-2018 - IA)


MICHAEL JEFFERSON vs. IOWA DISTRICT COURT FOR SCOTT COUNTY
Sexual Assault
Michael Jefferson pled guilty to a charge of sexual abuse in the third degree.
The charge was based on a sexual assault of a fourteen-year-old female when he
was twenty-one years old. There was some procedural confusion prior to
sentencing that is not relevant to this proceeding, but eventually, on November 13,
2008, Jefferson was sentenced to ten years in prison and the spec... More...

$0 (12-06-2017 - IA)


STATE OF IOWA vs. TERENCE LONDON WALKER
Waterloo man arrested for last year's liquor store robbery
Walker appealed the denial of his motion to correct an illegal sentence,
arguing counsel was ineffective in not ensuring Walker had the benefit of a
hearing on his motion and that denial of his motion without an evidentiary hearing
was a denial of due process.1 See State v. Ondayog, 722 N.W.2d 778, 784
(Iowa 2006) ("Ineffective-assistance-of-counsel claims are not bound by More...

$0 (07-24-2017 - IA)


STATE OF IOWA vs. MITCHELL SCOTT GAHAGAN
On November 23, 2013, Davenport police responded to a 911 call made
by Gahagan's girlfriend alleging a domestic disturbance at Gahagan's residence.
Based on comments made by the girlfriend to the officers after they arrived on
the scene, the officers obtained a search warrant to search for drugs in
Gahagan's home and vehicle. During the search, officers located two plastic More...

$0 (06-15-2017 - IA)


STATE OF IOWA vs. BRADLEY STEVEN GRAHAM
In this case, Bradley Graham, a juvenile offender convicted of one count of sex abuse in the third degree, challenges his lifetime special sentence of parole and the lifetime requirement that he register as a sex offender as cruel and unusual punishment under the Eighth Amendment of the United States Constitution and under article I, section 17 of the Iowa Constitution. The district court held Gr... More...

$0 (05-29-2017 - IA)


STATE OF IOWA vs. SAYVON ANDRE PROPPS
Iowa Court of Appeals
On February 27, 2011, Derek Carr was standing outside his home when Troy Lee Mure Jr. drove up in a vehicle in which Sayvon Propps was a passenger. Propps exited the vehicle, fired four shots into Carr, and got back in the vehicle. Mure immediately drove away from the scene. Carr was hit in his back, buttocks, and leg. He was transported to the hospital where he remained hospitalized for three... More...

$0 (05-28-2017 - IA)


NATHAN DOMINIC CURTIS vs. STATE OF IOWA
In May 2004, Curtis approached a woman on her way to the gym, put a
knife to her throat, and asked for her money. State v. Curtis, No. 04-1878, 2005
WL 1398337, at *1 (Iowa Ct. App. June 15, 2005). The woman responded that
she did not have any money, and Curtis demanded she give him her gym bag
instead. Id. Curtis was eighteen years old at the time.
In October of tha... More...

$0 (05-10-2017 - IA)


STATE OF IOWA vs. DAVID WINSLOW DUNHAM
Dunham was charged by trial information with possession of
methamphetamine with intent to deliver in violation of Iowa Code section
124.401(1)(b)(7). The trial information indicated Dunham was a second or
subsequent offender and habitual offender pursuant to Iowa Code sections
124.411 and 902.8, respectively. Pursuant to the second or subsequent offender
and habitual off... More...

$0 (05-07-2017 - IA)


RE THE DETENTION OF MARVIN ALLEN MEAD
State to ask court to commit rapist nearing prison release
Marvin Mead challenges the district court's denial of his request for a final
review hearing pursuant to Iowa Code section 229A.8 (2015). He argues he
proved by a preponderance of the evidence that there is relevant and reliable
evidence for a final hearing to determine whether he is suitable for discharge or
transitional release.
In 2011, a jury found Mead to be a sexu... More...

$0 (04-21-2017 - IA)


JAMES E. WRIGHT, JR. vs. STATE OF IOWA
Judge Overturns Murder Conviction in 2000 Iowa Pub Shooting
In State v. Heemstra, 721 N.W.2d 549, 558 (Iowa 2006), the supreme
court held willful injury cannot serve as the predicate felony for felony murder "if
the act causing willful injury is the same act that causes the victim's death." The
court limited application of this new rule "only to the present case and those
cases not finally resolved on direct appeal in which the issue h... More...

$0 (04-21-2017 - IA)


  STATE OF IOWA vs. JAYEL ANTRONE COLEMAN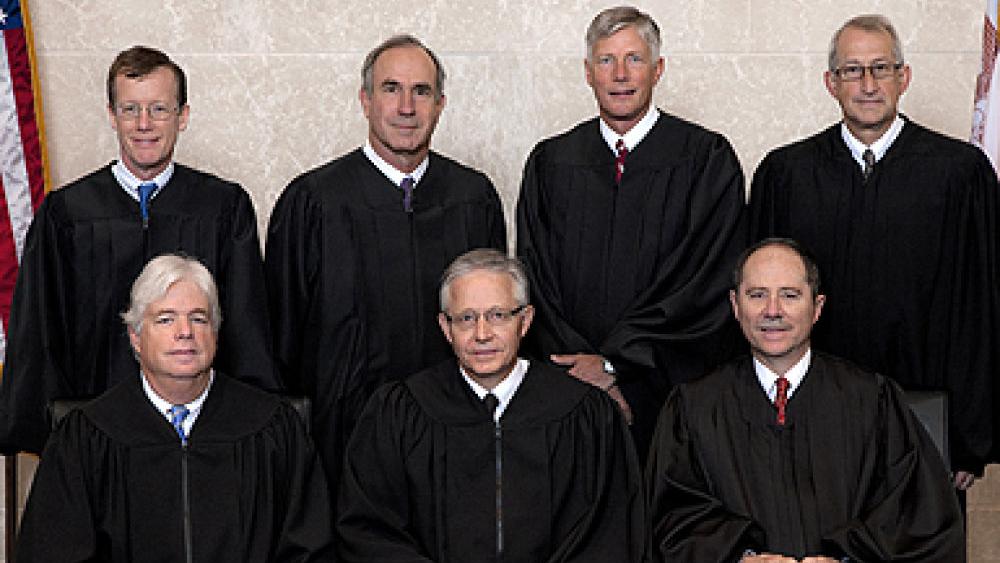 Iowa's top court tosses conviction in Scott County traffic stop
On the evening of August 18, 2014, Officer James Morris was parked along Highway 61 in Eldridge, Iowa, conducting random computer checks on the license plates of passing motorists to see if the vehicle was reported stolen or if there were outstanding warrants associated with the owner of the vehicle. His check of the license plate of a vehicle that passed him revealed that the female registered o... More...

$0 (02-15-2017 - IA)


STATE OF IOWA vs. JORGE PEREZ-CASTILLO
In 2004, following a jury trial, Perez-Castillo was convicted of two counts
of murder in the first degree and two counts of attempted murder. His direct
appeal was affirmed in State v. Perez-Castillo, No. 05-0362, 2006 WL 2419143,
at *6 (Iowa Ct. App. Aug. 23, 2006).
In 2015, Perez-Castillo filed a motion for new trial, raising a claim of newly
discovered evidence—the te... More...

$0 (01-25-2017 - IA)


DAVID LEE FELTY v. STATE OF ARKANSAS
On May 5, 2016, Felty timely filed in the trial court a verified pro se petition for
postconviction relief pursuant to Arkansas Rule of Criminal Procedure 37.1 (2015). Felty's
petition did not comply with the requirements of Rule 37.1(b), which provides that a
petition under Rule 37 must meet certain procedural requirements, including limits on the
width of margins, the number... More...

$0 (01-07-2017 - IA)


  STATE OF IOWA vs. PATRICK JOHN LETSCHER
On August 28, 2013, the Forest City Police Department took Patrick Letscher and another person into custody and filed a complaint accusing them of stealing a pickup truck. A magistrate set bail at $2000, cash only. Two days later, Letscher posted the bail with the clerk of court. He also signed a form entitled, "APPEARANCE BOND - WAIVER OF ARRAIGNMENT – AUTHORIZATION OF PLEAS OF GUILTY," ostens... More...

$0 (12-31-2016 - IA)


HEATHER HILDRETH vs. CITY OF DES MOINES
Heather Hildreth appeals from the dismissal of an action, "Polk County No.
SPCE077325," which was an "Application for Immediate Return of Seized
Property" filed on October 28, 2014. Hildreth sought the return of her live dog,
which was impounded at the Animal Rescue League upon a finding the dog was
a "dangerous dog" by the City of Des Moines.1 The application noted Hildreth ... More...

$0 (12-21-2016 - IA)


STATE OF IOWA vs. BRANDON KUPFER
Brandon Kupfer contends the district court erred in denying his motion to
correct illegal sentence without appointing counsel or securing his waiver of
counsel. Although represented by counsel on appeal, Kupfer offers no argument
concerning the legality of his sentence. See Iowa R. Crim. P. 2.24(5)(a)
(providing court may correct an illegal sentence at any time).
We hav... More...

$0 (08-12-2016 - IA)


STATE OF IOWA vs. TYLER JEFFREY WEBBER
Tyler Webber appeals the denial of his motion to correct illegal sentence.
He claims his lifetime parole is cruel and unusual punishment. See Iowa Code
§ 903B.1 (2005) ("sex offender special sentencing"). He also claims he should
have been afforded a hearing and meaningful representation. The State claims
Webber's sentence is not grossly disproportionate to his sexual-abuse... More...

$0 (08-10-2016 - IA)


TYRONE DEMARIO BRYSON vs. STATE OF IOWA
The evidence introduced at the criminal trial established that in the early
morning hours of March 4, 1999, sixty-seven-year-old B.S. was attacked in her
Des Moines home. The perpetrator, later identified by B.S. and confirmed by
DNA evidence, was Bryson. During the attack, Bryson performed oral sex on
B.S. and forced B.S. to perform oral sex on him. Then B.S. insisted she n... More...

$0 (07-03-2016 - IA)


STATE OF IOWA vs. JOHNNY ANDERSON
On March 3, 2006, Anderson was charged with one count of sex abuse in
the second degree and one count of sex abuse in the third degree. See State v.
Anderson, No. 11-1991, 2012 WL 5356105, at *1 (Iowa Ct. App. Oct. 31, 2012).
Following a bench trial in August 2011, Anderson was found guilty. See id. at *4.
On December 18, 2013, Anderson filed a motion for new trial. A hear... More...

$0 (06-18-2016 - IA)


STATE OF IOWA vs JARED JOSEPH GIUNTA
Jared Guinta pled guilty to manufacturing a controlled substance
(hashish). See Iowa Code § 124.401(1)(d). The district court adjudged him
guilty and sentenced him to a prison term not exceeding five years. The order
stated, "The State will jointly recommend reconsideration of the defendant's
sentence if he receives a positive report from the institution after 90 days of More...

$0 (05-12-2016 - IA)


NICK C. RHOADES vs. STATE OF IOWA
Nicholas Rhodes was HIV positive when he came in contact with A.P. on a social networking site. After exchanging messages, A.P invited Rhoades to his home. A.P. understood Rhoades to be HIV negative, in part because of Rhoades's online profile. Rhoades and A.P. engaged in consensual unprotected oral and protected anal sex at A.P.'s home. When A.P. learned that Rhoades was HIV positive, he cont... More...

$0 (04-15-2016 - IA)


STATE OF IOWA vs. JOSHUA SCOTT PEARSON
On November 4, 2011, the State charged thirty-one-year-old Joshua Scott Pearson with committing sex acts with a fifteen-year-old girl. On April 17, 2012, Pearson pled guilty to two counts of sexual abuse in the third degree in violation of Iowa Code section 709.4(2)(c)(4) (2011). This section criminalizes the performance of a sex act with a fourteen- to fifteen-year-old person by an individual a... More...

$0 (03-06-2016 - IA)


STATE OF IOWA vs. PERRY BERNARDO BENDER
This case comes to us on appeal from our order for remand for
resentencing. However, the challenge raised here is that the district court
exceeded its authority on remand, more properly challenged by a writ of
certiorari. See, e.g., City of Okoboji v. Iowa Dist. Ct., 744 N.W.2d 327, 330 (Iowa
2008); United Fire & Cas. Co. v. Iowa Dist. Ct., 612 N.W.2d 101, 103 (Iowa
2000... More...

$0 (02-08-2016 - IA)


STATE OF IOWA vs. PERRY BERNARDO BENDER
This case comes to us on appeal from our order for remand for
resentencing. However, the challenge raised here is that the district court
exceeded its authority on remand, more properly challenged by a writ of
certiorari. See, e.g., City of Okoboji v. Iowa Dist. Ct., 744 N.W.2d 327, 330 (Iowa
2008); United Fire & Cas. Co. v. Iowa Dist. Ct., 612 N.W.2d 101, 103 (Iowa
2000... More...

$0 (02-06-2016 - IA)


Nicole Walker v. United States
On August 18, 2010, a grand jury charged Walker with one count of conspiring to manufacture and distribute at least 50 grams of actual methamphetamine and 500 grams of a mixture or substance containing methamphetamine. Through counsel, Walker entered into extensive plea negotiations with the government. In an attempt to reduce the statutory mandatory minimum Walker faced from ten years to five y... More...

$0 (01-14-2016 - IA)


STATE OF IOWA vs. IOWA DISTRICT COURT FOR DUBUQUE COUNTY
On June 21, 2011, Dubuque police received a report of a woman armed with a knife and threatening suicide. Officer Jason Pace was dispatched to the scene. Upon arrival, Officer Pace was informed that the subject of the report was Koreen Erickson. He was also advised that other residents on the street had disarmed Erickson and she had left the area on foot. Officer Pace was able to locate Erick... More...

$0 (10-23-2015 - IA)


United States v. Ronnie Langston
This court previously affirmed Ronnie Lee Langston's sentence under the
Armed Career Criminal Act, 18 U.S.C. § 924(e). See United States v. Langston, 772
F.3d 560 (8th Cir. 2014) (per curiam). The Supreme Court granted certiorari, vacated
the judgment, and remanded for reconsideration in light of Johnson v. United States,
135 S. Ct. 2551 (2015). This court again affirmed the senten... More...

$0 (09-09-2015 - IA)


State of Iowa v. Damion John Seats
A juvenile offender convicted of first-degree murder appeals his
resentencing to life in prison without the possibility of parole. In this
appeal, we determine the factors a court must use when it sentences a
juvenile offender for first-degree murder. Because the district court did
not have the benefit of this decision when it sentenced the juvenile, we
vacate the sentence and ... More...

$0 (06-26-2015 - IA)


Alex Crabb v. Iowa District Court In and For Polk County
We are asked to decide whether a district court abused its discretion in sanctioning Alex Crabb, an attorney, for making misleading statements in a court filing.
I. Background Facts and Proceedings
The facts underlying the sanctions ruling are lengthy but straightforward. Troy Dowell pled guilty to several crimes, including neglect of a dependent. The sentencing court ordered his imprisonm... More...

$0 (10-15-2014 - IA)


EMILY M. PEDERSON, Petitioner-Appellee, vs. SCOTT H. MEYER, Respondent-Appellant.
Three contempt applications are the subject of this appeal. Emily Pederson filed two applications seeking to have Scott Meyer found in contempt, asserting Meyer willfully violated the terms of a custody decree on a number of occasions by keeping the parties' child out of preschool during visits with the child in October and November 2012. Meyer filed his own application alleging ten separate con... More...

$0 (08-13-2014 - IA)


Theresa Huck v. Wyeth, Inc. d/b/a Schwarz Pharma,Inc. and PLIVA, Inc.
This products liability action against pharmaceutical companies presents several issues involving the interplay between state tort law and federal prescription drug regulation. This case is one of many litigated in state and federal courts nationwide alleging severe side effects from prolonged use of metoclopramide, sold under the brand name Reglan and as a competing generic formulation. The plain... More...

$0 (07-11-2014 - IA)


In re the Marriage of Richard Herbers and Mary Catherine Herbers
Richard Herbers appeals economic provisions of the dissolution decree and the ruling on the motion to enlarge and amend. Specifically, he appeals the award of spousal support to Mary Herbers. He also appeals the equalization payment and contends the distribution of assets and liabilities was inequitable. He asks that we modify the court's order disposing of the marital home, requiring Mary to se... More...

$0 (03-12-2014 - IA)


Rickie Allen Suiter and Darlene Marie Suiter v. the City Council of the City of Princeton, Iowa
Rick and Darlene Suiter appeal from the district court's ruling entering summary judgment in favor of the City Council of the City of Princeton ("the City") on their petition for writ of certiorari, in which the Suiters claimed certain action of the City was illegal. We affirm.

I. Background Facts and Proceedings

The Suiters own riverfront property in Princeton. Their property ... More...

$0 (02-05-2014 - IA)


Daryl D. Lang v. Linn County Board of Adjustment
This certiorari proceeding requires us to address the agricultural exemption from county zoning. See Iowa Code § 335.2 (2011). The property owners who brought this action had a lengthy dispute with Linn County over whether houses they had built were subject to the county's zoning and subdivision ordinances. We are asked to review two separate decisions by the Linn County Board of Adjustment—i... More...

$0 (03-29-2013 - IA)


Ted Joseph White v. The Iowa District Court for Clinton County
Ted White challenges the district court's finding he was in contempt of a domestic abuse protective order. He claims he cannot be held in contempt because the protective order was void. If not void, he claims the protective order had expired by operation of law and thus, was ambiguous. White also contends the district court erred in finding his conduct was willful and abused its discretion in im... More...

$0 (05-23-2012 - IA)


Jan Reis and Dean Stowers v. Iowa District Court for Polk County
Jan Reis and Dean Stowers were held in contempt of court for violation of a protective order. They argue the district court lacked jurisdiction to enforce the protective order and lacked substantial evidence to support a finding of contempt. We hold the court properly exercised jurisdiction to enforce the protective order and there was substantial evidence to support the finding of contempt with r... More...

$0 (05-08-2010 - IA)


Steve Everly v. Knoxville Community School District, Musco Sports Lighting, LLC and Randy Flack
In this case, we must decide if the district court properly dismissed plaintiff's cause of action. We also review by certiorari the district court's award of sanctions against the plaintiff's attorney. The court of appeals affirmed the dismissal and the award of sanctions. Because we agree with the court of appeals' and district court's decisions regarding the dismissal, we affirm that p... More...

$0 (10-16-2009 - IA)


Stew-Mc Development, Inc., et al. v. Nancy M. Fischer and Thomas J. Fischer
In this case, we must decide the timeliness of various crossappeals filed by the parties seeking to challenge a district court ruling that the plaintiffs possessed only a limited easement in connection with certain real estate located in Dubuque County and rejecting a counterclaim for abuse of process. For the reasons expressed below, we find the cross-appeals timely filed. On the merits of the ea... More...

$0 (08-14-2009 - IA)


City of Johnston v. Andrew Christenson
We filed our opinion in this appeal on April 8, 2009, but subsequently granted the plaintiff-appellant City of Johnston"s petition for rehearing. Our April 8, 2009 decision is hereby vacated and this opinion replaces it. The City of Johnston (City) appeals from a district court ruling on remand dismissing its petition for declaratory judgment against Andrew Christenson. We reverse the judgment o... More...

$0 (05-06-2009 - IA)


Kathryn S. Barnhill v. Iowa District Court for Polk County
An Iowa attorney brought a class-action lawsuit on behalf of homeowners against the manufacturer of roofing shingles and its president. The action asserted seven theories of recovery, most of which were based in contract. After the district court granted summary judgment in favor of the manufacturer and its president, the president requested sanctions against the attorney who filed the class actio... More...

$0 (05-01-2009 - IA)