Iowa Attachment Law
State of Iowa v. Eddie Tipton and Tommy Tipton
Polk County Courthouse - Des Moines, Iowa
Des Moines, IA - Brother Plead Guilty To Lottery Schamm

The State of Iowa charged Eddie Tipton, age 54, and Tommy Tipton, age 53, with wrongfully accessing and manipulating computer software to pull off a multi-state lottery swindle by manipulating random number generators to enable co-conspirators to claim jackpots in Colorado, Oklahoma, Wisconsin and Kansas. The scheme was discovered w... More...

$0 (06-30-2017 - IA)


STATE OF IOWA vs. JESUS ANGEL RAMIREZ
On May 15, 2014, a package shipped from Mexico and destined for Waterloo arrived in this country at the FedEx hub in Memphis, Tennessee. It was addressed to Jessy Robles, 1013 Mulberry Street,
Waterloo, and contained a phone number for contact purposes with a 319 area code. United States Customs and Border Protection (CBP) officers opened and inspected the parcel on arrival in Memphis. They... More...

$0 (05-29-2017 - IA)


Central Bank and Real Estates Owned, LLC v. Timothy Hogan, et al.
In this case, we deal with the question of whether participation agreements in connection with a loan transaction transferred security interests in the underlying property or only a contractual right to the proceeds from the originating bank. For the reasons expressed below, we conclude that the participating agreements transferred security interests in the underlying property to the participating... More...

$0 (03-03-2017 - IA)


STATE OF IOWA vs. KEVIN LEROY BAUDLER
On January 7, 2015, Assistance Chief Terry Miller, Deputy Gary Davis,
and Officer Todd Halverson executed a search warrant for an outbuilding and a
fifth-wheel camper located on a property in Winterset, Iowa. The search warrant
sought a 2009 Yamaha Rhino utility task vehicle (UTV) and a CAT skid loader
believed to be stolen, and sought permission to search the camper for
... More...

$0 (01-25-2017 - IA)


  STATE OF IOWA vs. PATRICK JOHN LETSCHER
On August 28, 2013, the Forest City Police Department took Patrick Letscher and another person into custody and filed a complaint accusing them of stealing a pickup truck. A magistrate set bail at $2000, cash only. Two days later, Letscher posted the bail with the clerk of court. He also signed a form entitled, "APPEARANCE BOND - WAIVER OF ARRAIGNMENT – AUTHORIZATION OF PLEAS OF GUILTY," ostens... More...

$0 (12-31-2016 - IA)


STATE OF IOWA vs. TYRONE R. WASHINGTON, JR.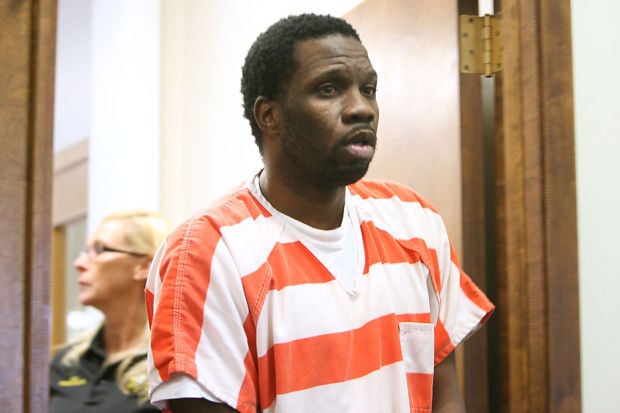 On August 19, 2013, Washington was charged by trial information with murder in the first degree in the death of Justina Smith. Washington entered a plea of not guilty and gave notice he would claim self-defense. The trial was initially set to begin on May 12, 2015. On May 5, 2015, Washington filed a motion to strike the jury panel, arguing there was "a material departure from the statutory... More...

$0 (10-27-2016 - IA)


ALBERT BENNY WHITESIDE vs. STATE OF IOWA
In 2000, a jury convicted Whiteside of kidnapping in the first degree and
sexual abuse in the third degree. His conviction was affirmed on appeal. See
State v. Whiteside, No. 00-941, 2001 WL 709540, at *5 (Iowa Ct. App. June 13,
2001). Whiteside filed his first PCR application in 2001, which was denied. The
appeal of the denial was dismissed as frivolous and procedendo issu... More...

$0 (08-10-2016 - IA)


STATE OF IOWA vs. JOHN ARTHUR SENN JR.
In the early morning hours of Labor Day, September 1, 2014, Officer Brian Cuppy was on patrol in downtown Des Moines when he saw a truck eastbound on Court Avenue stop for a red light in the middle of the intersection with Water Street with its "back tires . . . more than five feet past the cross walk." Officer Cuppy followed the truck, activated his police cruiser's flashing lights, and initiate... More...

$0 (06-25-2016 - IA)


STATE OF IOWA vs. JERRY RAY MATTHEWS
In 2008, Matthews and Natalie Baylark met and became romantically
involved. Over the next few years, Matthews and Baylark had two children
together and continued an on-again-off-again relationship. In the summer of
2013, Matthew and Baylark ended their relationship. In late December 2013,
Baylark allowed Matthews to stay in her apartment with the children for a week.
Ar... More...

$0 (05-26-2016 - IA)


STATE OF IOWA vs. TOBY RYAN RICHARDS
On February 2, 2013, Poell was visiting Richards at his mother's house in Davenport, where Richards lived. Both Poell and Richards were napping, Poell in bed and Richards on a couch in the same room. Beyond those facts, however, accounts of the day's events diverge significantly.
3
A. Poell's Testimony. According to Poell, she awoke to discover a message on her cell phone from anoth... More...

$0 (05-09-2016 - IA)


Jason Powell v. Larry Noble
Powell is a Christian who contends that his beliefs compel him to publicly share his faith with others. To achieve this goal, Powell seeks out public places where he can find significant numbers of people near his home in Des Moines, Iowa, and shares his faith by wearing clothing bearing Christian messages, holding signs, engaging in open-air speech, and having conversations with individuals will... More...

$0 (08-15-2015 - IA)


Real Estate Title Closing and Title Services, Inc. d/b/a Patriot Title and Escrow
Real Estate Title Closing and Title Services, also known as Patriot Title and Escrow (Patriot), appeals the district court's grant of the motion to dismiss filed by Trio Solutions, LLC (Trio). Patriot asserts the court erred in finding claim preclusion prohibited Patriot from bringing its current claim of replevin, arguing that the replevin action could not have been brought in the first breach ... More...

$0 (02-11-2015 - IA)


Kristine Sink v. State of Iowa, et al.
Des Moines, IA - Kristine Sink sued the Iowa Department of Corrections on a civil rights violation theory claiming that she was sexually harassed after inmates were repeatedly allowed to watch sexually graphic and violent movies. She also claimed that she was retaliated against and discriminated against by Corrections officials after she complained.

Plaintiff claimed that she suffered em... More...

$0 (10-10-2014 - IA)


Walter Carter v. Estate of Leon J. Heimer
Walter H. Carter and Debra K. Carter appeal the October 26, 2011 judgment of the bankruptcy court denying in part 1 their motion under 11 U.S.C. § 522(f)(1) to avoid certain liens held by the Estate of Leon Jerome Heimer. We affirm. 1The Honorable Thad J. Collins, Chief Judge, United States Bankruptcy Court for the Northern District of Iowa.

BACKGROUND

The relevant facts are few and... More...

$0 (03-13-2012 - IA)


Estate of Rommy Ray Lyon and Ronda Lyon v. Rodney H. Heemstra
This appeal presents the question of whether, during a refereeship, a senior judgment lienholder may redeem property from a junior judgment creditor who purchased the debtor"s property at an execution sale. To answer this question we must wade into the murky waters of our state"s statutory redemption provisions, which our supreme court long ago described as "philological monstrosities, illus... More...

$0 (12-22-2010 - IA)


Katherine Varnum, et al. v. Timothy J. Brien, In His Official Capacities as the Polk County Recorder and Polk County Registrar
In this case, we must decide if our state statute limiting civil marriage to a union between a man and a woman violates the Iowa Constitution, as the district court ruled. On our review, we hold the Iowa marriage statute violates the equal protection clause of the Iowa Constitution. Therefore, we affirm the decision of the district court.

I. Background Facts and Proceedings.

This... More...

$0 (04-08-2009 - IA)


Cedar Rapids Television Co. v. MCC IA LLC
Cedar Rapids Television Company d/b/a KCRG-TV9 (KCRG) filed a complaint against MCC Iowa LLC and MCC Illinois LLC (collectively "Mediacom"), seeking a declaratory judgment that its September 29, 2005 letter to Mediacom constitutes a sufficient notice of termination under the parties' Retransmission Consent Agreement. At the conclusion of a bench trial, the district court1 granted declaratory judgm... More...

$0 (04-07-2009 - IA)


Rambo Associates v. South Tama County
Rambo Associates, Inc., brought an action for breach of contract and unjust enrichment against the South Tama County Community School District. Following a bench trial, the district court entered a $2,500 judgment in favor of Rambo on the breach of contract action and entered judgment for South Tama on the unjust enrichment claim. Rambo Assocs., Inc. v. South Tama County Cmty. Sch. Dist., 4... More...

$0 (06-01-2007 - IA)


Mike Andrews v. City of West Branch
Appellants Mike and Jana Andrews filed this action against the City of West Branch and former Police Chief Dan Knight in district court seeking damages and other relief under 42 U.S.C. § 1983, alleging that Knight wrongfully seized and deprived them of their property; specifically, their dog, Riker. They also filed a state court action seeking relief based on Fourth and Fourteenth Amendment... More...

$0 (07-28-2006 - IA)


Henningsen v. Eastern Iowa Propane, Ltd. v. Honeywell
Alice and Leroy Henningsen sued their propane supplier, Eastern Iowa Propane, Ltd. (EIP), for damages to their home when their propane furnace exploded. EIP in turn sued Honeywell, Inc., the manufacturer of a gas valve in the furnace, for contribution or indemnity. Honeywell moved for summary judgment, based on Iowa Code section 614.1(11) (1999) (statute of repose for improvements to real property... More...

$0 (10-14-2002 - IA)