Colorado Conflict of Law Law
Dennis Obduskey v. Wells Fargo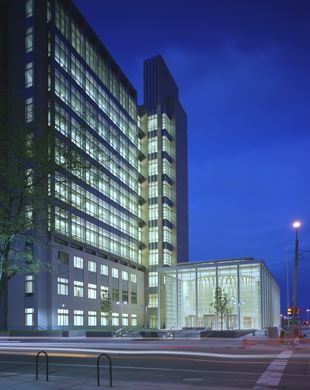 District of Colorado Federal Courthouse - Denver, Colorado
Plaintiff-Appellant Dennis Obduskey appeals from the district court's order
granting Defendants-Appellees Wells Fargo and McCarthy and Holthus, LLP's
motions to dismiss numerous claims, including whether either party was liable as a
"debt collector" under the Fair Debt Collection Practices Act, 15 U.S.C. §§
1692–1692p. Obduskey v. Fargo, No. 15-CV-01734-RBJ, 2016 WL 4091174 (D.
... More...

$0 (01-20-2018 - CO)


Bernardino Fuentes-Espinoza v. The People of the State of Colorado.
Human Smuggler Gets 4 Year Prison Term
This case requires the supreme court to determine whether Colorado's human
smuggling statute, section 18-13-128, C.R.S. (2017), is preempted by the federal
Immigration and Nationality Act, 8 U.S.C. §§ 1101–1537 (2017) ("INA"). The supreme
court concludes that the INA preempts section 18-13-128 under the doctrines of both
field and conflict preemption.
In reaching this con... More...

$0 (11-24-2017 - CO)


United States of America v. Kenneth Hardin
Tenth Circuit Court of Appeals Courthouse - Denver, Colorado
Defendant Kenneth Hardin was the senior manager of the Civil Rights Division
for the Regional Transportation District in Colorado (RTD). The Civil Rights Division
includes a number of divisions, including the Small Business Office and the Equal
- 2 -
Opportunity Office. As senior manager, Defendant was responsible for "set[ting] goals
on projects for small business participatio... More...

$0 (10-25-2017 - CO)


United States of America v. Keith Schwartz, a/k/a Bernie Kype
United States Court of Appeals for the Tenth Circuit
Denver, Colorado
Defendant Keith Schwartz operated a pain-management clinic that prescribed
opioids outside the usual course of medical practice. For his role in that operation, a
jury convicted Schwartz of various counts related to unlawful drug distribution and
money laundering, and the district court imposed a fifteen-year prison sentence.
Schwartz attacks both his convictions and sentence. He a... More...

$0 (07-31-2017 - CO)


Safe Streets Alliance v. John W. Hickenlooper
Tenth Circuit Court of Appeals - Denver, Colorado
These three appeals arise from two cases that concern the passage,
implementation, and alleged effects of Amendment 64 to the Colorado Constitution,
Colo. Const. art. XVIII, § 16. Amendment 64 repealed many of the State's criminal and
civil proscriptions on "recreational marijuana,"1 and created a regulatory regime designed
to ensure that marijuana is unadulterated and taxed, and t... More...

$0 (06-07-2017 - CO)


Parish Ramon Carter v. The People of the State of Colorado
Parish Carter Linked To Javad Marshall-Fields, Vivian Wolfe Killing
Parish Carter was charged with two counts of first degree murder, bribing a
witness, conspiracy to commit first degree murder, intimidation of a witness, and
unlawful distribution of a controlled substance, all in connection with the drive-by
shooting deaths of Javad Marshall-Fields and his fiancée Vivian Wolfe, the week before
Marshall-Fields was to testify in a prosecution of... More...

$0 (06-07-2017 - CO)


United States of America v. Allan Douglas Schubert
Tenth Circuit Court of Appeals - Denver, Colorado
Allan Schubert pled guilty to possessing a firearm in violation of 18 U.S.C.
§ 922(g)(1). The district court concluded Mr. Schubert was subject to the Armed
Career Criminal Act ("ACCA") and imposed the statutory minimum sentence of 15
years (180 months). See 18 U.S.C. § 924(e).
Mr. Schubert now appeals his sentence. He argues he is not subject to the
ACCA because he does not ha... More...

$0 (05-30-2017 - CO)


Angelo Emilio Montoya v. The People of the State of Colorado
Men Sentenced For Wheat Ridge Teen's Slaying
Angelo Montoya and his cousin were charged by grand jury indictment with
extreme indifference murder in the shooting death of a young woman at a party.1 The
two were tried together, and although both were acquitted of the charged offense of
extreme indifference murder, they were each convicted of attempted extreme
indifference murder, reckless manslaughter, criminally negligen... More...

$0 (05-15-2017 - CO)


Farouk Nagi v. The People of the State of Colorado
Farouk Nagi was charged with one count of sexual assault on a child by one in a
position of trust, committed as part of a pattern of abusing his stepdaughter, beginning
when she was thirteen years old and continuing until the abuse was reported when she
was fifteen years old. The jury convicted him as charged, and he was sentenced to an
indeterminate term of twelve years to li... More...

$0 (05-02-2017 - CO)


The People of the State of Colorado v. Oliver Benton Hyde
The Supreme Court of the State of Colorado
On February 10, 2015, just after midnight, Aurora Police Department ("APD")
officers responded to an accident at Iliff Avenue and I-225, where the defendant had
driven his pickup truck into a light pole, despite seemingly safe driving conditions.
One of the first officers to arrive on the scene found Hyde unconscious, pinned in the
driver's seat, with blood gurgling from his m... More...

$0 (04-19-2017 - CO)


U.S. Specialty Insurance Company v. Estate of John Charles Earley, Jr.
John Earley, Jr. was the named insured on an aircraft insurance contract (the
Policy) with U.S. Specialty Insurance Company (U.S. Specialty). Earley and Michael
Schlarb died during an instructional flight when an aircraft listed in the Policy crashed
shortly after takeoff. U.S. Specialty sought a declaratory judgment that the Policy doesn't
cover any potential claims arising from t... More...

$0 (03-05-2017 - CO)


Brandon Coats v. Dish Network, LLC
This case requires us to determine whether the use of medical marijuana in compliance with Colorado's Medical Marijuana Amendment, Colo. Const. art. XVIII,
§ 14, but in violation of federal law, is a "lawful activity" under section 24-34-402.5,

C.R.S. (2014), Colorado's "lawful activities statute." This statute generally makes it an unfair and discriminatory labor practice ... More...

$0 (06-15-2015 - CO)


United States v. Howard Kieffer
Although Kieffer does not have a law degree and is not licensed to practice law, he
has represented clients in various federal courts, including district courts located in North
Dakota and Colorado. These actions have resulted in convictions in both districts. In the
District of North Dakota, Kieffer was convicted in 2008 of mail fraud in violation of 18
U.S.C. § 1341 and making ... More...

$0 (02-02-2016 - CO)


Tulips Investments, LLC v. State of Colorado
At issue in this case is judicial enforcement of an administrative investigatory
subpoena for documents of a corporation located outside of Colorado that is suspected
of conducting business within Colorado in violation of its two leading consumer
protection statutes.1 Tulips Investments, LLC ("Tulips") is a Delaware corporation the
State of Colorado contends is conducting a lo... More...

$0 (02-01-2016 - CO)


The People of the State of Colorado v. Robert Keith Ray
On July 4, 2004, defendant attended an outdoor musical event
at Lowry Park in Aurora. Also attending were defendant's wife,
defendant's sister, and defendant's friend, Sir Mario Owens. As the
event was ending, defendant's wife and sister attempted to drive
their vehicle out of the parking lot, but pedestrians leaving the
event refused to move and then insulted the women.... More...

$0 (12-11-2015 - CO)


Charles D. Leone, II v. Steven C. Owsley; Drew M. Hayworth
In 2012, appellant Charles D. Leone II resigned his position as a principal
of Madison Street Partners, LLC ("MSP"). Pursuant to the terms of MSP's
Operating Agreement, fellow principals Steven Owsley and Drew Hayworth
elected to buy Leone's interest in MSP. The agreement required the purchase
price to be set at fair market value, as determined in good faith by MSP's
managers, ... More...

$0 (11-25-2015 - CO)


Meridian Service Metropolitan District v. Ground Water Commission
Throughout 1967 and into 1968, the Commission held hearings in the matter of
the determination of a designated ground water basin in the Upper Black Squirrel
Creek Basin (the Basin). Objectors raised numerous challenges to the proposed
designation, including that the ground water in the proposed basin did not meet the
statutory definition of "designated ground water."
¶5 ... More...

$0 (11-16-2015 - CO)


Gina Holub v. Chris Gdowski
After Adams 12 Five Star Schools terminated Gina Holub's employment as an
internal auditor for the School District, she brought this action against the School
District and two of its officials, Superintendent Chris Gdowski and Chief Financial
2
Officer Shelley Becker. Holub raised First Amendment and state law claims, alleging
the defendants terminated her employment in retalia... More...

$0 (09-24-2015 - CO)


Regional Transportation District v. 750 West 48th Ave., LLC.
In 2011, Regional Transportation District ("RTD") filed a petition in
condemnation against 750 West 48th Ave., LLC ("Landowner") to acquire the
approximately 1.6-acre property for development of the Gold Line light rail project
being constructed between Union Station and Arvada. Landowner was leasing the
property to a commercial waterproofing business ("Tenant").1 Over the ye... More...

$0 (09-14-2015 - CO)


United States of America v. Spaulding
This case presents a significant jurisdictional question: Does 18 U.S.C.
§ 3231, which grants district courts original jurisdiction over federal criminal
cases, allow a district court, absent government objection, to set aside a criminal
judgment that contains a term of imprisonment at any time and for any reason?
Or, instead, is a district court empowered to set aside such a judgm... More...

$0 (09-01-2015 - CO)


Rushton v. SMC Electrical Products
C.W. Mining Company, a coal-mining company, was forced into bankruptcy after
creditors filed a petition for involuntary bankruptcy on January 8, 2008. Several months
before the petition was filed, C.W. Mining had entered into its first contract with SMC
Electrical Products, Inc.—an agreement to purchase equipment with a view toward
greatly increasing coal production by convert... More...

$0 (08-10-2015 - CO)


Merilyn Cook v. Rockwell International Corporation and DOW Chemical Company
Harnessing nuclear energy is a delicate business. So is the statute before
us. Originally passed in the 1950s in an era captivated by the promise of nuclear
power and amended in the 1980s in the aftermath of the Three Mile Island
meltdown when prevailing public sentiment was perhaps less sanguine, the Price-
Anderson Act seeks both to promote the private nuclear energy industry and... More...

$0 (06-23-2015 - CO)


Miguel Angel Pena-Rodriguez v. The People of the State of Colorado


¶1 This case involves the interplay between two fundamental tenets of the justice system: protecting the secrecy of jury deliberations and ensuring a defendant's constitutional right to an impartial jury. After entry of a guilty verdict, defense counsel obtained juror affidavits suggesting that one of the jurors exhibited racial bias against the defendant during deliberations.... More...

$0 (05-18-2015 - CO)


United States of America v. Robert T. McAllister
Mr. Robert McAllister was an attorney charged with conspiracy, wire
fraud, and bankruptcy fraud. He and the prosecutors entered a plea
agreement, stipulating to certain facts. In the plea agreement, the
government agreed not to take any positions inconsistent with the
stipulated facts. Based on this agreement, Mr. McAllister pleaded guilty.
At sentencing, the government recomme... More...

$0 (05-04-2015 - CO)


United States of America v. Howard O. Kieffer
Defendant-Appellant Howard Kieffer has appealed from the district court's
First, Third, and Fourth Amended Judgments sentencing him. After entering the
First Amended Judgment, the district court entered a Second Amended Judgment,
only to later vacate and replace it with the Third and Fourth Amended Judgments.
Mr. Kieffer asserts that the district court lacked authority to enter t... More...

$0 (12-22-2014 - CO)


Brandon Alberts, et al. v. The Board of County Commissioners of Jefferson County, Colorado, et al.
Current and former employees (Employees) of the Jefferson County Sheriff's
Office (County) brought a collective action under the Fair Labor Standards Act (FLSA),
alleging they were paid overtime at a lower rate than required by the statute during 2010,
2011, and 2012. The district court granted the County's motion to dismiss the
Employees' Third Amended Complaint and the Empl... More...

$0 (11-13-2014 - CO)


Gorsuch, Ltd. v. Wells Fargo National Bank Association
In 2008, Wells Fargo extended a $14 million line of credit to Gorsuch, Ltd., a ski
equipment, apparel, and home furnishing company. In 2009, when Gorsuch, Ltd.'s
winter sales were lower than expected, Wells Fargo suspended the line of credit.
Gorsuch, Ltd. and the Gorsuch Entities—Gorsuch, Ltd., B.C.; Gorsuch, Limited at
Aspen; Gorsuch, Limited at Keystone Mountain; and Gorsuch... More...

$0 (11-04-2014 - CO)


United States of America v. Abel Sanchez-Leon a/k/a Raul Marez-Ortiz, a/k/a Joel Lopez
Drug Enforcement Agency ("DEA") officers searched Mr. Sanchez-Leon's home,
where they discovered methamphetamine, firearms, and cash. A federal grand jury
charged Mr. Sanchez-Leon with violating various federal drug laws. On the first day of
trial, he changed his plea to guilty. He later moved to withdraw his guilty plea, which the
district court denied. The district court se... More...

$0 (08-25-2014 - CO)


Cellport Systems, Inc. v. Peiker Acustic GMBH & Co., K.D.
In October 2004, Cellport Systems, Inc. ("Cellport") and Peiker Acustic GMBH &
Co. KG ("Peiker") entered into an agreement concerning Cellport's technology for the
hands-free use of cellphones in vehicles. In 2009, Cellport filed suit against Peiker,
alleging breach of that agreement and seeking royalties for seven Peiker products. The
district court awarded Cellport roya... More...

$0 (08-05-2014 - CO)


United States of America v. Manuel Antonio Rosales-Miranda
Defendant-Appellant Manuel Rosales-Miranda was convicted of illegal
reentry after being deported, in violation of 8 U.S.C. §§ 1326(a) and 1326(b)(2).
The district court applied a sixteen-level enhancement to Mr. Rosales-Miranda's
offense level pursuant to § 2L1.2(b)(1)(A)(ii) of the U.S. Sentencing Guidelines
("U.S.S.G." or "the Guidelines"), which allows for such an e... More...

$0 (07-07-2014 - CO)


In re: Reson Lee Woods, a/k/a Lee Wood, d/b/a Bar LS Farms, f/d/b/a Bar LS Properties, Inc.
Appellant First National Bank of Durango ("First National Bank") appeals from the Bankruptcy Appellate Panel's ("BAP's") decision affirming the bankruptcy court's confirmation of the Chapter 12 bankruptcy plan of Appellees Reson and Shaun Woods ("Debtors"). Although First National Bank raises several issues on appeal, we only reach the first: whether Debtors are permitted to seek... More...

$0 (02-19-2014 - CO)


Alva J. Hickerson, a/k/a Al J. Hickerson v. Vessels, Personal Representative


¶1 We granted certiorari to review the Court of Appeals' judgment in Vessels v. Hickerson,No. 11CA0317, 2012 WL 503664 (Colo. App. Feb. 16, 2012), which held that the doctrine of laches is not available as a defense to an action for collection of a debt that is timely filed within a statute of limitations period.1 Here, the trial court allowed the laches defense, but the court of ap... More...

$0 (01-13-2014 - CO)


The People of the State of Colorado v. Mark Ashly Steen
¶1 Petitioner, Mark Ashly Steen, was convicted in county court of misdemeanor offenses. In this original proceeding pursuant to C.A.R. 21, Steen challenges orders issued by the county court and district court denying his motions under section 16-2-114(6), C.R.S. (2013), and Crim. P. 37(f) to stay execution of his sentence pending his appeal of the convictions to the district court. We issued... More...

$0 (02-03-2014 - CO)


ECCO Plains, LLC v. United States of America
The Federal Depository Insurance Corporation (FDIC), while acting as receiver1 of the New Frontier Bank (the Bank), used proceeds from the sale of cattle belonging to a limited liability company (LLC) to pay down a loan of one of the two LLC members. According to the complaint, the FDIC had no authority to do so because the payment was contrary to the members' agreement. Ignoring the separate en... More...

$0 (09-04-2013 - CO)


Cristina Zvunca v. Greyhound Lines, Inc.
In these consolidated appeals, Tiberiu Klein appeals the district court's dismissal of his wrongful death suits. While this case was pending before our court, the Illinois settlement order on which the district court based its dismissal was vacated by the Illinois Appellate Court. Cushing v. Greyhound Lines, Inc., No. 1-10-3194, 2013 IL App (1st) 103197 (Ill. App. Ct. May 16, 2013). Exercising j... More...

$0 (07-23-2013 - CO)


Lockheed Martin Corporation v. Administrative Review Board, United States Department of Labor
Lockheed Martin Corp. ("Lockheed") seeks to set aside a decision of the Administrative Review Board of the Department of Labor (the "ARB" or the "Board") concluding Lockheed violated Section 806 of the Sarbanes-Oxley Act of 2002 ("Sarbanes-Oxley" or the "Act"). See 18 U.S.C. § 1514A(a). The Board affirmed the decision of an administrative law judge ("ALJ"), who concluded L... More...

$0 (06-04-2013 - CO)


Spacecon Specialty Contractors, LLC v. Richard Bensinger
Richard Bensinger produced and screened a film about Spacecon Specialty Contractors, LLC. Claiming the film conveyed several defamatory statements, Spacecon filed suit against Bensinger in the United States District Court for the District of Colorado, based on diversity jurisdiction, asserting a state-law claim for defamation per se. The district court granted Bensinger's motion for summary judg... More...

$0 (04-16-2013 - CO)


Kathleen Mills v. The Prudential Insurance Company of America
Kathleen Mills filed a complaint in federal court seeking to challenge a beneficiary designation made by her husband, Chief Warrant Officer (CWO) H. Roger Mills, with regard to a Servicemembers' Group Life Insurance Act (SGLIA) policy issued through Defendant Prudential Insurance Company of America. While Ms. Mills and CWO Mills were in divorce proceedings, CWO Mills changed his life insurance b... More...

$0 (03-14-2013 - CO)


Curtis Vagneur v. City of Aspen
¶1 We granted certiorari review to consider whether two citizen-initiated proposed ordinances regarding the design and construction of a state highway entrance to the City of Aspen are administrative in character and therefore outside the scope of the initiative power reserved to the people under article V, sections 1(1) and 1(9) of the Colorado Constitution.1

¶2 In 2007, Pet... More...

$0 (02-11-2013 - CO)


Steven Pham v. State Farm Automobile Insurance Company


¶1 Steven Pham, representing the estate of the driver of a car involved in a traffic accident, along with the deceased driver's parents and the five passengers in his car at the time, sought review of the court of appeals' judgment in Pham v. State Farm Mut. Auto Ins. Co.,No. 09CA0768 (Colo. App. May 27, 2009) (not published pursuant to C.A.R. 35(f)). The court of appeals affirm... More...

$0 (03-04-2013 - CO)