Arkansas Deliberate Indifference Law
DANA MARIE DANIELS v. STATE OF ARKANSAS
In a challenge to the sufficiency of the evidence, we review the evidence in the light
most favorable to the State and consider only the evidence that supports the conviction.
Cluck v. State, 365 Ark. 166, 226 S.W.3d 780 (2006). Evidence is sufficient if it is of such
character and force that it, with reasonable certainty, compels a conclusion one way or the


2
... More...

$0 (06-18-2018 - AR)


MICHAEL JACKSON V. STATE OF ARKANSAS
Eric Farrell, a former detective with the Blytheville Police Department, testified that on June 8, 2016, he responded to the scene of a shooting at a residence belonging to Yuri McKeever. He entered the residence and saw the victim lying face down on the living-room floor in a puddle of blood. Dr. Charles Kokes later testified that Yuri died from two gunshot wounds to the back of his head. Farrell... More...

$0 (06-02-2018 - AR)


DANA MARIE DANIELS V. STATE OF ARKANSAS
In a challenge to the sufficiency of the evidence, we review the evidence in the light
most favorable to the State and consider only the evidence that supports the conviction.
Cluck v. State, 365 Ark. 166, 226 S.W.3d 780 (2006). Evidence is sufficient if it is of such
character and force that it, with reasonable certainty, compels a conclusion one way or the
other without res... More...

$0 (06-02-2018 - AR)


RICHARD JORDON TARVER V. STATE OF ARKANSAS
Tarver's claim that the circuit court erred in denying his motions for a directed
verdict is a challenge to the sufficiency of the evidence. In reviewing a challenge to the
sufficiency of the evidence, we view the evidence in the light most favorable to the State
and consider only the evidence that supports the verdict. See, e.g., Dortch v. State, 2018 Ark.
135, at 5, __ S.W.3d... More...

$0 (06-02-2018 - AR)


RALPH A. KING V. STATE OF ARKANSAS
Arkansas Supreme Court
Appellant was arrested and charged with one count of rape, a Class Y felony. At
trial, the victim, J.D., stated that she is eight years old and in the second grade. She testified
that appellant is her "Papaw." She explained that on November 12, 2016, she spent the
night at the home of her uncle, Josh King, with his daughter, R.K.; his wife, Leslie Huff;


2
Leslie... More...

$0 (05-18-2018 - AR)


DANIEL LYNN HONEY v. STATE OF ARKANSAS
Honey was charged with two counts of rape based on allegations that he inserted his
finger into the vagina and anus of seven-year-old R.T. Prior to trial, Honey filed a motion
for discovery to which the State filed a response and supplemental response. Honey later filed
a separate request for discovery pursuant to Arkansas Rule of Criminal Procedure 17.1,
specifically asking the S... More...

$0 (04-16-2018 - AR)


ARKANSAS COMMUNITY CORRECTION V. ANNETTE BARNES
Arkansas Supreme Court
Barnes alleged in her complaint that she was terminated from her position with the
ACC for protesting discriminatory actions on behalf of her employer and participating in
an investigation designed to discover further discrimination. She alleged that her
termination was a violation of the Arkansas Whistle-Blower Act ("AWBA") and asked for
damages, reinstatement, attorneys' fees... More...

$0 (04-15-2018 - AR)


RONNIE BRUCE MARTINEZ V. STATE OF ARKANSAS
On October 22, 2015, the Grant County Sheriff's Department arrived at Danny
Myers's place of business in response to a report of shots fired with an active shooter on
scene. Deputy Matt Bennett testified that when he initially pulled up, Martinez was
holding a weapon. Bennett explained that as he pulled up to stop Martinez, Martinez threw
the gun down and fell to the ground. Co... More...

$0 (04-01-2018 - AR)


DUAN HARRIS V. STATE OF ARKANSAS
Appellant Duan Harris was convicted in a jury trial of rape, aggravated assault, and
interference with emergency communication. The victim was Mia Colley. For these
offenses, Mr. Harris was sentenced to ten years in prison.
Mr. Harris now appeals, raising two arguments for reversal. First, he argues that the
trial court erred in allowing Lakeisha Harris to testify about an ... More...

$0 (04-01-2018 - AR)


DANIEL LYNN HONEY v. STATE OF ARKANSAS
Honey was charged with two counts of rape based on allegations that he inserted his
finger into the vagina and anus of seven-year-old R.T. Prior to trial, Honey filed a motion
for discovery to which the State filed a response and supplemental response. Honey later filed
a separate request for discovery pursuant to Arkansas Rule of Criminal Procedure 17.1,
specifically asking the S... More...

$0 (04-01-2018 - AR)


The Estate of Chandler J. Barnwell v. Linda Watson, Dr., EdD, Superintendent of the School Board of the Little Rock Independent School District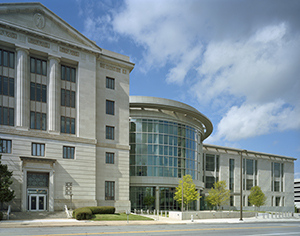 Federal Courthouse Eastern District of Arkansas - Little Rock, Arkansas
After their son tragically committed suicide, the plaintiffs, Michael and Anna
Barnwell, sued the superintendent of their son's school district, alleging that the
school had discriminated against their son on the basis of disability by failing to
adequately protect him from being bullied by other students. But the district court2
found no evidence to support the Barnwells' claim, a... More...

$0 (01-28-2018 - AR)


LARON EDWARD WILLIAMS V. STATE OF ARKANSAS
Appellant Laron Williams and two accomplices, Craig Wade and James Gray, Jr.,
were charged with aggravated robbery and capital murder. Appellant was tried individually
by a Clark County jury, found guilty on both counts, and sentenced to a total term of life
imprisonment without the possibility of parole.1 For reversal, appellant contends that the
circuit court (1) erred in den... More...

$0 (10-30-2017 - AR)


WILLIE NOBLE V. STATE OF ARKANSAS
A Pulaski County jury convicted the appellant, Willie Noble, of first-degree murder
and six counts of terroristic acts. It also found him guilty of using a firearm during the
commission of a felony on each count. He was sentenced to 240 months for first-degree
murder with an additional 120 months' enhancement for use of a firearm to be served
consecutively. In addition, he w... More...

$0 (04-20-2017 - AR)


WILLIAM DIESER v. ST. ANTHONY'S MEDICAL CENTER
On January 28, 2008, Mr. Dieser was admitted to St. Anthony's for surgery to
remove a pancreatic pseudocyst. Two days later, Mr. Dieser developed a pressure wound
on his buttocks. The wound developed into a stage IV pressure ulcer extending from the
surface of Mr. Dieser's skin to the bone. Surgery had to be performed to cut and remove
dead tissue from the wound. Mr. Dieser... More...

$0 (10-05-2016 - AR)


EDWARD JOSEPH REYNOLDS V. STATE OF ARKANSAS
Edward Joseph Reynolds appeals a jury's verdict finding him guilty of kidnapping
and aggravated assault. He was sentenced as a habitual offender to consecutive sentences of
life imprisonment and fifteen years' imprisonment, respectively. On appeal, Reynolds
contends that the circuit court erred by (1) denying his directed-verdict motions on both
charges; (2) allowing the vict... More...

$0 (05-22-2016 - AR)


DAVID LEE FELTY V. STATE OF ARKANSAS
David Felty received a life sentence in prison without parole after a jury convicted
him of first-degree felony murder. Felty's counsel on appeal has filed a no-merit brief and a
motion to withdraw. See Anders v. California, 386 U.S. 738 (1967); Ark. Sup. Ct. R. 4-3(k)
(2015). The brief asserts that there are no nonfrivolous arguments to be made on appeal.
No pro se points have... More...

$0 (02-18-2016 - AR)


FRANCISCO REYES MEDLEY V. STATE OF ARKANSAS
At Medley's August 26, 2014 bench trial, the State called one witness, Corporal Chris
Carter, of the Saline County Sheriff's Office. Corporal Carter testified that around 8:00 a.m.
on July 25, 2013, he observed a blue Chevrolet S-10 pickup truck traveling north on Arch
Street in Saline County and that the driver (later identified as Medley) was not wearing a seat
belt. Corporal Car... More...

$0 (02-16-2016 - AR)


FRANCISCO REYES MEDLEY V. STATE OF ARKANSAS
Appellant Francisco Reyes Medley appeals from his conviction by the Saline County
Circuit Court on the offense of fleeing, a Class D felony. Medley's sole point on appeal
challenges the sufficiency of the evidence. We affirm.
At Medley's August 26, 2014 bench trial, the State called one witness, Corporal Chris
Carter, of the Saline County Sheriff's Office. Corporal Carter testifie... More...

$0 (02-13-2016 - AR)


Conway v. State Of Arkansas
A Garland County jury convicted Samuel L. Conway of capital murder and
aggravated robbery stemming from the March 14, 2005 shooting death and robbery of Mary
Adams. The State waived the death penalty, and Conway was sentenced to life without
parole plus 588 months to be served in the Arkansas Department of Correction. He raises
five points on appeal, arguing that the circuit cour... More...

$0 (01-16-2016 - AR)


Fink v. State of Arkansas
On the morning of December 3, 2012, seventeen-year-old Fink told her mother that
she was leaving their home to go for a walk. During her walk, Fink encountered eighty
year-old Loyd Cole. Fink stabbed Cole thirty-six times with a knife she was carrying. Cole
died as a result of the stab wounds and his body was found face up in a ditch. Fink left a
trail of blood running from ... More...

$0 (09-24-2015 - AR)


United States of America v. Demetrius Colbert
LITTLE ROCK – Christopher R. Thyer, United States Attorney for the Eastern District of Arkansas, along with David T. Resch, Special Agent in Charge of the Little Rock Field Office of the Federal Bureau of Investigation (FBI), announced today that Demetrius Colbert, age 39, of Marianna, was sentenced to life imprisonment plus ten years in prison for his leadership of a drug conspiracy and for fir... More...

$0 (02-06-2015 - AR)


George Tedder v. American Railcar Industries
American Railcar Industries, Inc. (ARI), appeals from a district court1 order denying its motion for judgment as a matter of law or, in the alternative, a new trial, and granting a partial remittitur of damages. George Tedder cross-appeals from the same order, challenging the remittitur. We affirm.

I.

Tedder worked for ARI as a welder. On April 24, 2008, Tedder was sitting on a table... More...

$0 (01-09-2014 - AR)


Tony Sayger v. Riceland Foods, Inc.
Tony Sayger brought this action against Riceland Foods under 42 U.S.C. § 1981, Title VII, the Arkansas Civil Rights Act, and other statutes, alleging retaliatory discharge after being a witness in an internal investigation into a complaint about a manager. After the district court 1 granted summary judgment to Riceland on Sayger's Title VII and ACRA claims, his § 1981 claim proceeded to trial. T... More...

$0 (11-18-2013 - AR)


Spencer Ondirsek v. Bernie Hoffman
Bernie Lazar Hoffman, better known as Tony Alamo, appeals a jury verdict finding him liable for battery, outrage, and conspiracy. He also appeals the district court's denial of his motion for remittitur. Having jurisdiction under 28 U.S.C. § 1291, this court affirms in part and reverses in part.

I.

Alamo was the leader of a religious group, Tony Alamo Christian Ministries (TACM). ... More...

$0 (08-28-2012 - AR)


Sharon Sanders v. Lee County School Dist. No. 1
An Arkansas jury found in favor of Sharon Sanders on her Title VII claims of race discrimination and constructive discharge against the Lee County School District No. 1 and individual members of the County's Board of Education. The jury awarded $10,000 in compensatory damages on the race discrimination claim, $60,825 in wages and fringe benefits on the constructive discharge claim, and a total of ... More...

$0 (02-28-2012 - AR)


William Wolfe v. Fayetteville, AR School Dist.
William Wolfe filed suit against the Fayetteville, Arkansas School District alleging he was a victim of sexual harassment in violation of Title IX, 20 U.S.C. § 1681. After the district court2 denied the school district's motion for summary judgment, the case proceeded to trial. A twelve-member jury issued a verdict in favor of the school district. Wolfe moved for a new trial, but the district c... More...

$0 (08-09-2011 - AR)


Robert Storay v. City of Little Rock
In this civil rights action against the City of Little Rock (City) and three police officers, Robert Storay appeals the district court's1 adverse grant of summary 1The Honorable William R. Wilson, Jr., United States District Judge for the Eastern District of Arkansas.

judgment in favor of the City and the court's order granting the police officers' motion to dismiss. Upon careful re... More...

$0 (02-08-2011 - AR)


John Doe v. Tanya Wilcher
John Doe and Martha Roe filed this action pursuant to 42 U.S.C. § 1983 and Title IX of the Education Amendments of 1972, 20 U.S.C. § 1681 et seq. ("Title IX"), on behalf of their minor daughter, Jane Doe. For several months during the 2006- 2007 school year, Jane Doe was involved in a sexual relationship with Chad Smith, her basketball coach at Delight High School. The plaintiffs claim that ... More...

$0 (10-19-2010 - AR)


Brant Sitzes v. City of West Memphis Arkansas
Appellants Brant and Nancy Sitzes (collectively "plaintiffs"), parents of Brittney and Shelby Sitzes, brought this action against Officer James Wright of the West Memphis, Arkansas, Police Department (WMPD), the City of West Memphis, and various city officials (collectively "defendants"). They alleged constitutional and state tort claims arising out of a traffic accident in which a patrol ... More...

$0 (06-09-2010 - AR)


Donna Scroggin v. Wyeth, and its divisions; Pharmacia & Upjohn Company, L.L.C.
Donna Scroggin was diagnosed with breast cancer eleven years after she began taking estrogen and progestin drugs manufactured by Wyeth Pharmaceuticals Inc. (Wyeth) and Pharmacia & Upjohn Co. (Upjohn).1 She sued the companies in 2004 for failure to warn of the risk of breast cancer from combination hormone therapy.

The trial was bifurcated, with liability determined first and punitive damage... More...

$0 (11-03-2009 - AR)


Sandy Krout v. Luke Sawdy
Bobby Joe Rylee died after an altercation with police officers in Russellville, Arkansas, and a period of detention in the Pope County Detention Center. Sandy Krout, individually and as administratrix of Rylee's estate, brought an action under 42 U.S.C. § 1983 against five Russellville police officers and four Pope County correctional officers in their individual capacities. She alleged that th... More...

$0 (10-06-2009 - AR)


Susan Vaughn v. Christopher Gray
Appellee, Susan Vaughn, commenced this action under 42 U.S.C. § 1983, contending that Appellants were deliberately indifferent to the serious medical needs of her brother, Phil Blount, which resulted in his death. Appellants, several officers and employees of the Greene County, Arkansas Sheriff's Department, moved for summary judgment based on qualified immunity, which was denied by the distric... More...

$0 (03-06-2009 - AR)


Danny Fitzgerald v. Action, Inc.
Danny Fitzgerald appeals the district court's grant of summary judgment in favor of his former employer, Action, Inc., on his claims of age discrimination and interference with employment benefits. We affirm in part, reverse in part, and remand for further proceedings consistent with this opinion.

I

The facts, viewed in the light most favorable to Fitzgerald, Dush v. Appleton Elec.... More...

$0 (04-09-2008 - AR)


Todd Sturgill v. UPS
Todd Sturgill was a full-time package car driver for United Parcel Service (UPS) at its Center in Springdale, Arkansas. UPS terminated Sturgill when he refused to complete his route on December 17, 2004, because working past sundown on a Friday would violate his beliefs as a member of the Seventh Day Adventist Church.

Sturgill commenced this action, claiming that UPS discriminated ag... More...

$0 (01-15-2008 - AR)


Joshua D. Baker v. Eric Chisom
Early on August 15, 2002, Joshua Baker was arrested for traffic violations after leading police on a late-night, half-mile chase. While awaiting arrival of the arresting officer at the Drew County Jail, Deputy Sheriff Marcia Bruner handcuffed Baker's right arm to a bench and watched as Deputy Sheriff Eric Chisom choked Baker from behind and tasered him in the back of the head. After Chisom ... More...

$0 (08-29-2007 - AR)


Jerala Grayson, as personal representative for the Estate of Daniel Neal Grayson v. Bob Ross, individually and in his official capacity as a Crawford County Sheriff
Daniel Neal Grayson (Grayson) died October 15, 2000, following selfmutilation while incarcerated in the Crawford County Detention Center (jail). Jerala Grayson (Appellant), as the personal representative of Grayson's estate, sued the Crawford County Sheriff and three of the jailers in their individual and official capacities. An amended complaint altered the list of defendants, adding arr... More...

$0 (07-20-2006 - AR)


Bobbie Parette, etc. v. Bart Virden, et al.
In this 42 U.S.C. § 1983 action, Bobbie Parette, Howard Parette, Emily-Jane Parette, Louise Parette Gooden, and Richard Gooden (collectively, appellants) appeal from an order of the district court1 granting summary judgment in favor of the City of Morrilton, Arkansas (City), City Attorney Bart Virden, City Mayor Stewart Nelson, and the Morrilton Wastewater Committee (MWC) and its members (co... More...

$0 (04-04-2006 - AR)


Little Rock School v. Joshua Intervenors
This case consolidates two appeals, both arising from the Little Rock School District's request for unitary status. First, the Joshua Intervenors1 appeal from the District Court's2 denial of their Motion for Recusal of District Judge and Vacating of Orders, Rulings, and Judgments. We review a district court's denial of recusal for abuse of discretion. See In re Hale, 980 F.2d 1176, 1178 (8t... More...

$0 (03-03-2004 - AR)


Melinda Wyrick v. Arkansas Department of Human Services.
Appellant Melinda Wyrick appeals from the order of the Benton County Circuit Court terminating her parental rights as to two of her children, Kimberly and Tiffany Wyrick. On appeal, Wyrick argues that the trial court erred in finding by clear and convincing evidence: (1) that it was in the best interest of the children to terminate her parental rights; and (2) that there were grounds justifying te... More...

$0 (01-16-2004 - AR)


Sharon A. Johnson v. Director, Employment Security Department and Beverly Health.
The appellant, Sharon Johnson, brings this appeal from a decision of the Board of Review denying her claim for unemployment benefits based on a finding that she was discharged for misconduct in connection with the work. On appeal, she contends that the Board's decision is not supported by substantial evidence. We disagree and affirm.

Arkansas Code Annotated section 11-10-514(a)(1)(Repl. 2002... More...

$0 (01-16-2004 - AR)