Please E-mail suggested additions, comments and/or corrections to Kent@MoreLaw.Com.
Help support the publication of case reports on MoreLaw
Date: 02-13-2018
Case Style:
United States of America v. Stormy Sea Lane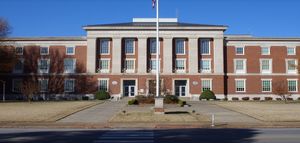 Federal Courthouse Western District of Arkansas - Fayetteville, Arkansas
Case Number: 5:17-cr-50039-TLB
Judge:
Court: United States District Court for the Western District of Arkansas (Washington County)
Plaintiff's Attorney: Denis Dean
Defendant's Attorney: Tyler Benson
Description: Fayetteville, AR - Fayetteville Woman Sentenced To 10 Years In Federal Prison For Possession Of Methamphetamine With Intent To Distribute

Stormy Sea Lane, age 28, of Fayetteville, was sentenced on February 9, 2018 to 120 months in federal prison followed by three years of supervised release and was ordered to pay a $1,900.00 fine on one count of possession of methamphetamine with intent to distribute. The Honorable Timothy L. Brooks presided over the sentencing hearing in the United States District Court in Fayetteville.

According to court records, during a traffic stop in April 2017, law enforcement officers conducted a parole search of Lane and found several baggies containing methamphetamine in her purse. Lane was arrested, taken to jail, and searched again by law enforcement. This search produced another baggie of methamphetamine on her person. Lane was released from jail on bond in May 2017. In June 2017, law enforcement learned that Lane was selling methamphetamine in the Springdale, Arkansas area. Officers found and engaged with Lane and another individual. Officers seized an additional seven grams of methamphetamine as a result of this encounter. All of the methamphetamine seized from Lane was sent to the Arkansas State Crime Lab for testing. The lab determined that the substance contained 28.43 grams of actual methamphetamine.

Lane was indicted by a federal grand jury in July 2017 and entered a guilty plea in November 2017.

This case was investigated by the 4th Judicial District Drug Task Force. Assistant United States Attorney Denis Dean prosecuted the case for the United States.
Outcome: Defendant was sentenced to 120 months' in prison.
Plaintiff's Experts:
Defendant's Experts:
Comments: