Please E-mail suggested additions, comments and/or corrections to Kent@MoreLaw.Com.
Help support the publication of case reports on MoreLaw
Date: 03-08-2018
Case Style:
United States of America v. Pablo Jacinto-Torres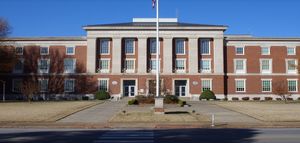 Federal Courthouse Western District of Arkansas - Fayetteville, Arkansas
Case Number: 5:17-cr-50031-TLB
Judge: Timothy L. Brooks
Court: United States District Court for the Western District of Arkansas (Washington County)
Plaintiff's Attorney: David Harris
Defendant's Attorney: Erwin Lee Davis
Description: Fayetteville, AR - Springdale Man Sentenced To 6 Years In Federal Prison For Possession Of Methamphetamine With The Intent To Distribute

Pablo Jacinto-Torres, age 24, of Springdale, was sentenced on March 7, 2018 to 84 months in federal prison followed by three years of supervised release on one count of Possession With Intent To Distribute Methamphetamine. The Honorable Timothy L. Brooks presided over the sentencing hearing in the United States District Court in Fayetteville.

According to court records, in 2017, the Springdale Police Department conducted several controlled purchase of methamphetamine from Pablo Jacinto-Torres. On May 15, 2017, Jacinto-Torres was stopped and arrested for an outstanding warrant. During the search of Jacinto-Torres vehicle, officers located digital scales, a large amount of cash and marijuana. A search of Jacinto-Torres residence resulted in officers locating approximately 178 grams of methamphetamine. The Arkansas State Crime Lab results reflect that the substance recovered tested positive for methamphetamine.

Jacinto-Torres was indicted by a federal grand jury in June 2017 and entered a guilty plea in November 2017.

This case was investigated by the Springdale Police Department.
Outcome: Defendant was sentenced to 94 months' in prison.
Plaintiff's Experts:
Defendant's Experts:
Comments: