Please E-mail suggested additions, comments and/or corrections to Kent@MoreLaw.Com.
Help support the publication of case reports on MoreLaw
Date: 05-09-2018
Case Style:
United States of America v. Brendon R. Thompson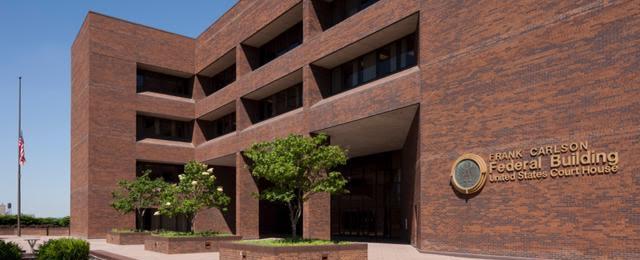 District of Kansas Federal Courthouse - Topeka, Kansas
Case Number: 5:17-cr-40078-CM
Judge: Carlos Murguia
Court: United States District Court for the District of Kansas (Shawnee County)
Plaintiff's Attorney: Jared Maag
Defendant's Attorney: Branden A. Bell - FPD
Description: Topeka, KS - Topeka Man Sentenced For McDonald's Restaurant Robbery

A Topeka man was sentenced on May 9, 2018 to 12 years and 10 months in federal prison for robbing a McDonald's restaurant, U.S. Attorney Stephan McAllister said.

Brendon R. Thompson, 31, Topeka, Kan., pleaded guilty to one count of robbery and one count of aiding and abetting another robber who brandished a firearm during the robbery.

In his plea, Thompson admitted that on July 10, 2017, he and another man robbed the McDonald's restaurant at 1100 South Kansas Avenue in Topeka. Thompson went behind the counter and took money from the registers while the other robber brandished a firearm. The robbers fled when police arrived. Thompson was arrested near the restaurant, while the other robber got away.

McAllister commended the FBI, the Topeka Police Department
Outcome: Defendant was sentenced to 12 years and 10 months in federal prison.
Plaintiff's Experts:
Defendant's Experts:
Comments: