Please E-mail suggested additions, comments and/or corrections to Kent@MoreLaw.Com.
Help support the publication of case reports on MoreLaw
Date: 03-10-2018
Case Style:
United States of America v. La Deanna Anderson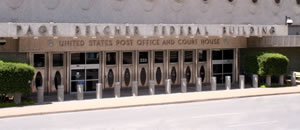 Northern District of Oklahoma Federal Courthouse
Tulsa, Oklahoma
Case Number: 4:18-cr-00040-FHM-1
Judge: Frank H. McCarthy
Court: United States District Court for the Northern District of Oklahoma (Tulsa County)
Plaintiff's Attorney: Shannon Cozzoni
Defendant's Attorney: Brett Swab
Description: Tulsa, OK - Housing Authority Executive Pleads Guilty To Submitting Fraudulent Audits

The United States of America charged Le Deanna Anderson, age 55, with fraudulently submitting Department of Housing and Urban Development reports in violation of 18 U.S.C. 1012.

Anderson was the executive vice president of the Tulsa Housing Authority and chief operating officer and had a maintenance employees run ahead of HUD inspectors to correct deficiencies before inspections.



Outcome: Guilty
Plaintiff's Experts:
Defendant's Experts:
Comments: