Please E-mail suggested additions, comments and/or corrections to Kent@MoreLaw.Com.
Help support the publication of case reports on MoreLaw
Date: 03-06-2018
Case Style:
United States of America v. Thomas Crawfish Mathews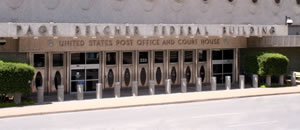 Northern District of Oklahoma Federal Courthouse
Tulsa, Oklahoma
Case Number: 4:17-cr-00112-CVE
Judge: C.V. Egan
Court: United States District Court for the Northern District of Oklahoma (Tulsa County)
Plaintiff's Attorney: Shannon Bears Cozzoni and Jeffrey Andrew Gallant
Defendant's Attorney: Ryan Ray
Description: Tulsa, OK - Former Indian Tribal Official Pleads Guilty To Child Sex Crime Charges

The United States of Ameria charged Thomas Crawfish Mathews, age 35, with attempted enticement of a minor in violation of 18 U.S.C. 2422.

The "minor" that the Government claimed the Defendant attempted to entice was a police officer.

Defendant used Whisper on his cell phone.

Outcome: Guilty
Plaintiff's Experts:
Defendant's Experts:
Comments: