Please E-mail suggested additions, comments and/or corrections to Kent@MoreLaw.Com.
Help support the publication of case reports on MoreLaw
Date: 09-14-2018
Case Style:
United States of America v. Devon Robinson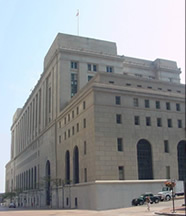 Western District of Pennsylvania Courthouse - Pittsburgh, Pennsylvania
Case Number: 2:18-cr-00004-DSC-1
Judge: David S. Cercone
Court: United States District Court for the Western District of Pennsylvania (Allegheny County)
Plaintiff's Attorney: Timothy M. Lanni
Defendant's Attorney: Jay J. Finkelstein - FPD
Description: Pittsburgh, PA - Fentanyl Trafficker who Illegally Possessed a Loaded Firearm Sentenced to 60 Months

A former resident of Pittsburgh, PA has been sentenced in federal court to 60 months in prison, to be followed by three years of supervised release, on his convictions on federal narcotics and firearms charges.

United States District Judge David S. Cercone imposed the sentence on Devon Robinson, age 30. Robinson was detained after his initial appearance and will remain detained as he begins to serve his sentence.

According to information presented to the court Robinson possessed with the intent to distribute and distributed fentanyl to his co-defendant James Kadish on December 3, 2017. On December 4, 2017, members of the FBI Western Pennsylvania Opioid Task Force executed a search warrant at Robinsonís house in the city of Pittsburgh. Inside Robinsonís house, FBI investigators recovered a quantity of fentanyl from Robinsonís bedroom and a loaded firearm from his basement couch. Robinson had been previously convicted of a felony offense and was prohibited from possessing firearms. Robinson admitted to possessing the firearm and fentanyl to FBI investigators.


Charger:


21 U.S.C. 841 (a) (1) and 841 (b) (1) (C) POSSESSION WITH INTENT TO DISTRIBUTE AND DISTRIBUTION OF A QUANTITY OF FENTANYL
(1)
21 U.S.C. 841 (a) (1) and 841 (b) (1) (C) POSSESSION WITH INTENT TO DISTRIBUTE A QUANTITY OF FENTANYL
(2)
18 U.S.C. 922 (g) (1) POSSESSION OF A FIREARM BY A CONVICTED FELON
(3)
Outcome: ORDER as to DEVON ROBINSON overruling 76 defendant's objections to the Presentence Investigation Report. The record contains more than sufficient information to support the assessment that the firearm was possessed in connection with defendant's drug trafficking activities and the probation office's assessment has no impact on the guidelines calculations in any event. Signed by Judge David S. Cercone on 9/11/18. (mwm) (Entered: 09/11/2018)


Defendant was sentenced to 60 months in prison.
Plaintiff's Experts:
Defendant's Experts:
Comments: