Please E-mail suggested additions, comments and/or corrections to Kent@MoreLaw.Com.
Help support the publication of case reports on MoreLaw
Date: 12-16-2017
Case Style:
United States of America v. Marcio Rodolfo Ochoa-Borjas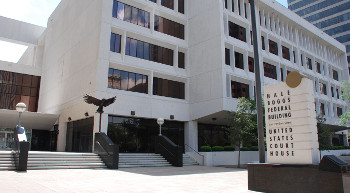 Eastern District of Louisiana Federal Courthouse - New Orleans, Louisiana
Case Number: 2:17-cr-00205-JTM-JCW
Judge: Triche Milazzo
Court: United States District Court for the Eastern District of Louisiana (Orleans Parish)
Plaintiff's Attorney: Irene González
Defendant's Attorney: Valerie Welz Jusselin - FPD
Description: New Orleans, LA - Honduran National Pleads Guilty to Illegal Reentry

MARCIO RODOLFO OCHOA-BORJAS, age 31, a citizen of Honduras, pled guilty on December 15, 2017 to a one-count Bill of Information for illegal reentry of a removed alien after deportation.

According to the Bill of Information, OCHOA-BORJAS reentered the United States on or about June 30, 2017, after having been previously removed therefrom on or about August 16, 2012.

OCHOA-BORJAS faces a maximum term of imprisonment of two years, a fine of up to $250,000, one year supervised release after imprisonment, and a $100 special assessment. U.S. District Judge Jane Triche Milazzo set sentencing for January 25, 2018.

Acting U.S. Attorney Evans praised the work of the United States Department of Homeland Security, Immigration and Customs Enforcement in investigating this matter.
Outcome: Guilty
Plaintiff's Experts:
Defendant's Experts:
Comments: