Please E-mail suggested additions, comments and/or corrections to Kent@MoreLaw.Com.
Help support the publication of case reports on MoreLaw
Date: 02-13-2018
Case Style:
United States of America v. Luis Chavez-Lopez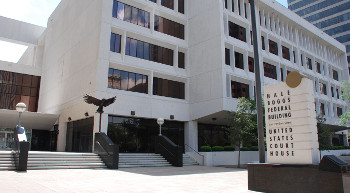 Eastern District of Louisiana Federal Courthouse - New Orleans, Louisiana
Case Number: 2:17-cr-00158-SM-KWR
Judge: Susie Morgan
Court: United States District Court for the Eastern District of Louisiana (Orleans Parish)
Plaintiff's Attorney: David Howard Sinkman
Defendant's Attorney: Valerie Welz Jusselin - FPD
Description: New Orleans, LA - Mexican National Sentenced to 37 Months for Immigration Offense

LUIS CHAVEZ-LOPEZ, age 31, a native of Mexico, was sentenced today after previously pleading guilty to a one-count Indictment for illegal reentry of a removed alien.

United States District Court Judge Susie Morgan sentenced CHAVEZ-LOPEZ to 37 months imprisonment followed by two years of supervised release. According to court documents, CHAVEZ-LOPEZ was previously removed from the United States on February 5, 2015. He was found in the Eastern District of Louisiana on May 3, 2017, without permission from the Attorney General of the United States or the Secretary of the Department of Homeland Security to reenter the country.

U.S. Attorney Evans praised the work of the United States Immigration and Customs Enforcement agency in investigating this matter.
Outcome: Defendant was sentenced to 37 months' in prison.
Plaintiff's Experts:
Defendant's Experts:
Comments: