Please E-mail suggested additions, comments and/or corrections to Kent@MoreLaw.Com.
Help support the publication of case reports on MoreLaw
Date: 09-13-2017
Case Style:
United States of America v. John Tekulve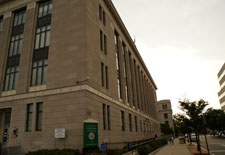 Federal Courthouse - Trenton, New Jersey
Case Number: 2:17-cr-00070-KSH
Judge: Katherine S. Hayden
Court: United States District Court for the District of New Jersey (Essex County)
Plaintiff's Attorney: Veronica Allende
Defendant's Attorney: Peter Carter and Candace Hom - FPD
Description: Newark, NJ - Ohio Man Sentenced To 33 Months In Prison For Defrauding Essex County, New Jersey, Company Out Of More Than $950,000

A Milford, Ohio, man was sentenced on September 8, 2017 to 33 months in prison for using an Essex County, New Jersey, medical company's credit card without the company's permission to fraudulently obtain more than $950,000.

John Tekulve, 44, previously pleaded guilty before U.S. District Judge Katharine S. Hayden to an information charging him with wire fraud. Judge Hayden imposed the sentence today in Newark federal court.

According to documents filed in this case and statements made in court:

From January 2011 through October 2012, Tekulve owned a medical supply company that sold products to an Essex County medical company. He obtained the company's credit card information, which he used to fraudulently bill the company nearly $1 million for products and services that neither Tekulve nor his medical supply company provided. Tekulve then used the proceeds of the scheme for his own purposes, including the purchase of high-end automobiles and jewelry.

In addition to the prison term, Judge Hayden sentenced Tekulve to three years of supervised release and ordered him to pay restitution of $977,418.75.

Acting U.S. Attorney Fitzpatrick credited special agents with the U.S. Secret Service, under the direction of Special Agent in Charge Mark McKevitt in Newark, with the investigation leading to today's sentencing.
Outcome: Defendant was sentenced to 33 months in prison.
Plaintiff's Experts:
Defendant's Experts:
Comments: