Please E-mail suggested additions, comments and/or corrections to Kent@MoreLaw.Com.
Help support the publication of case reports on MoreLaw
Date: 01-25-2018
Case Style:
Clarence Leonard Scott v. Justin DeLeon and The City of Fort Smith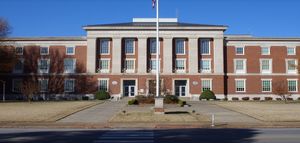 Federal Courthouse - Fort Smith, Arkansas
Case Number: 2:15-cv-02193-PKH
Judge: P.K. Holmes, III
Court: United States District Court for the Western District of Arkansas (Sebastian County)
Plaintiff's Attorney: Kathy Hudson, Robin Emis, Chris Turnage
Defendant's Attorney: Doug Carson, Jason Owens, Colby Roe, Wayman Wade and Mike LaFreniere
Description: Fort Smith, AR - Jury Returns Defendants' Verdict in Civil Rights Case

Clarence Leonard Scott, age 44, sued former police office Justin DeLeon and The City of Fort Smith on civil rights violations theories under 42 U.S.C. 1983 claiming that he was injured when he fell face first while handcuffed onto the concrete floor of the county jail on April 18, 2014. Scott claimed that DeLeon intentionally caused him to fall and be injured in the sally port of the jail.

The defendants denied wrongdoing.
Outcome: Defendants' verdict.
Plaintiff's Experts:
Defendant's Experts:
Comments: