United States of America v. Robert Battle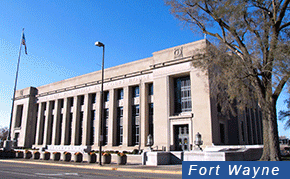 Northern District of Indiana Federal Courthouse - Lafayette, Fort Wayne, South Bend, Hammond
Morelaw Internet Marketing

National Find A Lawyer Directory
888-354-4529
Case Number: 2:15-cr-00124-PPS-JEM
Judge: Phillip P. Simon
Court: United States District Court for the Northern District of Indiana (Lake County)
Plaintiff's Attorney: David J. Nozick and Thomas M. McGrath
Defendant's Attorney: Jack Friedlander
Description: Hammond, IN - Former East Chicago Councilman Sentenced To 20 Years in Prison

Robert Battle, age 45, of East Chicago, Indiana, was sentenced by U.S. District Court Judge Philip P. Simon on his guilty plea of discharging a firearm in relation to a drug trafficking crime, causing death of another person.

U.S. Attorney Kirsch said, "Mr. Battle was a drug dealer, while at the same time serving as a public official. He was elected to uphold the law and instead conspired to break it. Today's sentence reflects the seriousness of his offense and should be a warning to others who want to engage in these type of violent crimes."

According to documents filed in the case, in or around April 2015 agents began investigating Battle in relation to drug trafficking activities. During the investigation, agents received information that Reimundo Camarillo was supplying Battle, a sitting East Chicago Councilman, with large quantities of drugs. In September 2015, agents determined Battle may have had a load of drugs and conducted a traffic stop seizing a quantity of drugs and cash. Working with agents, Battle then attempted to make a controlled delivery to Camarillo who did not show after Battle's arrest. On October 12, 2015 Battle and Camarillo had an argument outside of Battle's residence where Battle shot Camarillo in the back, killing him.

This case was investigated by the Bureau of Alcohol, Tobacco, Firearms and Explosives; Drug Enforcement Administration; East Chicago Police Department; and Federal Bureau of Investigation.


Charges:


21:841(a)(1) KNOWINGLY AND INTENTIONALLY POSSESS WITH THE INTENT TO DISTRIBUTE MARIJUANA, A SCHEDULE I CONTROLLED SUBSTANCE AND CRIMINAL FORFEITURE
(1)
21:846 CONSPIRACY TO DISTRIBUTE COCAINE AND FORFEITURE ALLEGATION
(1s)
21:841(a)(1) POSSESSION WITH INTENT TO DISTRIBUTE 500 GRAMS OR MORE OF COCAINE AND FORFEITURE ALLEGATION
(2s)
21:841(a)(1) POSSESSION WITH INTENT TO DISTRIBUTE MARIJUANA
(3s)
18:924(c)(1)(A) and (j) POSSESSION OF FIREARM DURING DRUG TRAFFICKING CRIME CAUSING DEATH
(4s)
21:848(e)(1)(A) DEATH PENALTY
(5s)
Outcome: Battle was sentenced to 240 months in prison followed by 2 years of supervised release.


09/11/2018 58 Letters (2 emails) to Judge Simon from (1) Janet Mack and (2) Eva Williams and Debra Williams in support of Robert Battle. (nac) (Entered: 09/11/2018)
09/11/2018 Plea Agreement Accepted as to Robert Battle (nac) (Entered: 09/11/2018)
09/11/2018 59 Letters in Support of Robert Battle (Part #1, Referred to in Sentencing Hearing as Exhibit A from defense). (nac) (Entered: 09/12/2018)
09/11/2018 60 Letters in Support of Robert Battle (Part #2, Referred to in Sentencing Hearing as Exhibit A from defense). (nac) (Entered: 09/12/2018)
09/11/2018 61 Letter in Support of and Certificates of Robert Battle (Part #3, Referred to in Sentencing Hearing as Exhibit A from defense). (nac) (Entered: 09/12/2018)
09/11/2018 62 Letters in Support of Robert Battle (Part #4, Referred to in Sentencing Hearing as Exhibit A from defense). (nac) (Entered: 09/12/2018)
Plaintiff's Experts:
Defendant's Experts:
Comments: