Please E-mail suggested additions, comments and/or corrections to Kent@MoreLaw.Com.
Help support the publication of case reports on MoreLaw
Date: 07-03-2019
Case Style:
LORI SCHNEDLER V.HEATHER NICOLE LEE and KEVIN PLATT
Case Number: 2019 OK 52
Judge: Noma D. Gurich
Court: Supreme Court of Oklahoma
Plaintiff's Attorney: Christopher U. Brecht, McDaniel Acord & Lytle, PLLC, Tulsa, Oklahoma, and Michael F. Smith, McAfee & Taft
Defendant's Attorney: Bryan J. Nowlin, Hall, Estill, Hardwick, Gable, Golden & Nelson, P.C.
Description: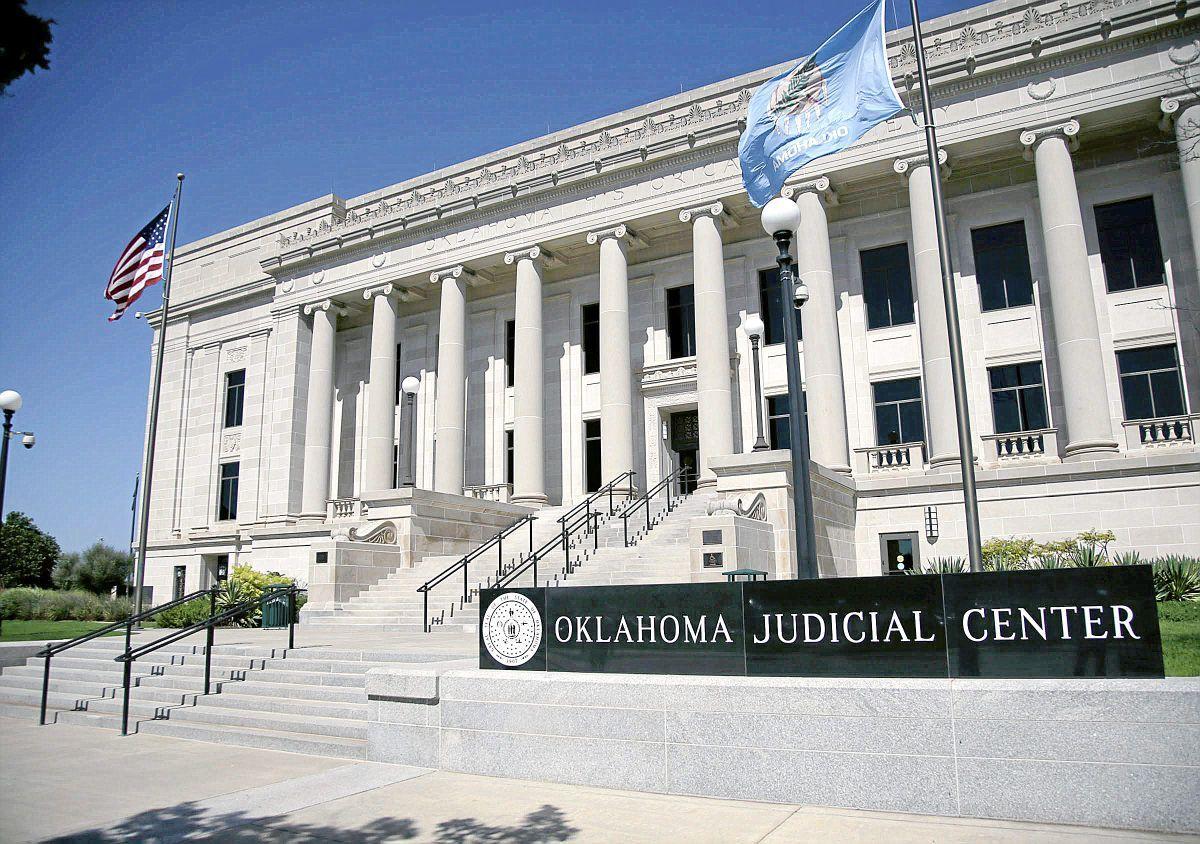 Lori Schnedler and Heather Lee met each other in the early 2000s while working for the Bartlesville Police Department, staying only acquaintances at first. As their relationship advanced, they began living together in a modest apartment. Once Lori returned from her overseas military deployment in 2004, they bought a home. For the nearly eleven years that followed--with the sole exception of a brief separation early in the relationship--Lori and Heather lived in the home they had purchased together.
¶4 At that time, of course, they were unable to legally marry in (or have their marriage recognized by) the State of Oklahoma. Before the landmark rulings in Obergefell v. Hodges3 and Bishop v. Smith,4 marriage between them would have been a "legal nullity." Ramey, 2015 OK 79, ¶¶ 12, 17, 362 P.3d at 220--21. Yet they became a family in every meaningful sense of the word, culminating in their mutual decision to have a child.
¶5 A work friend of Heather's, Kevin Platt, agreed to serve as the sperm donor. Heather became pregnant and delivered J.L. in July 2007, with her family and Lori present in the delivery room. Lori cut the umbilical cord, and the couple gave the newborn Lori's middle name. From the outset of Heather's pregnancy, both women agreed that they intended to raise J.L. together as their daughter.
¶6 Though Lori and J.L. do not share blood ties, J.L. recognized Lori as her "momma" or "Momma Lori." For the first eight years of J.L.'s life, Lori was a parent to her in every respect. By Heather's own admission, Lori provided "food, clothing, and shelter" for J.L. and "supplied all the financial stability" for the entire family. Moreover, her contributions to J.L.'s wellbeing were not limited to financial support: Lori was a full and active participant in J.L.'s emotional, social, and intellectual development.
¶7 Lori and Heather ended their relationship in April 2015. Heather left the home they had shared, and took J.L. with her. In the initial months following their separation, Lori and Heather adhered to a regular visitation schedule for J.L. This arrangement seemed workable for seven months, until Heather suddenly denied Lori any further contact with their daughter. Since that time, Lori has neither seen nor spoken with J.L.
¶8 In December 2015, Lori filed a petition in Tulsa County District Court for an adjudication of J.L.'s custody, visitation, and child support on in loco parentis grounds.5 Heather objected and sought to join Kevin, the biological father and genetic donor, as a necessary party to the proceedings. Additionally, both Heather and Kevin brought crossclaims in the action, requesting the trial court's determination that Kevin was J.L.'s "biological and natural father" and therefore entitled to full parental rights of custody, visitation, and support.
¶9 Before this litigation began, Kevin was not demonstrably involved in J.L.'s life.6 Since the start of these legal proceedings, however, J.L. has been staying with Kevin for overnight visits, and she has met Kevin's wife and children.7 She refers to him as "Kevin," although the recently increased frequency of their interactions has led to her calling him "dad" on occasion. Kevin testified that this surge in interaction between himself and J.L. came about because Lori's custody action "forced [his] hand" in entering J.L.'s life earlier than he expected, though he had always hoped to do so at some unspecified future time.
¶10 Both Heather and Kevin challenged Lori's standing to seek in loco parentis status. Following an evidentiary hearing in which Lori, Heather, and Kevin all gave testimony, the trial court--citing our decision in Ramey--found that Lori "has not met her burden of being considered a parent under the doctrine of in loco parentis . . . and shall not be entitled to further pursue the aforementioned action relative to the custody, visitation and child support" of J.L. Specifically, the trial court interpreted the final prong of our holding in Ramey as requiring the biological donor's consent to, and encouragement of, the non-biological same-sex partner's parental role. The Court of Civil Appeals affirmed. We granted certiorari to clarify the standing of non-biological co-parents in same-sex relationships, and to create a meaningful and comprehensive framework for the adjudication of the same. We now reverse.
Standard of Review
¶11 The dismissal of a petition by the trial court is reviewed de novo. Ramey, ¶ 5, 362 P.3d at 219; Eldredge v. Taylor, 2014 OK 92, ¶ 3, 339 P.3d 888, 890. "Court supervision over the welfare of children is equitable in character." In re Bomgardner, 1985 OK 59, ¶ 17, 711 P.2d 92, 97; see also In re Guardianship of Sherle, 1984 OK CIV APP 23, ¶ 10, 683 P.2d 78, 80 ("Court supervision over the custody and welfare of children is equitable in nature."). "'The purpose of a court sitting in equity is to promote and achieve justice with some degree of flexibility.'" Merritt v. Merritt, 2003 OK 68, ¶ 13, 73 P.3d 878, 883 (quoting Garrett v. Arrowhead Improvement Ass'n, 826 P.2d 850, 855 (Colo. 1992)). Doing so "requires an inquiry into the particular circumstances of the case." Id. In a case of equitable cognizance, this Court "will administer complete relief on all issues formed by the evidence regardless of whether the pleadings specifically tendered them for resolution."8 In re Estate of Bartlett, 1984 OK 9, ¶ 4, 680 P.2d 369, 374.
¶12 "Whenever possible, an appellate court must render or cause to be rendered, that judgment which in its opinion the trial court should have rendered." Clark v. Edens, 2011 OK 28, ¶ 5, 254 P.3d 672, 675; see also Snow v. Winn, 1980 OK 27, ¶ 3, 607 P.2d 678, 680--81. "We are bound neither by the reasoning nor by the findings of the trial court." Estate of Bartlett, ¶ 4, 680 P.2d at 374. Though this Court does not disturb the trial court's factual findings merely because we disagree with them, we will substitute our own view when "the trier's decision is manifestly wrong." Sides v. John Cordes, Inc., 1999 OK 36, ¶ 17, 981 P.2d 301, 307--08.
Analysis
¶13 In Ramey, we confronted an issue in many ways similar to that here. That case also involved a custody dispute between separated same-sex partners. There, we established a trifold test for acknowledging the in loco parentis standing of a non-biological parent in a same-sex relationship where "the couple, prior to Bishop, or Obergefell, (1) were unable to marry legally; (2) engaged in intentional family planning to have a child and to co-parent; and (3) the biological parent acquiesced and encouraged the same sex partner's parental role following the birth of the child." Ramey, 2015 OK 79, ¶ 2, 362 P.3d at 218.
¶14 Here, the trial court correctly found that Lori and Heather were unable to marry at the time of J.L.'s conception, and also that the couple had consciously decided to co-parent together.9 But the trial court erred in concluding that the third prong of this test required Kevin's acquiescence in, and encouragement of, Lori's parental role. In short, this was a fundamental misreading of Ramey. The only acquiescing "biological parent" contemplated by Ramey is the same-sex partner who "entered into an intentional intimate relationship and made a conscious decision to have a child and co-parent as a family." Id. ¶ 17, 362 P.3d at 221. Only Heather could have fulfilled that role here.
¶15 The trial court's faulty application of our precedent found root in footnote four of the Ramey opinion. The footnote specified that the biological father in Ramey had never had a relationship with the subject child, and thus had never asserted a claim for custody or visitation. Id. n.4, 362 P.3d at 219 n.4. But here, because Kevin alleged he had maintained some relationship--albeit minimal and covert--with J.L., the trial court erroneously reasoned that Ramey likewise required his consent before Lori could assume a parental role after the birth of J.L. To be abundantly clear, Ramey focuses on the carefully and consciously chosen intentions of the parties within the same-sex relationship--not the subjective beliefs of the third-party donor. Id. ¶¶16, 17, 362 P.3d at 221.
¶16 In this case, the record amply and plainly reflects that Heather both acquiesced in and encouraged Lori's role as a co-parenting mother to J.L. Accordingly, all three prongs of Ramey's standing test were satisfied--irrespective of Kevin's consent, or lack thereof, to Lori's parental role. This determination, however, does not end our analysis. Just as we broadened Eldredge's holding in Ramey to remove the barrier of an express, written co-parenting agreement between same-sex partners, we hold that a non-biological same-sex co-parent has the right to seek custody, visitation, and support of his or her child on the same equal terms as the biological parent.
¶17 The fundamental guiding principle of our family-law jurisprudence is the pursuit of the best interests of the child. Rowe v. Rowe, 2009 OK 66, ¶ 3, 218 P.3d 887, 889 (the "best interests of the child must be a paramount consideration" in determining custody and visitation); In re Adoption of M.J.S., 2007 OK 44, ¶ 17, 162 P.3d 211, 218 (applying the "best interests" doctrine to adoption proceedings); Daniel v. Daniel, 2001 OK 117, ¶ 21, 42 P.3d 863, 871.
¶18 Our jurisprudence has been consistent in considering issues of parental rights to be equitable in nature, as this approach has allowed us to most adaptively serve the best interests of the child. E.g., Bomgardner, 1985 OK 59, ¶ 17, 711 P.2d at 97 ("Court supervision over the welfare of children is equitable in character."); Ex parte Yahola, 1937 OK 306, ¶ 14, 71 P.2d 968, 972 (explaining that "the supervision of the courts over the custody and welfare of children is of itself equitable, and not strictly legal, in nature").
¶19 We have also long recognized that the right of custody and visitation is not bound to the strict confines of biological relation. Ex parte Yahola, 1937 OK 306, ¶ 5, 71 P.2d at 970 (the right of a biological parent to custody "is not an absolute right, but one which must at all times be qualified by considerations affecting the welfare of the child"). But, in the context of same-sex parentage, we have thus far allowed a non-biological parent standing to assert parental rights only in loco parentis. We have not presumed parentage for the non-biological parent in same-sex couples, but allowed the pursuit and validation of such rights only when there exists some prior agreement between the couple regarding the same--and only where the same-sex couple was "unable to marry legally" before Bishop and Obergefell. Ramey, 2015 OK 79, ¶ 2, 362 P.3d at 18. We can no longer say that this approach serves the best interests of the children of these relationships.
¶20 Indeed, "a person standing in loco parentis is one who acts 'in the place of a parent.'" United States v. Floyd, 81 F.3d 1517, 1524 (10th Cir. 1996). Consequently, in loco parentis status--at root, a legal fiction--is "by its very nature, a temporary status." Id. Temporary and uncertain parental status only exacerbates the frequency of cases like today's, and creates an inherently more unstable environment for the children of same-sex couples. Their children see them as mom or dad. The law should treat them as such.
¶21 While some states have enacted clear statutory reforms to address the ambiguities of same-sex parentage,10 others have relied on their common-law precedents and equitable powers to do so as well.11 The experience of these states provides a helpful and persuasive framework for Oklahoma, with the best interests of the child as our polestar. This holding is consonant with the constitutional protections guaranteed in Obergefell as well, for it ensures that children like J.L. will not "suffer the stigma of knowing their families are somehow lesser." 135 S. Ct. at 2590.
¶22 In announcing today's decision, we are mindful of the need to establish practical guidelines for state courts. We conclude that, to establish standing, a non-biological same-sex co-parent who asserts a claim for parentage must demonstrate--by a preponderance of the evidence--that he or she has
engaged in family planning with the intent to parent jointly
acted in a parental role for a length of time sufficient to have established a meaningful emotional relationship with the child, and
resided with the child for a significant period while holding out the child as his or her own child.
As always, a court shall assess these factors with the best interests of the child as its foremost aim. When a continuing relationship with the non-biological parent is in those best interests, a court must honor its validity and safeguard the perpetuation of that bond. In such proceedings, parties may continue to invoke equitable doctrines and defenses, e.g., equitable estoppel.
¶23 A non-biological same-sex parent stands in parity with a biological parent. Once an individual has standing, the court shall adjudicate any and all claims of parental rights--including custody and visitation--just as the court would for any other legal parent, consistent with the best interests of the child.
Outcome: Lori did not act in the place of a parent; she is a parent. The record in this case cannot reasonably be read otherwise. Lori has emphatically demonstrated standing to seek a determination of visitation and custody of J.L. under the Ramey test. Consistent with the best interests of children in similar scenarios, we hold that non-biological same-sex parents may attain complete parity with biological parents. The trial court's judgment is reversed. This matter is remanded for further proceedings consistent with this opinion.
Plaintiff's Experts:
Defendant's Experts:
Comments: