Please E-mail suggested additions, comments and/or corrections to Kent@MoreLaw.Com.
Help support the publication of case reports on MoreLaw
Date: 09-14-2020
Case Style:
United States of America v. Sandra Riggleman
Case Number: 1:18-cr-00055-TSK-MJA
Judge: Thomas S. Kleeh
Court: United States District Court for the Northern District of West Virginia (Harrison County)
Plaintiff's Attorney: United States District Attorney's Office, Clarksburg, West Virginia
Defendant's Attorney:




Free National Lawyer Directory



OR



Just Call 855-853-4800 for Free Help Finding a Lawyer Help You.

Description: Clarksburg, WV - Felony, Drug Distribution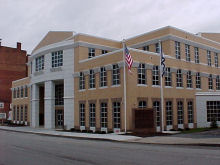 The United States of America charged Sandra Riggleman, age 60, with drug distribution.
Riggleman pled guilty to one count of "Aiding and Abetting Distribution of Cocaine Base" in April 2019. Riggleman, age 60, admitted to selling cocaine base in Monongalia County in April 2018.
Assistant U.S. Attorney Zelda E. Wesley prosecuted the case on behalf of the government. The Mon Metro Drug & Violent Crimes Task Force, a HIDTA-funded initiative, investigated.
CONTROLLED SUBSTANCE - SELL, DISTRIBUTE, OR DISPENSE
(4)
Outcome: Defendant committed to the custody of the BOP for a term of 33 months, with credit for time served; 3 years supervised release; $100 special assessment; no fine or restitution
Plaintiff's Experts:
Defendant's Experts:
Comments: