Please E-mail suggested additions, comments and/or corrections to Kent@MoreLaw.Com.
Help support the publication of case reports on MoreLaw
Date: 07-11-2018
Case Style:
United States of America v. Darrius Lamar Smith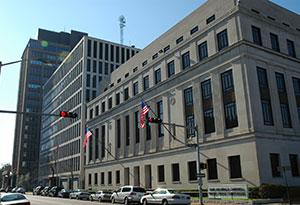 Southern District of Alabama Federal Courthouse - Mobile, Alabama
Case Number: 1:18-cr-00008-KD-B
Judge: Kristi K. Dubose
Court: United States District Court for the Southern District of Alabama (Mobile County)
Plaintiff's Attorney: Gloria Bedwell
Defendant's Attorney: Peter J. Madden - FPD
Description: Mobile, AL - Birmingham Man Sentenced on Gun Charges

Darrius Lamar Smith, 31, of Birmingham, Alabama, was sentenced on June 29, 2018, to 30 months' imprisonment on a federal charge of felon in possession of a firearm. Court documents show that Smith's prior felony convictions were for Robbery First Degree in 2007, and Certain Persons Forbidden to Possess a Firearm in 2009, both in Circuit Court of Jefferson County, Alabama. Court documents also reflected that in March of 2018, Smith pled guilty to federal charge in Mobile, which alleged his illegal possession of a firearm in October of 2017.

United States District Court Judge Kristi K. Dubose sentenced Smith to 30 months' imprisonment, noting that he had significant criminal history. The judge ordered that the sentence would run concurrently with another state case pending against Smith in the Circuit Court of Conecuh County, Alabama. The judge also ordered that Smith serve a three-year term of supervised release when he is discharged from his custody sentence, during which he will undergo further drug abuse and mental health treatment. Smith was also ordered to pay $100 in mandatory special assessments, but no fine was imposed.

The case was investigated by the Evergreen Police Department and the Bureau of Alcohol, Tobacco, Firearms and Explosives.
Outcome: Defendant was sentenced to 30 months' imprisonment.
Plaintiff's Experts:
Defendant's Experts:
Comments: