Please E-mail suggested additions, comments and/or corrections to Kent@MoreLaw.Com.
Help support the publication of case reports on MoreLaw
Date: 09-05-2018
Case Style:
United States of America v. William Michael Foures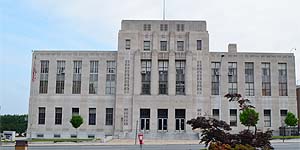 Middle District of North Carolina Federal Courthouse - Greensboro, North Carolina
Case Number: 1:17-cr-00458-NCT
Judge: N. Carlton Tilley, Jr.
Court: United States District Court for the Middle District of North Carolina (Guilford County)
Plaintiff's Attorney: Eric L. Iverson
Defendant's Attorney: Kathleen Gleason
Description: Greensboro, NC - Kernersville Man Sentenced in Child Pornography Case

A Kernersville man who pleaded guilty to receipt of child pornography was sentenced to 78 months of imprisonment followed by 25 years of supervised release.

WILLIAM MICHAEL FOURES, 45, of Kernersville, North Carolina, pleaded guilty on March 8, 2018, to one count of receipt of child pornography. He was sentenced by United States District Judge N. Carlton Tilley, Jr. to 78 months of imprisonment followed by 25 years of supervised release.

In May 2017, Kernersville Police Department received a tip that FOURES possessed child pornography on his laptop computer. Police questioned FOURES and, with his permission, reviewed his web browser history. They then obtained a search warrant for his residence. The subsequent search revealed that FOURES possessed well over 1,000 image and numerous video files depicting child pornography. The files were stored on two laptops and 70 CDs. In addition, FOURES had used his printer to print over 100 of the child pornography images. When questioned, FOURES admitted to possessing the contraband for his sexual gratification.

This case was investigated by the Kernersville Police Department, a member of the North Carolina Internet Crimes Against Children (ICAC) Task Force. The North Carolina State Bureau of Investigation conducted computer forensic analysis on the electronics seized and Homeland Security Investigations adopted the case for federal prosecution. The case was prosecuted by Assistant United States Attorney Eric L. Iverson.

The case was brought as part of Project Safe Childhood, a nationwide initiative by the Department of Justice to combat online child sexual exploitation and abuse. Led by United States Attorneys' Offices and the Criminal Division's Child Exploitation and Obscenity Section (CEOS), Project Safe Childhood marshals federal, state, and local resources to better locate, apprehend, and prosecute individuals who exploit children via the Internet, as well as to identify and rescue victims. For more information about Project Safe Childhood, please visit www.projectsafechildhood.gov.


Charge:


18:2252A(a)(2)(A) and (b)(1) Receive child pornography
(1)
Outcome: RELIMINARY ORDER OF FORFEITURE signed by JUDGE N. C. TILLEY, JR on 09/04/2018 as to WILLIAM MICHAEL FOURES. The Clerk of the Court shall forward two certified copies of this order to Assistant U.S. Attorney Lynne P. Klauer, U.S. Attorney's Office, Middle District North Carolina. Re 17 MOTION for Issuance of Preliminary Order of Forfeiture by USA (Taylor, Abby) (Entered: 09/04/2018)


Defendant was sentenced to 78 months of imprisonment followed by 25 years of supervised release.
Plaintiff's Experts:
Defendant's Experts:
Comments: