Please E-mail suggested additions, comments and/or corrections to Kent@MoreLaw.Com.
Help support the publication of case reports on MoreLaw
Date: 01-05-2018
Case Style:
United States of America v. Willie Howard Ferguson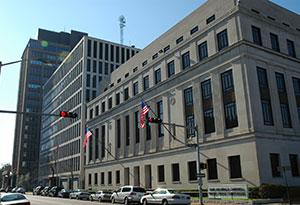 Southern District of Alabama Federal Courthouse - Mobile, Alabama
Case Number: 1:17-cr-00148-WS-B
Judge: William H. Steele
Court: United States District Court for the Southern District of Alabama (Mobile County)
Plaintiff's Attorney: Christopher Baugh
Defendant's Attorney: Fred Tiemann - FPD
Description: Mobile, AL - Shotgun Tirate Results in 33 Months in Prison

United States District Court Judge William H. Steele sentenced Willie Howard Ferguson on December 28, 2017 to 33 months in prison, for violation of 18 USC § 922(g)(1), Possession of a Firearm by a Prohibited Person.

On May 25, 2017, deputies from the Mobile County Sheriff's Office were dispatched to Edmond Marchand Road in Grand Bay, Alabama, because of reports of an armed individual at that location. When deputies arrived, witnesses informed them that Willie Howard Ferguson had been there, arguing and threatening people. Witnesses stated to deputies that Ferguson was armed with a 12-gauge Mossberg shotgun, and that he pointed it at the chest of one of the witnesses. Ferguson then discharged the shotgun into the air in an attempt to scare or intimidate others before fleeing.

While deputies gathered the statements of witnesses, Ferguson returned to the location. When witnesses recognized him, they yelled, "That's him! That's the one that fired the shotgun!"

Ferguson initially denied he was the one with the gun. The deputies showed him a video taken by one of the witnesses that captured his tirade. Then he admitted that he was, in fact, the one who had the shotgun and he fired it. Ferguson had previously been convicted in the Circuit Court of Mobile County, AL of the felony of Receiving Stolen Property in 2009.

The Mobile County Sheriff's Office and the Federal Bureau of Investigation, Mobile Field Office investigated this incident.
Outcome: Defendant was sentenced to 33 months' in prison.
Plaintiff's Experts:
Defendant's Experts:
Comments: