Please E-mail suggested additions, comments and/or corrections to Kent@MoreLaw.Com.
Help support the publication of case reports on MoreLaw
Date: 02-28-2018
Case Style:
United States of America v. Bobby Amos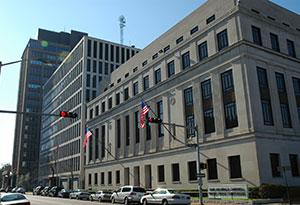 Southern District of Alabama Federal Courthouse - Mobile, Alabama
Case Number: 1:17-cr-00118-KD-MU
Judge: KD
Court: United States District Court for the Southern District of Alabama (Mobile County)
Plaintiff's Attorney: Gina S. Vann
Defendant's Attorney: Fred Tiemann - FPD
Description: Mobile, AL - Baldwin County Man Receives 36 Month Sentence for Possession of a Firearm After Felony Conviction

Bobby Amos, a 39 year old, resident of Foley, Alabama was sentenced to 36 months incarceration followed by three years of supervised release for possessing a firearm after four felony convictions for robberies committed when he was a juvenile.

On May 4, 2017, Foley, Alabama police officers arrested Amos for disorderly conduct and public intoxication. The charges resulted from Amos causing a disturbance at a local church. Amos told officers responding to the church that he wanted the officers to shoot him. Almost simultaneously to this Amos' common law wife arrived at the church and reported to the police that she witnessed Amos hold a gun to his head earlier that day in their home and that he was suicidal. She said that she managed to get the firearm from him and told the officers she hid the firearm inside the church because he followed her to the church hoping to retrieve the firearm. The firearm was retrieved by responding officers. The firearm was a Bersa, .380 caliber pistol. On November 7, 2017, Amos pled guilty to felon in possession of a firearm.

The Foley Police Department along with local task force officers assigned to the FBI's Violent Crime Unit investigated the case and presented it to the United States Attorney's Office for prosecution.
Outcome: Defendant was sentenced to 36 months incarceration followed by three years of supervised release.
Plaintiff's Experts:
Defendant's Experts:
Comments: